GUATEMALA CITY – Guatemalans went to the polls on Sunday to elect their next president amid a deep political crisis rocking the country. The election, conducted in an atmosphere of deep skepticism, came down to the wire.
No candidate won outright with more than 50 percent of the votes cast. Comedian-turned-politician Jimmy Morales, 46, candidate of the National Convergence Front, currently is in the lead by a wide margin. But in a surprise for many Guatemalans, former first lady Sandra Torres of the National Union of Hope (UNE) – who for much of the campaign polled in a distant third place – was neck-and-neck with Líder party candidate Manuel Baldizón for a second-place spot in an Oct. 25 runoff election.
At midday on Monday, 97 percent of the votes had been counted.
See also: Guatemala elections marred by tensions as parties herd voters to other constituencies
Baldizón, who had been a frontrunner for much of the campaign, dropped dramatically on Election Day.
"At this point, citizens prefer any other candidate but Manuel Baldizón," Guatemala City voter Rosita Cesena Casimiro told The Tico Times.
In recent weeks, Baldizón became the face of politics-as-usual in Guatemala. He is considered by many to be the continuation of the corrupt establishment of Otto Pérez Molina, who last week resigned the presidency and was promptly placed in custody on graft charges.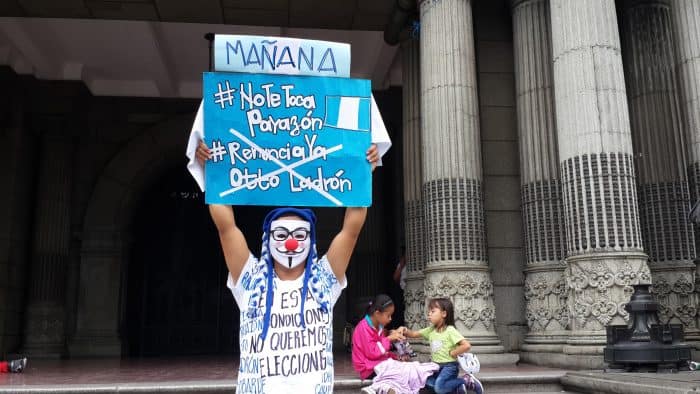 Apathy and discontent
Last week, mass protests turned to celebration as President Pérez Molina stepped down. Last Thursday, lawmakers swore in Vice President Alejandro Maldonado as the country's new head of state. Maldonado, a 79-year-old lawyer and former Constitutional Court judge, will hold power until an elected successor takes office on Jan. 14, the AFP reported.
In contrast, on Election Day, apart from a few more traffic jams, life in Guatemala's capital city had a semblance of normality, with little celebration. Some residents strolled with their families, shopped, chatted, and in many cases, ignored the political event happening around them.
Many who went to the polls on Sunday said they voted out of civic obligation rather than enthusiastic support for a favorite candidate. Most voters who spoke with The Tico Times expressed doubts as to whether a single presidential candidate — of the 14 on the ballot — was worth voting for.
"I don't think there are any good options. But I think that the people who came to vote have the right to criticize the government — even if it's a null vote. If we don't participate [in the elections], we don't have the right to criticize the next government," said Byron Montenegro, a voter from the Guatemala City suburb of Mixco.
But Montenegro also believes the recent U.N.-backed corruption probe, known as "La Línea," which led to the resignation and arrest of former Vice President Roxana Baldetti and the resignation and detention of Pérez Molina, will have an impact on how future leaders govern in Guatemala.
"I think that the people who are elected for the next government are going to be more careful in how they govern. There are going to be a lot of people watching them," he said.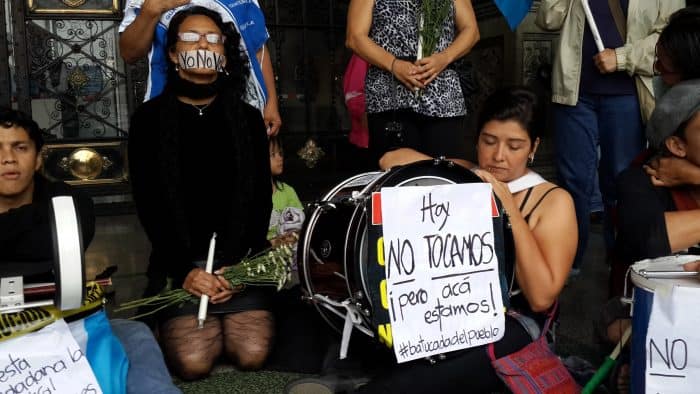 The protest movement, which began making headlines in April, was not unified in its perspective of how to handle the elections. Several hundred protesters gathered in Guatemala City's Central Plaza Saturday to call on citizens to abstain from voting until electoral and political reforms are passed.
Human rights advocate Iduvina Hernández spoke with The Tico Times during a mock funeral Saturday in which protesters mourned the elections and lack of political options.
"We feel that the conditions do not exist that would promote an environment where citizens could vote freely," said Hernández, who like her fellow protesters was dressed in black.
Almost 10 percent of votes cast were either blank or null, suggesting that many Guatemalans agree with Hernández.
"Now people think that if someone takes power and then does something bad, you throw them out," one election observer, who asked that his name be withheld, told The Tico Times. "I think that is one of the main things that has changed [as a result of the movement] — the way of thinking."
Further from Guatemala City and especially in rural areas of the country, the election prompted stronger reactions than it did in the capital. Several important mayoral upsets occurred around the country. And in several communities, residents protested irregularities at the polls.
While polling centers were closing Sunday, Guatevisión TV news tweeted a photo of hundreds of people burning ballots in Xeatzán Bajo, Patzún, Chimaltenango. A network of community-based journalists independently observing the election, Prensa Comunitaria, reported on its Facebook page that the ballots were burned because they were delivered late, at about 3 p.m.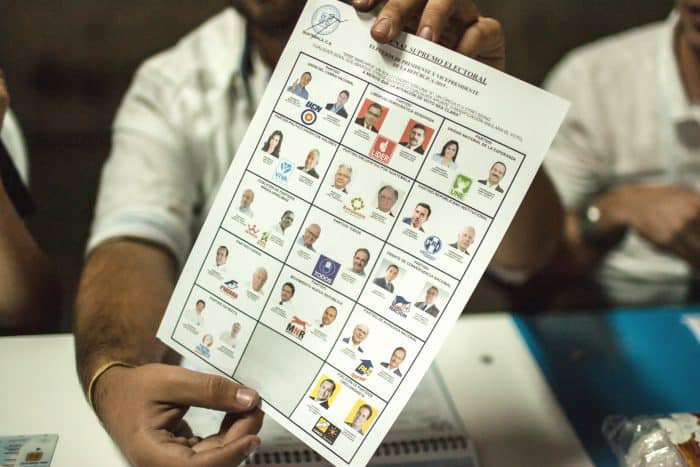 Fewer irregularities than expected
While election observers reported fewer irregularities than expected given the current political atmosphere, the government said more than 760 complaints had been filed involving incidents at polls across the country. Traditionally, electoral irregularities in Guatemala have included the buying of votes by major political parties with food or money, as well as road blockages to prevent voters from getting to their polling stations.
In one case, congressional candidate Carlos Bezares of the New Republic Movement filed a complaint with prosecutors stating that when he went to a polling center to vote, someone else had already voted under his name, the daily elPeriódico reported.
In San Sebastián on Sunday, election observers reported that Líder paid voters 300 quetzales ($39) each for their votes. Líder also allegedly bussed out-of-town voters into Cobán, a municipality in Alta Verapaz, to help swing the vote in the party's favor.
Much of the violent conflict reported took place between members of sparring political parties. Prensa Comunitaria reported late on Saturday that supporters of Líder and UNE clashed in Santa Barbara Suchitepéquez leaving one dead, four injured and 25 detained.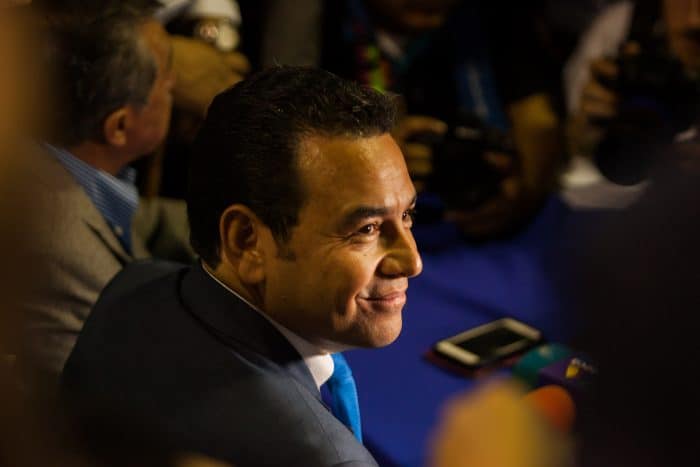 Candidates: More of the same?
Jimmy Morales, a comedian-turned-politician, campaigned as the incorruptible candidate, an outsider who is new to politics and the political system. However, many believe Morales is essentially a military candidate. He holds a Ph.D. in strategic defense and has ties to old military officers. After Pérez Molina's Patriot Party (PP) dropped in the polls, some of its members began sponsoring Morales' campaign. Morales also is not new to politics. Most notably, in 2011, he ran for mayor of Mixco as part of the National Development Action Party.
Torres was first lady of Guatemala from 2008 to 2011. She then divorced former President Álvaro Colom, allowing her to circumvent the country's election laws banning spouses of former presidents from running. According to the Barcelona Center for International Affairs, Colom's political career was "punctuated by allegations of illegal financing and infiltration of organized crime in his party." For her part, Torres was a businesswoman with interests in the maquiladora industry when she met and married Colom.
Although Morales and Torres are still seen as "less bad" than Baldizón, the majority of voters in Guatemala believe that what the people do after the election matters more than who is elected.
"We have many hopes for the future. I believe that Guatemala has awoken after many years of being asleep," said resident Marta Jardleben, who chose not to vote in Sunday's election. "We are now united, all Guatemalans, like the brothers and sisters that we should be."
Jeff Abbott contributed to this report. Follow updates at http://wordpress-257819-2837440.cloudwaysapps.com