GUATEMALA CITY – In the wake of two major corruption scandals that have led to seven consecutive weeks of anti-corruption demonstrations, a new poll in the run-up to general elections in September shows right-wing populist Manuel Baldizón still leading. But his popularity has stagnated due to a widespread perception that his administration is likely to be as corrupt as that of current President Otto Pérez Molina's.
Conducted by Costa Rican polling firm Borge y Asociados and published by Contrapoder magazine and Canal Antigua TV channel on June 5, the poll shows 34.5 percent of those surveyed would vote for Baldizón, while 12.9 percent would vote for center-left National Unity of Hope party candidate and former First Lady Sandra Torres, and a surprising 10.4 percent would vote for comedian Jimmy Morales, of the minuscule and under-funded FCN party.
The poll has a 95 percent accuracy probability and was carried out from May 21-28, after former Vice President Roxana Baldetti was forced to resign as a result of a massive customs fraud scandal uncovered by the International Commission Against Impunity in Guatemala. After that, the ruling Patriot Party imploded when its candidate, Alejandro Sinibaldi, quit the party and later pulled out of the race altogether.
In a clear expression of widespread rejection of the candidates vying for office, 15.1 percent of those surveyed in the latest poll said they would cast a null or blank vote.
Morales' political inexperience has worked in his favor as a growing number of voters regard him as one of the few candidates who have not been tainted by corruption.
Born into a working class family from Guatemala City, Morales, 46, has a degree in business administration, a master's degree in media management and is currently pursuing a doctorate in security and defense studies.
Over the past 15 years, his role in the popular comedy series "Moralejas" ("Morals"), in which he appears alongside his brother Sammy, has propelled him to fame.
See also: 26 lawyers have been murdered in Guatemala in the past 3 years
His first foray into the political arena came in 2011 when he ran for mayor of the municipality of Mixco, Guatemala's second-largest municipality, with the tiny and now extinct ADN party.
Although Morales is not afraid to crack jokes when addressing crowds at political rallies, during a recent interview with Canal Antigua, he was eager to come across as a serious candidate.
He appeared unfazed as he was grilled by a panel of six interviewers, demonstrating he is both eloquent and media savvy, but his campaign pledges came across as muddled and simplistic.
However, political scientist José Dávila says this might not necessarily weigh against him as his supporters "regard him as an anti-establishment figure and are not too interested in analyzing his proposals."
Morales defined himself as a "nationalist" and blamed corruption on parents' failure to inculcate values in their children. He also denied that genocide was committed against the Ixil Mayan group during the armed conflict, and said he supported the death penalty and would not legalize abortion.
Although his discourse veered towards the far right, Morales underscored his working-class origins and said his mother, a widow, worked as an assistant in a shoe store, and that as a boy, he sold bananas and secondhand clothes in a local market to help support the family.
The candidate that is emerging as the dark horse in the race was also eager to downplay the military background of the FCN's founding members, which include retired army Gen. José Luis Quilo Ayuso, former president of the Guatemalan Association of Military Veterans.
Clientelism and patronage
In an academic paper on Guatemala's fledgling political party system, University of Miami professor Omar Sánchez characterizes Guatemalan parties as institutionally weak, short-lived and diffuse, which has a negative impact on the quality of representation and democratic governance.
Corruption and clientelism have been the hallmark of the succession of leaders that have been voted into office since the 1996 Peace Accords marked the return of democratic rule after 36 years of civilian strife.
With 53.7 percent of Guatemalans living below the poverty line according to World Bank statistics, political leaders have found a fertile ground to buy voters' support in exchange for the satisfaction of immediate material needs.
During election periods, acarreo, or the mass mobilization of political supporters, particularly in rural areas, who are willing to vote for practically any party in exchange for a bag of groceries, fertilizer or a meal, has become an established practice.
Voters' willingness to overlook corrupt leadership if they perceive their material conditions have improved – however slightly – is exemplified by the fact that 75 percent of respondents in a poll published by Prensa Libre on May 4, had a favorable opinion of disgraced former President Alfonso Portillo, who returned to the country in February after serving a prison sentence in the United States for conspiring to use U.S. banks to launder $2.5 million in bribes from the Taiwanese government.
Despite his tainted past, Portillo enjoys considerable support among disenfranchised rural and urban Guatemalans due to the fact that he imposed price controls on basic foodstuffs, subsidized electricity rates for the poor, increased the minimum wage and challenged monopolies.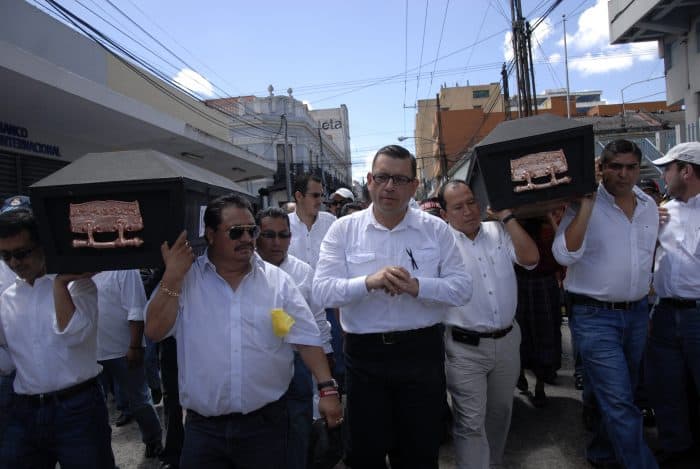 #RenunciaYa
According to political scientist Javier Brolo, of the Association for Investigation and Social Studies, it remains to be seen whether the #RenunciaYa (Resign Now) citizen movement will mark the beginning of a political awakening among voters and an awareness of the need to break the vicious cycle of corrupt leadership.
"I don't know to what extent this citizen awakening can compete with clientelist politicians who satisfy immediate needs such as putting food on the table and finding employment, which are very real and pressing in many parts of the country," Brolo said.
Realizing that what the country needs is a systemic overhaul, the call for Pérez Molina to resign has evolved into a demand for the elections to be postponed until Congress approves a series of reforms that guarantee long-lasting change. "En estas condiciones no queremos elecciones" – "We don't want elections under these conditions" – has become the new rallying cry of the largely urban #RenunciaYa movement.
However, Simon Whistler, director of Latin America risk analysis at consultant group Control Risks, believes it would be too optimistic to expect a radical transformation of the political system from one day to the next, and he warns against "placing too much emphasis" on the protests.
"This is indicative of a more responsible civil society, but it's still a relatively small group of the middle class that has got together to lead these protests. You still have much bigger portions of society that are susceptible to the traditional politics of patronage and clientelism," Whistler said. "It's one of those long-term processes where we'll see the effects in 10 or 15 years time."