GUATEMALA CITY – Francisco Palomo Tejada, an attorney for former dictator Efraín Ríos Montt, is the latest in a number of high-profile legal professionals to be killed in Guatemala, a country with one of the highest violent crime rates in the world.
Palomo, 63, was on his lunch break and had just left his office in Guatemala City's Zona 9 when he was shot by two gunmen, who then fled the scene.
Two blocks away from the spot where police agents and paramedics found him slumped over his steering wheel after receiving 11 abdominal gunshot wounds and one gunshot wound to his neck, another well-known attorney, Lea de León was shot dead by hit men, in February 2013, in almost identical circumstances.
In October 2014, Jairo Alfredo Hernández Reyes was given a 90-year prison sentence for three murders including that of De León. Of the 26 legal professionals killed in Guatemala since 2013, De León's case is the only one that has led to a conviction.
However, the masterminds of the crime remain at large.
In late 2014, the rising number of attacks on legal professionals led the Attorney General's Office to create a special section within the homicide bureau to investigate these crimes.
Palomo, a balding man with a thick, dark moustache, was such a well-known face in Guatemalan courtrooms that upon hearing the news, Judge Miguel Ángel Gálvez interrupted proceedings in the High Risk Court "B" to demand a minute of silence in remembrance of his colleague.
Guatemala's newly appointed Interior Minister Eunice Mendizábal and Public Security Vice Minister Elmer Sosa also showed up at the crime scene, as well as Ríos Montt's daughter Zury Ríos, who is currently running for president as the candidate for the evangelical Visión con Valores party.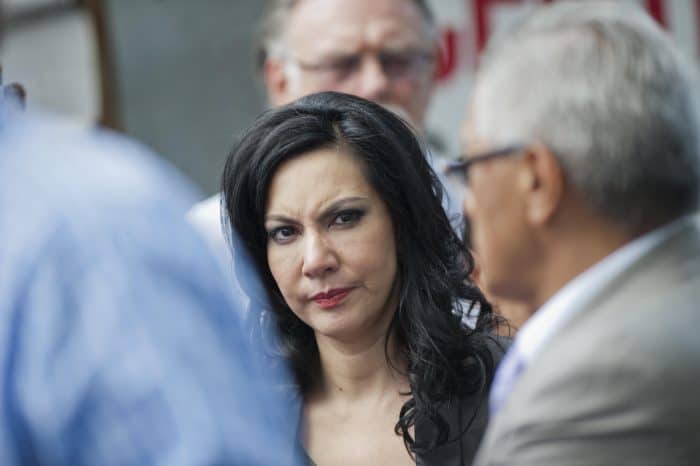 Defending the dictator 
Palomo's résumé features a string of famous clients and highly publicized and often controversial cases. In 1988, he successfully defended former Communications Minister Gustavo Anzueto Vielmann, accused of participating in a coup attempt against then-President Vinicio Cerezo Arévalo (1986-1991).
Seven years later, he represented a group of businessmen led by Anzueto Vielmann who launched a lawsuit against the president of the Peace Commission, Héctor Rosada Granados, for initiating unofficial negotiations with guerrilla groups.
In 1997, a year after the peace accords were signed, he defended Interior Minister Danilo Parrinello, who was accused of ordering the use of excessive police force to quell a student protest against bus-fare hikes, resulting in the death of student leader Mario Alioto López Sánchez.
Palomo's relationship with Ríos Montt dates back to 2001, when he successfully defended the former dictator – who then served as president of Congress – when he was accused, together with 23 other members of the Guatemalan Republican Front (FRG) party, of unlawfully altering a Law on Alcoholic Beverages, a case known as the Guategate scandal.
Palomo later served as Constitutional Court magistrate and was one of the magistrates who voted in favor of allowing Ríos Montt to run for president in 2003 after his candidacy was initially rejected by the electoral court due to a constitutional ban preventing coup leaders from seeking the presidency. The court's verdict was delivered after Ríos Montt's FRG party unleashed a mob of armed supporters who marched on the courts, opposition party headquarters and newspapers in an episode known as "jueves negro" (Black Thursday).
Three years later, Palomo defended Ríos Montt after Nobel Peace Laureate Rigoberta Menchú filed a lawsuit in the Spanish Supreme Court against him and other military leaders accused of ordering an assault on the Spanish Embassy that left 37 people dead, including Menchú's father, peasant leader Vicente Menchú.
Playing the game
When Ríos Montt faced trial for genocide and crimes against humanity in 2013, Palomo, once again, was one of his lead attorneys. Despite the fact that Ríos Montt's defense team resorted to one legal ruse after another to derail the case, he was found guilty, but the court's verdict was overturned by the Constitutional Court based on a technicality.
Disgraced former President Alfonso Portillo (2000-2004), who returned to Guatemala in February after serving a prison sentence in the U.S. for conspiring to use U.S. banks to launder $2.5 million in bribes from the Taiwanese government, is also among those mourning Palomo's death.
Palomo defended Portillo – who belonged to Ríos Montt's FRG party – during a 2011 embezzlement trial in which he was controversially acquitted.
"I'm upset and hurt by the murder of Francisco Palomo," tweeted Portillo after hearing the news. The former president will run for a seat in Congress with the Todos party in the forthcoming September elections.
Estoy conmocionado y dolido por el asesinato del abogado Francisco Palomo… pic.twitter.com/1laAtGQlhg

— Alfonso Portillo (@alfonsoportiyo) June 3, 2015
Preliminary police reports state that Palomo's murder was a hit, although the motives are still unclear. The fact that the murder occurred in the aftermath of a massive customs fraud scandal that has led to six consecutive weeks of nationwide demonstrations against the Pérez Molina administration has led to speculation that the killing could exacerbate the current climate of political instability.
"This could have a deep impact on the middle-class protesters who have taken to the streets in recent weeks. People might see this as the beginning of a wave of selective repression and it could inhibit protest," says Edgar Gutiérrez, director of the Institute for Addressing National Problems at the University of San Carlos.
See also: Guatemalans take to the streets again as new corruption scandal rocks the Pérez Molina administration
It is also unclear whether Palomo's murder could have an impact on Ríos Montt's retrial, which was scheduled for Jan. 5 but suspended after his defense team accused the presiding judge of bias. Although a new judge was appointed, no date has been set for the retrial.
"Palomo specialized in technical procedures. What his [Ríos Montt's] defense lawyers did was obstruct the case rather than defend him. It's a very complicated case that's moving at a snail's pace. I'm not sure what impact it [Palomo's murder] could have," Gutiérrez said.
Last week, the chances of a retrial appeared even slimmer after the National Forensic Institute asserted that Ríos Montt's health is deteriorating, affecting his mental capacities and requested that the court order a psychiatric assessment. His defense team argues that the case should be closed if Ríos Montt is deemed unfit for trial, as the law prohibits prosecution if the defendant is intellectually incapacitated.