GUATEMALA CITY – In a second day of trial on Thursday, witnesses told the harrowing details of a Jan. 31, 1980 massacre by Guatemalan police that killed 37 people in a fire at the Spanish Embassy in the capital. The attack was in retaliation of a group of indigenous protesters, farmers and students who had taken over the embassy to demand an end to wartime atrocities committed in their communities.
Among the four witnesses slated to testify on Thursday was César Escalante, who at the time served as a chauffeur for then-Spanish Ambassador Máximo Cajal.
On trial is former police chief Pedro García Arrenondo, 70, who allegedly ordered the attack and now faces charges of murder, attempted murder and crimes against humanity.
"Police officers called another officer who was in the street and told him to dump [fuel] inside the building, and another said that no one should be left alive," Escalante said. The witness said that when he tried to stop police from setting the fire, they assaulted him.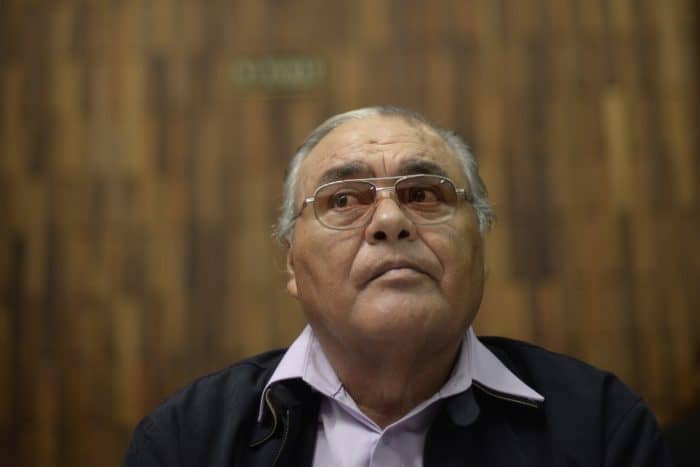 To remove the protesters, soldiers and police burned the embassy, killing 37 people in the process, including Vicente Menchú, father of Nobel Peace Prize winner Rigoberta Menchú, who delivered a statement at the start of this week's trial.
Escalante said he remained outside the embassy and witnessed police attacking the Spanish ambassador as he attempted to escape the fire. Cajal and Gregorio Yujá were the only two survivors from inside the building, but Yujá was later kidnapped from the hospital and murdered. His body was dumped on the lawn at the University of San Carlos.
Other witnesses, including former Interior Ministry spokesman Elías Barahona, who arrived to the courtroom in a wheelchair, admitted to overhearing a conversation between then-Interior Minister Donaldo Álvarez and National Police Director Germán Chupina where an order was delivered to remove the protesters "dead or alive."
Guatemalan expert Carlos Figueroa testified that the burning of the embassy was meant to "terrorize the population and destroy the social movement" of that era.
Guatemala's civil war left more than 200,000 people dead or disappeared, according to the United Nations. Most of the atrocities were committed by members of the military. The Spanish Embassy attack was one of several atrocities committed during the conflict.