UPDATE: Thursday, Sept. 3, 4:45 p.m.
A Guatemalan judge on Thursday afternoon ordered ex-President Otto Pérez Molina held in provisional prison pending the continuance of a criminal hearing on Friday at 9 a.m.
Judge Miguel Ángel Gálvez said Pérez Molina should remain in the Matamoros military prison in Guatemala City because the ex-president is considered a flight risk ahead of his pending corruption trial.
Original story continues here:
GUATEMALA CITY – Guatemala's Congress accepted President Otto Pérez Molina's resignation Thursday as he appeared in court over corruption allegations following unprecedented protests that have upended the political scene, three days from elections.
The retired general looked uncomfortable as prosecutors detailed their accusations before the Supreme Court, lowering his eyes when they played out wire-tapped phone calls they say implicate him in a scheme to defraud the state.
Investigators believe the 64-year-old conservative received $3.7 million in bribes paid by importers in exchange for illegal discounts on their customs duty, said prosecutor Antonio Morales.
Prosecutors have already charged his former Vice President Roxana Baldetti, who resigned in May, with taking $3.8 million in bribes between May 2014 and April 2015.
Pérez Molina "was part of a criminal group in operation since May 2014 whose objective was to steal from the state," Morales said.
Thursday's hearing could see the fallen president remanded in custody pending trial — a decision that would in any case have automatically removed him from office under Guatemalan law.
"I'm calm and I will face the situation bravely because I've done nothing wrong," Pérez Molina told a local radio station before his court appearance, where he sported a dark suit, red tie and a haggard look on his face.
See also: Presidential downfall: How Guatemala's Otto Pérez Molina fell from grace and what it means for upcoming elections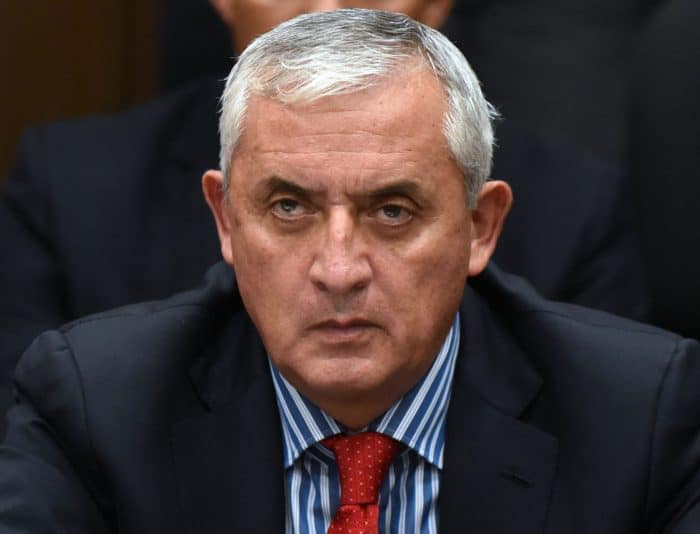 VP to take office
Congress meanwhile voted unanimously to accept Pérez Molina's resignation, which he submitted late Wednesday after the legislature stripped him of his presidential immunity — a first in Guatemalan history. Lawmakers then convened Vice President Alejandro Maldonado to be sworn in as head of state later Thursday.
Maldonado, a 79-year-old lawyer and former Constitutional Court judge, will hold power until an elected successor takes office on Jan. 14.
The session was broadcast live on national television, riveting the country in the midst of a whirlwind week that had already seen the courts issue a travel ban and arrest warrant for Pérez Molina
Read all our coverage of the presidential scandal here
The embattled president stepped down after clinging to power through months of mounting protests. Guatemalans fed up with corruption erupted in celebration outside the Supreme Court early Thursday on the news of his resignation.
"Otto, you thief, you're going to Pavón!" they chanted, referring to one of the country's main prisons.
Thousands have hit the streets in protest since the scandal first erupted in April, on a scale never before seen in Guatemala.
The accusations have stoked outrage in the Central American country of 15 million people, 53.7 percent of whom live in poverty, where the scars are still fresh from a 36-year civil war that ended in 1996.
The scandal was uncovered by investigators from a United Nations commission tasked with fighting high-level graft in Guatemala, who say they found massive evidence that Pérez Molina orchestrated a scheme dubbed "La Línea" ("The Line"), named for the hotline that importers would allegedly call to access a network of corrupt officials.
Investigators say their accusations are based on 89,000 wire-tapped phone calls.
Pérez Molina, a former military intelligence officer, long rejected calls to resign before his term ended. In office since 2012, he was ineligible for re-election and would have handed over to his successor in January. But his increasing isolation and the justice system's relentless pursuit ultimately left him little choice.
In Costa Rica, the administration of President Luis Guillermo Solís issued a statement on Thursday saying officials in San José hoped constitutionality would prevail in "our sister Republic of Guatemala."
"It's a decision entirely belonging to the Guatemalan laws and institutions, but it also is an event with regional implications," President Solís said in a statement. "I think this is a moment in which Guatemala can demonstrate to the world its exemplary democratic behavior, and it should be a moment for all political and social forces to join the effort of strengthening democratic institutions; and it's an opportunity for truth to shine, which after all is the light that should guide all the world's people."
Costa Rican Foreign Minister Manuel González added that "Guatemala has the judicial mechanisms to solve this issue, and we hope that calm prevails; and we support the continuity of the electoral process in the conditions previously set, as [that process] should not be interrupted, but rather should continue providing guarantees of transparency and democracy."
González added: "As a Central American country and member of SICA [the Central American Integration System], we will follow the situation, and we trust the authorities of Guatemala will adequately address these circumstances to the letter of the law. We will continue working with normality with the new president and his Cabinet on a broad and dynamic bilateral and regional agenda."