GUATEMALA CITY – Former Vice President Roxana Baldetti was formally charged with illicit association, customs fraud and bribery on Tuesday, just days after she was arrested for allegedly helping mastermind a massive customs fraud network known as "La Línea" in tandem with Guatemalan President Otto Pérez Molina.
On Wednesday, a judge sentenced her to three months preventive detention and ordered her to be transferred in three days to the Santa Teresa women's prison in Guatemala City's Zone 18.
Juez ordena prisión preventiva para Roxana Baldetti. Da plazo de 3 días a Sistema Penitenciario para realizar traslado a cárcel Santa Teresa

— Organismo Judicial (@OJGuatemala) August 26, 2015
Prosecutors had told the court that Baldetti allegedly received half of the bribes paid by corrupt businesses in exchange for lower import duties, for a total of $3.8 million between May 2014 and April 2015.
One key piece of evidence presented in court was a wiretap recording in which Pérez Molina allegedly rebukes the former head of Guatemala's Tax Administration, Carlos Muñoz, for taking too long to replace the agency's director of human resources. Muñoz was one of the top government officials arrested when the customs fraud scandal first made headlines on April 16.
According to prosecutors, the director of human resources played a key role in controlling customs offices and facilitating the network's operations, and was placed at Pérez Molina's behest.
"The human resources guy, we had already talked about the changes, otherwise nothing will work. The labor union says it's going to start a boycott, so before that happens, … let's get this done," Pérez Molina is heard saying on the recordings played in court.
"Appoint that Sebastián guy, … but do it now, tomorrow," Pérez Molina is heard saying. Muñoz replied: "I'll do it today, Mr. President."
Watch former Vice President Baldetti react as the recorded conversations are played in court:
According to prosecutors, the individual that Pérez Molina refers to as "Sebastián," and whose appointment he insisted on, is Sebastián Herrera Carrera, arrested along with Muñoz for his alleged involvement in "La Línea."
Baldetti, 53, who wore a dark blue suit and black-rimmed spectacles, appeared shocked to hear Pérez Molina's voice when the recording was played.
Her defense attorney argued that none of the recordings played during the hearing specifically mentioned the former vice president. He also questioned why some of the individuals mentioned in the recordings – such as the former head of the Tax Administration, Claudia Méndez – had not been charged. He claimed the allegations against Baldetti are "politically motivated."
Bajo fuertes medidas de seguridad, la exvicepresidenta Roxana Baldetti fue trasladada a Matamoros. pic.twitter.com/5nqKpvBKXj

— Nuestro Diario (@NuestroDiario) August 26, 2015
The Lord's Prayer
Throughout the proceedings, Baldetti took notes, and when cameras zoomed in on her notebook, it appeared she had written the Lord's Prayer several times. Baldetti has been known for her histrionics, such as allegedly pretending to fall down a set of stairs after a previous court hearing and checking into a private hospital after purportedly suffering from a gastrointestinal infection – a gesture that was met with widespread scorn and derision on social media.
LO ÚLTIMO | Capturada ex vicepresidenta Roxana #Baldetti, sindicada por ters delitos ► http://t.co/WoUyK49Fz6 pic.twitter.com/s5Jq8B2v6S

— Prensa Libre (@prensa_libre) August 21, 2015
The fact that Baldetti was not handcuffed as she was arrested, and then was sent to the Matamoros military prison in Guatemala City, which has been specially fitted to accommodate other high-profile prisoners, also provoked ire.
After she was formally charged by Judge Miguel Ángel Gálvez, Baldetti breathed heavily, blinked repeatedly and appeared to be on the verge of tears.
Will the US request Baldetti's extradition?
Since Baldetti was forced to step down on May 8, she was banned from traveling, her assets, as well as those of her husband, have been frozen, and her U.S. visa has been revoked.
In recent weeks, rumors that the U.S. is preparing to demand her extradition to face money-laundering charges there also have intensified.
On May 5, Judge José Martínez of the U.S. District Court of Southern Florida sentenced notorious money launderer Marllory Chacón Rosell, known as "La Reina del Sur" ("The Queen of the South," after the protagonist of a novel by Spanish author Arturo Pérez Reverte about a female drug kingpin) to an undisclosed prison term. The sentencing was placed under seal for five years, due to the sensitivity of the case.
Chacón, who ran a drug trafficking organization in Guatemala that also operated in Panama and Honduras and supplied thousands of kilograms of cocaine per month to Mexican drug cartels, was identified by the U.S. Treasury Department as Guatemala's "most active money launderer."
Sentencian en EU a la narcotraficante guatemalteca Marllory Chacón Rosell, mejor conocida como #LaReinaDelSur. pic.twitter.com/R04JUp19K6

— EL INFORMANTE (@ElInformanteMX) May 5, 2015
Her decision to cooperate with U.S. authorities in exchange for a reduced sentence has led to rumors that she provided evidence against her former allies, including high-level Guatemalan politicians and members of the business elite.
During an interview with the Guatemalan daily Prensa Libre in May 2014, Chacón claimed she met with Baldetti – which the former vice president denied – fueling rumors that U.S. prosecutors could have evidence to prosecute Baldetti on money laundering charges, as reported by a number of local media outlets including El Periódico and Prensa Libre.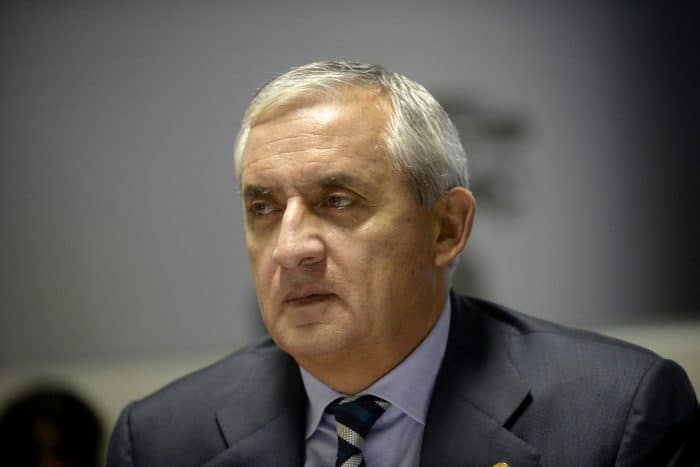 Pérez Molina faces a second impeachment hearing
On the same day that evidence of the president's alleged involvement in "La Línea" was heard in court, the Supreme Court unanimously ruled that members of Congress must decide whether Pérez Molina should be stripped of his prosecutorial immunity to face corruption charges, as requested by the U.N.-funded International Commission Against Impunity in Guatemala (CICIG).
This is the second attempt to impeach Pérez Molina in the past three months. A previous attempt failed on Aug. 14 after the ruling Patriot Party and opposition Lider party reached an agreement to secure a favorable outcome for the president.
On Tuesday, the president and his former associates were involved in yet another scandal after a handwritten document found in the home of Estuardo González, one of the members of "La Línea," appeared to show that several former Cabinet ministers allegedly contributed large sums of money towards the purchase of a $3.1 million helicopter gifted to Pérez Molina. Those associates include former Minister of Energy and Mining Erick Archila, former Interior Minister Mauricio López Bonilla and former Communications Minister Alejandro Sinibaldi.
Archila, López Bonilla and Sinibaldi resigned soon after the "La Línea" scandal broke. Sinibaldi quit as the Patriot Party's presidential candidate in upcoming elections, throwing the party into a state of disarray.
This past weekend, seven more Cabinet ministers resigned. The exodus continued on Monday as Finance Minister Dorval Carías, Infrastructure Minister Víctor Corado and Guatemala's ambassador to the U.N., Fernando Carrera, added their names to the list of public officials who have fled Pérez Molina's sinking administration.
Read all our coverage of Guatemala's presidential crisis here