As Uber rounded out its first five days in Costa Rica, President Luis Guillermo Solís' administration has so far ruled out any executive action against the ride-hailing app.
Presidency Minister Sergio Alfaro told reporters during a press conference Tuesday that blocking Uber is not a viable solution to the controversy.
"This administration is not against technological advancement," Alfaro told reporters.
The minister kicked the issue to the Legislative Assembly when asked if the Solís administration would take any executive action to regulate the ride-hailing service.
"It would have to be a law. At this time, the administration has not considered that possibility," Alfaro said.
The minister said the law is clear regarding the Public Transportation Council's exclusive right to issue concessions for transportation service. The council is part of Costa Rica's Public Works and Transport Ministry. Alfaro said it would be "impossible" for the executive branch to issue any decree regulating Uber or creating a new category for ride providers, such as porteadores.
Traffic Police officials said Monday they have impounded two Uber vehicles for providing illegal taxi service since the company started operations.
Uber, meanwhile, celebrated its first mini-milestone, announcing Tuesday afternoon that the service has more than 17,000 registered users in Costa Rica with 25,000 requests for service since going live on Aug. 21. Uber spokeswoman Rocío Paniagua did not say how many drivers the company has in the San José area, but ramping up to meet demand appears to be a struggle for the company. Many users who so far have requested a ride receive a "no cars available" message on the app.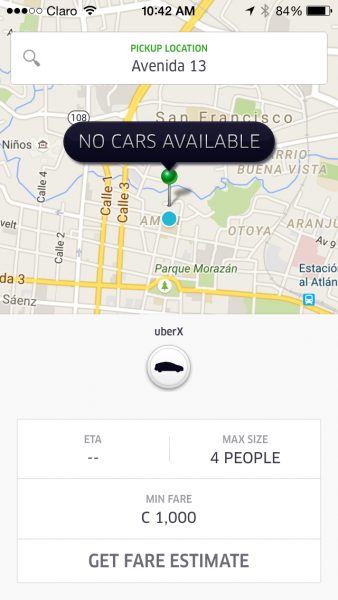 This gap in Uber's service might give a new upstart room to establish its own foothold here. Along with Easy Taxi, another ride-hailing service for red taxis, the Spanish company Taxible announced it would start offering its own taxi service on Sept. 1. According to the news website AmeliaRueda.com, the app for iOS and Android operating systems allows riders to select specific services — like pet-friendly rides — and requires its drivers to wear uniforms and offer credit and debit card service, among others. The company already has 180 red taxis signed up.