Local Dos Pinos dairy products were Costa Rican consumers' top choice last year, according to the annual Brand Footprint report released this week by consulting firm Kantar Worldpanel.
The study, which evaluates actual purchases and not just brand preferences, presents rankings and insights on consumer behaviors based on how often and where in the world a brand is chosen by consumers.
In Costa Rica, 99.7 percent of survey participants said that last year, they purchased Dos Pinos products.
According to the report, "the wide variety of products offered by this brand, which includes milk, cheese, butter, yogurt, ice cream, juice and drinks, among others, allows Dos Pinos to be the leading brand among Costa Ricans."
Dos Pinos products accounted for approximately 46 million purchases last year and the brand is also the only local brand in the country's top 10, which includes some former Costa Rican brands that were bought out by foreign corporations.
The second place is held by soup, condiment and noodles manufacturer Maggi with 22 million purchases, and Coca-Cola came in third with 20 million.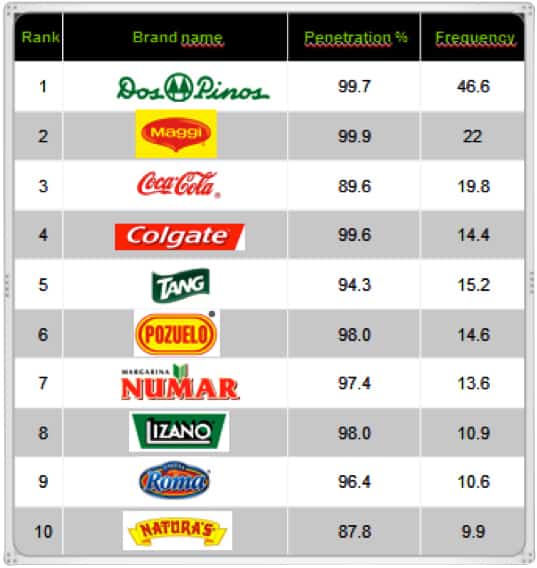 Globally, Coca-Cola leads the Brand Fooprint ranking for the third consecutive year and also tops the Central American list. Costa Rica is the only country in the region where the beverage giant is not at the top of the brand ranking.
Local research was conducted in 750 Tico homes, with a geographic coverage of 81 percent of the country.
The study analyzed purchases in retail outlets including grocery stores, province markets, supermarkets, buying clubs, discount stores, convenience stores, sales catalogs, and via e-commerce, and others, Kantar reported.
The company conducted similar studies in 986 million households spanning 35 countries and analyzed purchases of 11,000 brands. Rankings show purchases by brand in a general category and also present specific rankings in categories such as food, beverages, personal care and home care.
Costa Rica's top 10 rankings by category are listed below: