For Rita Marie Johnson, talking about peace isn't enough. You've got to practice it in your everyday life. The key word there is practice.
Johnson shared her wisdom last Saturday during a morning discussion at the Tin Ho restaurant in downtown San José. The event was part of a monthly series of talks organized by the Professional Women's Group, which belongs to the Women's Club of Costa Rica, or WCCR, founded in 1940.
Johnson shared her knowledge on how to achieve a state of "coherence" between one's heart, mind and emotions. That coherence is what allows us to achieve peace, or at least, a state of well-being and thankfulness, she said.
Johnson grew up in the U.S. state of Missouri, studied psychology and was ordained a minister at the Unity Church before moving to Costa Rica in 1993. Here she founded the Rasur Foundation in 1997 to teach peace education. She then started an initiative called the Academy for Peace, which sought to teach the concepts of peace to current and new generations. She also worked at the University for Peace and is one of the original promoters of the creation of a governmental Peace Ministry in Costa Rica.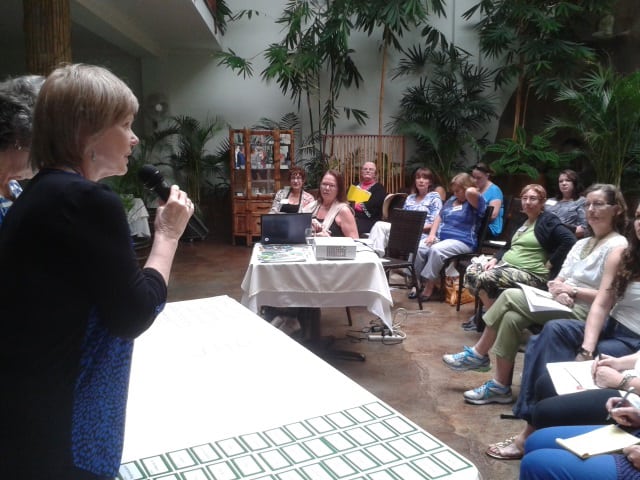 Inner peace and coherence
In last weekend's discussion, Johnson began by explaining the concept of emotional memory, describing how the brain functions when painful memories actually bind people to their past and create irrational fears.
As her life progressed, she discovered that when a person reaches a state of coherence between the heart, mind and emotions, that person can be liberated from painful memories of the past.
To achieve that state of coherence, one must pay attention to the beating of the heart and focus on how that organ actually functions. The second step is maintaining harmonious and rhythmic breathing, from the abdomen. This helps the brain function, she said. Next, one must think of something that provokes a feeling of satisfaction, being appreciated and feeling grateful.
When a person enters that state, she has better control of impulses and can function better mentally, emotionally and physically. And that leads to revelations.
"Coherence brings us insight," Johnson said. "I am learning how to get insight to find answers to my problems."
"Feelings and needs are the fast track to empathy," she continued. "We have to combine coherence, empathy and finding my way through an insight."
The peace expert noted that most people maintain "habitual disconnection" with their interior world. To fix that one must practice "habitual connection" and be conscientious about needs and how to satisfy those needs.
Some may ask, "Does this function in real life?" Johnson usually answers that question by telling her own story. In 2012, she was diagnosed with Hodgkin lymphoma, and part of the symptoms included not being able to breathe through the left nostril of her nose.
"I looked for natural remedies on the Internet, but I couldn't find anything. I was scared, worried [and] confused. I needed health, well-being, I needed to breathe, I needed freedom," Johnson said.
She began to implement her own method by striving for a state of coherence. In doing so, she had a revelation: "I should stand on my head," she thought. It worked: By standing on her head, the blood circulated through her sinuses and allowed her to breathe.
"I am not a master of my own method," she acknowledges. "This is a lifetime journey."
–
The Professional Women's Group organizes activities each month, many of them focused on helping women entrepreneurs. This year, the WCCR is celebrating its 75th anniversary, and several events are scheduled to mark the occasion. For more, visit their website or follow them on Facebook.