Responding to an official complaint filed with the National Animal Health Service (SENASA), police raided a Cartago home last week. With only two small bedrooms and a cramped sitting room, the tiny house had served as the only living space for 18 French poodles, part of an illegal breeding operation.
Designed to produce as many puppies as possible at little cost, these operations are known as puppy mills.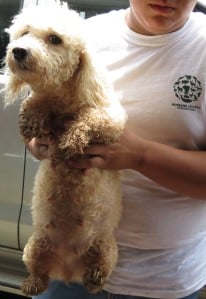 "We know that this is a prevalent problem in Costa Rica," Cynthia Dent, regional director for the Humane Society International-Latin America, told The Tico Times. "For that reason, we are starting to work more and more regularly on puppy mills in Costa Rica."
Recommended: Costa Rican lawmakers approve dog fighting ban
Dent hopes the Cartago bust – which took place east of the capital – will be the first of many. In coordination with the Humanitarian Association for the Protection of Costa Rican Animals (AHPPA), the Humane Society plans to help shut down more puppy mills and ferry the mistreated dogs to AHPPA's animal shelter in Heredia. The poodles seized in the latest raid are now in AHPPA's facilities, where they are undergoing veterinary treatment and a socialization process to prepare the dogs for adoption.
The efforts of animal rights groups will be coupled with a new set of SENASA regulations for breeding facilities. The new regulations officially will become law next week with the publication of a decree in the government newspaper, La Gaceta. The decree's publication will mark the first time Costa Rica has explicitly regulated dog breeding facilities.
Before, all charges against puppy mills had to be prosecuted under Costa Rica's generic animal welfare law. Now, a breeding facility will need to meet specific thresholds regarding space, food, exercise and health for its dogs in order to be legally registered.
Though the new regulations will aid SENASA in defining guidelines for breeders, the government organization still will be unable to legally seize animals from a facility unless someone files an official complaint with their office.
"People tend to only file complaints after they buy a dog from one of these facilities and it dies," said Laura Loaiza, the director of SENASA's animal welfare program. "Before this problem can get better we need to spread awareness and get people to report these facilities whenever they see them."
According to Loaiza, SENASA always sees an increase in the number of complaints around holidays when people seek out cheap dogs to give as gifts. Only one puppy was seized in the most recent raid, and SENASA officials suspect that most of the other puppies had been sold as Mother's Day presents. Mother's Day in Costa Rica is this Friday.
"Certainly much of the blame falls with the facilities themselves," Loaiza said, "but these puppy mills will always exist as long as there is a demand for cheap puppies. People need to be content with paying more to know that no dogs were mistreated."