After occupying the top spot in the Group of Champions, this small Central American country is now favored for the first time in the World Cup.
ESPN's data-journalism site 538 has given Costa Rica a 57 percent chance of advancing past Greece. English sports betting sites Paddy Power and Ladbrokes give Costa Rica an edge on its European opposition.
The Greeks had the weakest group stage performances of any team left in the World Cup. Greece advanced due to a last-second penalty in its match against the Ivory Coast, scoring only for the second time during the three-game group stage. Greece is the only knockout stage team to have a negative (-2) goal differential. ESPN's Soccer Power Index ranking scored Greece as the worst team of 16 remaining.
The stalwart Tico defense further tilts the match in Costa Rica's favor. La Sele only surrendered one goal — a penalty shot in the opening half versus Uruguay — in its samba through Group D.  In Group C, The Greeks failed to score against Colombia and Japan. They only managed one goal against the Ivory Coast before the penalty that gave Greece the 2-1 victory.
"We have to pay a lot of attention to this game, they came out top in the 'Group of Death,' Greece coach Fernando Santos told AFP.  "As a result we cannot allow ourselves to underestimate them."
Costa Rica and coach Jorge Luis Pinto seem to dread losing their status as underdogs.
"I don't know if we want to be favorites," Pinto told AFP. "We don't feel like favorites. We'll give it our all. Our results have given us confidence and stability, they demonstrate what we're worth. We're well prepared physically and we'll give our all, with the same respect that we confronted the three world champions."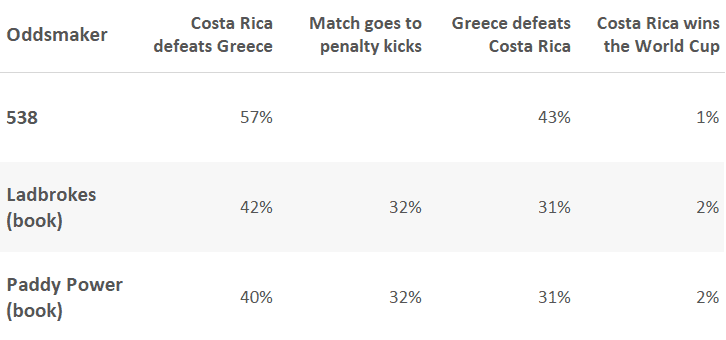 The Americas' successful run
Costa Rica is one of several teams from the Americas enjoying success in Brazil. The two regions, CONCACAF (North and Central America) and CONMEBOL (South America), sent a total of 10 squads to the 32 team tournament. Eight of those teams are moving on to the knockout round, with arguably the weakest squads from each half of the Americas going home – Ecuador and Honduras.
Costa Rica could end up facing its biggest CONCACAF rival in the next round. Mexico draws a tough opponent in the Netherlands, who dominated their group and finished second overall at the 2010 World Cup. Predictors at 538 think there is a 16 percent chance that Mexico and Costa Rica advance to face each other.
Prior to the start of the tournament, an aggregation of predictions showed that Costa Rica was the second biggest longshot to make the knockout round. Now they're one of only 16 teams remaining — and expected to be among the final eight.