Costa Rica's Foreign Minister Enrique Castillo, who leaves office this week, expressed concern that Nicaragua is building up its military with the help of Russia. However, he said he is optimistic about pending cases before the International Court of Justice at The Hague concerning border conflicts with Costa Rica's northern neighbor.
"Russia is facilitating armaments for Nicaragua, [including] ships, and they have discussed the purchase of aircraft and other types of armaments. I fear trouble," Castillo said in an interview with the daily La Nación, published Sunday.
According to Castillo, San José's problems with Managua aren't limited to border disputes, and "Nicaragua is arming itself and entering a relationship with Russia of military dependence."
Russia "announced the desire to have bases in Cuba, Venezuela and Nicaragua, with the euphemistic name of 'bases for refueling and resupplying' for its ships. But we know it's not just about that," Castillo said.
Castillo will be replaced in four days by attorney Manuel González, who was named as incoming foreign minister by President-elect Luis Guillermo Solís, whose administration takes office on May 8.
Nicaraguan officials have denied that Russian military bases will be built in the Central American country, and they say that cooperation is underway to allow Russian aircraft and ships in transit to refuel and resupply in ports or airports before continuing scheduled travel.
Russian Foreign Minister Serguei Lavrov led a delegation that visited Nicaragua last week and met with Nicaraguan President Daniel Ortega. The delegation also visited Cuba, Peru and Chile.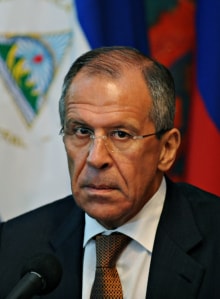 "The Nicaragua situation is under control. It will be resolved when the world court at The Hague rules [on pending cases], but it will remain to be seen if Nicaragua complies [with the rulings]. Nevertheless, we're in the final stages, and there are no Nicaraguans in [the disputed border area], and everything is calm," Castillo said.
The tension between the governments of Ortega and outgoing Costa Rican President Laura Chinchilla sparked off in October 2010, when San José accused Managua at the world court of invading a wetlands area that belong to Costa Rica, as well as dredging the San Juan River and opening canals in the disputed area. Costa Rica says Nicaraguan soldiers also "invaded" Costa Rican territory.
One year later, Nicaragua retaliated by accusing Costa Rica of building a border road parallel to the San Juan that caused environmental damage to the river basin. The world court rolled both accusations into a single case.
Later, Chinchilla's government filed a second case before the court over maritime boundaries in the Caribbean Sea and Pacific Ocean. That case likely will begin in 2015.
After being elected president on April 6, Solís traveled to Central American countries and the Dominican Republic to meet with leaders and personally invited them to his May 8 inauguration. He skipped Nicaragua on the trip, instead sending the invitation through diplomatic channels.