Today is International Women's Day, which has been observed since the early 1900s. 
SOLOLÁ, Guatemala – Indigenous women in Guatemala occupy the bottom rung of the socioeconomic ladder. A lack of education combined with a traditionally machismo culture has produced generations of often illiterate Mayan women who are unaware of their rights and unable to break the cycle of poverty in which they exist.
In general, Mayan culture prepares women for their future role in the household from early on: Girls typically attend primary school for only two years, have families at a young age and are isolated from local politics. The United Nations estimates that nearly 45 percent of indigenous Guatemalan women have suffered some form of violence in their lifetimes.
In the indigenous community of Santa Catarina Ixtahuacán, in the western highlands of Guatemala, extreme poverty is widespread. Historically, men used the land here to grow maize and beans, while women were confined to weaving huipiles inside their homes until the sun went down and darkness prevented them from continuing.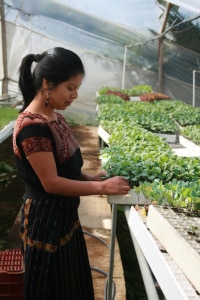 In 2006, a local nongovernmental organization called ADAM started working with women in the area to diversify the community's output. Last year, they produced nearly 280,000 units of broccoli and 50,000 units of cauliflower, and exported more than 77,000 bundles of spring onions and 11,200 units of carrots for sale by supermarket chain Wal-Mart in the United States.
ADAM gives out seeds and holds workshops on the most efficient methods of cultivation, but any agricultural organization in the area that wants to benefit from the project needs to be working with women.
Through combining agricultural development programs with women-empowerment workshops, ADAM has transformed the lives of many in Santa Catarina Ixtahuacán.
"[Before] we only worked around the house; that was the woman's role. But with these trainings we have been awakened to the reality and are getting to know our rights," says Isabel Carillo, who used to make weavings before she started cultivating peas four years ago.
"In community meetings a woman wasn't allowed to give her opinion; they thought it wasn't useful or it had no value. … But through these training sessions we know about our rights, the communities, know more about women's participation, and we go to the meetings and have more spaces to give our opinions," she adds.
"It has helped me a lot on a personal level. I was married, but my marriage wasn't stable. Before I couldn't leave the house because my husband was very strict. But now that I am separated, I feel liberated and I can go to the trainings, I can give my opinions without having to worry about getting scolded if I leave. I believe it has helped me a lot to know my rights," she says.
During the fortnightly training sessions, 81 women have learned about gender equality, domestic violence, health and access to land, and they are encouraged to share it with family members and friends. Increased participation in the communities has not only empowered women, but also has increased their capital.
Manuela Guachiac, 52, works for an organization called ADIAP, which sells peas, carrots and broccoli.
"I'm part of the board of directors, but you would never have seen women in these positions before," she says. "We grow carrots, and that is helping us a lot in our economy, and all of what we learn we will pass on to our children. They will learn and will keep these spaces, not like before when everything was closed off and only for men. Now I can teach my kids about this change and continue it generation to generation."
There is also a financial benefit. Before, Guachiac says, men would sell firewood and travel to Totonicapán and Salcajá. There wasn't much revenue.
"Now, with the training that we've received in cultivation, we have a more favorable income. I have my vegetable patch, my husband has a patch and even my kids have their patches," she says.
By helping to expand the organizations with which it works, ADAM has implemented further projects such as vermicomposting, a seed bank and a greenhouse, which have enabled the community to become more productive and generate more income.
ADAM is funded by the international NGO ActionAid. Guatemala Country Director Laura Hurtado says: "We support these programs because we believe that the first step our society should take is the empowerment of women and youth. More than improving their living conditions, these projects motivate them to know, demand and fight for their rights."
Learn more about International Women's Day by clicking here. Learn more about ADAM here.