CARACAS, Venezuela – Venezuela's opposition on Wednesday spurned the crisis talks that the government called to try to halt three weeks of protests that have left 14 dead.
President Nicolás Maduro had called a "national peace conference," but only the business federation and the Roman Catholic Church confirmed they would attend.
The main political opposition coalition denounced the planned talks as political theater and an insult to the slain protesters.
"We will not lend ourselves to a sham dialogue that would end in a mockery of our countrymen," the opposition MUD said in a letter to Vice President Jorge Arreaza.
The opposition's main leader, Henrique Capriles, had earlier said he would not attend, dismissing the talks as a government photo-op.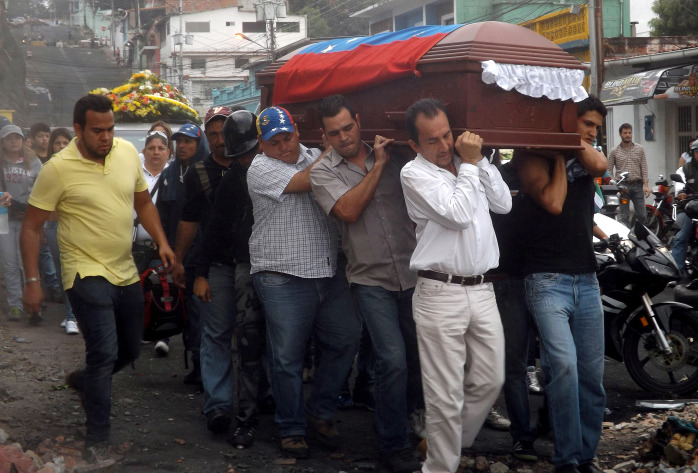 Oil-rich but deeply divided Venezuela has been swept up in student-led protests since Feb. 4, posing the greatest challenge yet to Maduro's 11-month-old government.
Those who are on the streets say public anger over shortages of food and other basics, soaring inflation and rampant crime have served as kindling for these protests.
"Unless we all get out there and protest, we are not going to be able to get out of this really complicated situation," said university student Andres Contreras, out on a Caracas street.
Venezuelan authorities said Wednesday they had arrested five intelligence agents for suspected ties to killings during protests against Maduro's government.
On Monday, nine people were arrested in the same case including three SEBIN intelligence service members, and the rest police officers.
"Why should we have to live like this?" demanded demonstrator Adriana Díaz, a 48-year-old lawyer banging on a cooking pot, on of the symbols of opposition defiance. "The government should listen to people, and hang the economic system."
Maduro has responded to the street protests with force, arresting scores of demonstrators as well as a prominent opposition leader, Leopoldo López.
Sporadic clashes overnight 
Caracas was relatively peaceful Wednesday after a night of occasional clashes in the capital.
But the opposition and the government staged separate marches, in a vivid display of the polarization roiling a country with the world's largest oil reserves.
Several thousand women dressed in white marched through the city to a military barracks to demand "an end to the repression and violence by the security forces."
"We know that it's the Cubans, an invading army, who are giving the orders," said a document the women brough to the barracks. "Don't let them." Communist Cuba is Venezuela's main political ally.
Lopez's wife, Lilian Tintori, led the march with opposition lawmaker María Corina Machado.
Meanwhile, thousands of government supporters marched toward the presidential palace to rally for "peace" and against what Maduro insists is an opposition "coup d'etat."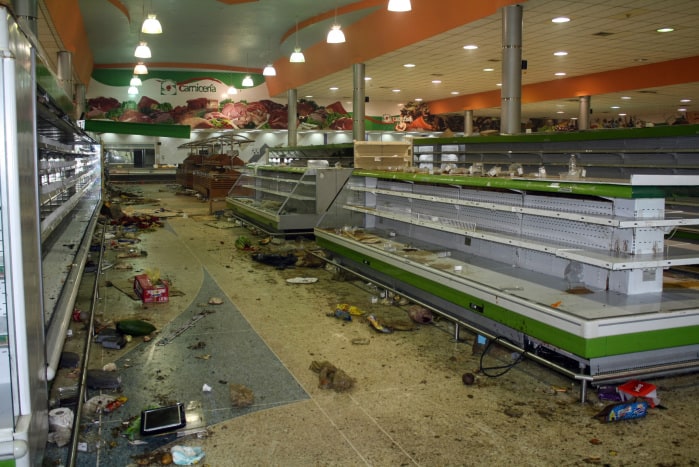 On a visit to Bolivia, Foreign Minister Elias Jaua said that what he called the politically motivated bid to out the elected president has now been defeated.
"We aren't saying that there are no problems in Venezuela; of course there are. But they are not the cause of the protests. The cause is the same groups that 15 years ago tried to oust Hugo Chávez and now they tried to do it to Maduro," Jaua insisted.
Maduro has sought to deepen the socialist, anti-U.S. policies of his charismatic predecessor and mentor, the late Chávez.
Chávez was briefly ousted in a coup bid that lasted less than two days in 2002; the United States did not back Chávez, the elected leader, at the time, and instead supported a non-elected interim leader.
That move by the United States seriously damaged U.S. credibility across Latin America for the decade that followed and beyond.
In Rome, Pope Francis appealed for reconciliation, calling for "mutual forgiveness and a sincere dialogue, respectful of truth and justice."
U.N. chief Ban Ki-moon "calls for the protection of the human rights of all Venezuelans," he said in a statement.
And the United States voiced some optimism.
"We're prepared to have a change in this relationship, this tension between our countries has gone on for too long in our view," U.S. Secretary of State John Kerry said Wednesday.
"But we are not going to sit around and be blamed for things we have never done," he added.
On Tuesday, the United States announced it would expel three Venezuelan diplomats, a tit-for-tat response to the expulsion of three U.S. diplomats by Caracas last week.
The U.S. action came the same day that Maduro's government named a new ambassador to Washington.
The two countries have not exchanged ambassadors since 2010, reflecting the bad blood that has prevailed between the two trade partners since Chávez came to power in 1999.