CARACAS, Venezuela – Venezuelan police fired tear gas and buckshot to disperse hundreds of anti-government protesters late Wednesday, and the death toll from two weeks of unrest rose to four.
As U.S. President Barack Obama urged the government to release detainees, hospital officials said a 21-year-old former beauty queen in the northern city of Valencia who was shot in the head Tuesday died of her wounds.
Unrest stemming from anti-government fervor was reported in several cities in the oil-rich but economically troubled nation.
In a rich neighborhood in the east of Caracas, police used tear gas and buckshot to disperse protesters who had blocked a road by burning garbage and debris. Several injuries were reported.
The demo was in support of a prominent young opposition leader, Leopoldo López, who turned himself in to the authorities on Tuesday after days of eluding police seeking to execute an arrest warrant.
He was making a court appearance late Wednesday but no details had emerged. He is charged with instigating street demo violence last week that left three people dead.
Obama, speaking during a visit to Mexico for a trade summit, urged Venezuela to release detained protesters and address the "legitimate grievances" of its people.
Demonstrators — students and opposition parties — are angry over rampant street crime, runaway inflation, corruption and bleak job prospects in the country with the world's largest proven oil reserves. Their main target is President Nicolás Maduro, who succeeded the late Hugo Chávez last year.
"Along with the Organization of American States, we call on the Venezuelan government to release protesters it has detained and engage in real dialogue," Obama told reporters after a North American leaders summit in the Mexican city of Toluca.
Venezuela's relations with Washington, long strained under stalwart leftist Chávez, have remained sour and distrustful under Maduro, who has stuck closely to his predecessor's policies.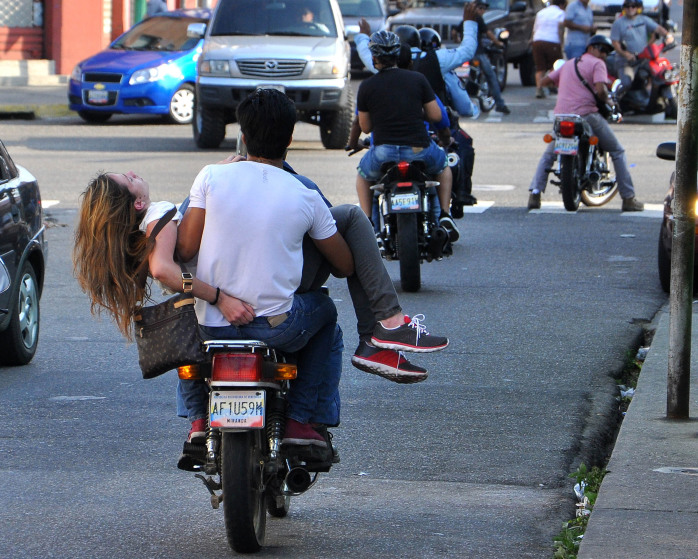 'Political confrontation'
About 100 supporters of jailed opposition leader López rallied Wednesday outside a Caracas court where he had been due to hear charges blaming him for a deadly episode of violence.
Heavy security surrounded the Palace of Justice, blocking streets leading to the building, where the Harvard-educated economist had been scheduled to appear after spending the night in jail.
But his party said in a Twitter message that the hearing had been moved to a military jail. López's defense attorney Juan Carlos Gutiérrez said a court illegally ordered the change claiming it would protect López's life.
López's dramatic surrender to National Guard troops at a protest rally Tuesday came after two weeks of protests against Maduro.
After three people were killed in street clashes on Feb. 12, Maduro ordered López's arrest, blaming him for the violence.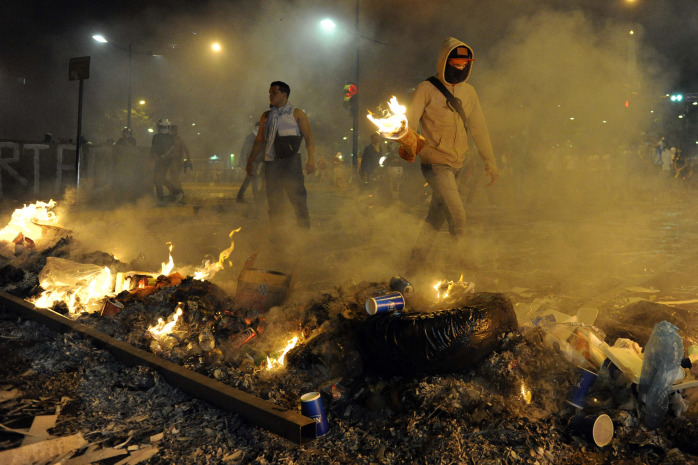 Political scientist Ángel Oropeza said the government was walking a tightrope.
"They may hold him for a few days. If they free him right away, it would be a sign of weakness," said Oropeza, a political science professor at Simón Bolívar University in Caracas.
"But if they hold on to him for a long time, it could fuel the protests even more and the government would come under more international pressure," he said.
On Tuesday, López told thousands of his supporters, all clad in white, that he hoped his arrest would highlight the "unjust justice" in Venezuela. He drew an explosion of cheers from the crowds.
The tensions generated by the protests have spilled into the international arena.
On Sunday, Maduro ordered the expulsion of three U.S. diplomats, accusing them of meeting student leaders under the guise of offering them visas. Washington denies the allegations.