UVITA, Puntarenas — The transformation has begun.
On Monday morning, carpenters, artists and volunteers began converting a field on Playa Hermosa near Dominical into a tented jungle paradise for this year's Envision Festival. Now entering its fourth iteration, Envision is a four-day music, art and sacred movement festival on Costa Rica's southern Pacific coast. The psychedelic festivities go from Feb. 20-23.
"Today is our first build day," said event producer Jessica McStravick, who was handling some details at the Dominical hotel Costa Paraiso with fellow producer Justin Brothers. In between organizing transport, ticketing and press details, the producers each had time for a quick Thai massage from Whakapaingia, a burly member of the Maori tribe from New Zealand.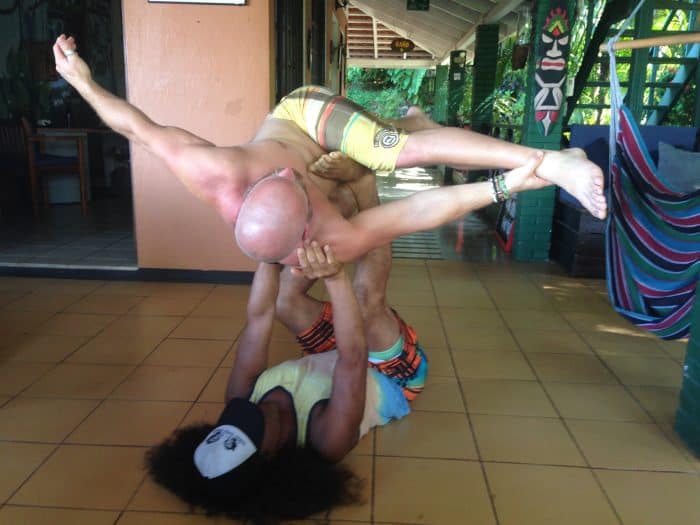 "We're more ahead of the game this year," Brothers said, referring to how construction is beginning 10 days before the festival. Last year, he said, the build began just five days prior. After a hot and rainy event in 2013, organizers have also secured a new venue, Rancho La Merced in Uvita, which contains a shady field just a two-minute walk from Playa Hermosa.
At the grounds, numerous employees and volunteers were hard at work. Stage designer Gerard Minakawa, a Santa Barbara, California native who has worked for Envision for three years, was jogging around, shirtless and excited about his plans.
"These are our best stages so far, no doubt," Minakawa said, flipping through a book of sketches. In addition to the plans for each of the stages, the book included an elaborate drawing of a jack fish that he and other festival planners had caught spearfishing that morning. The stages will be designed using fabric and bamboo, Minakawa said, and will feature giant triangular shards.
Across the field, another group was constructing a bamboo sky playground. Made up of ladders and platforms, the tree-supported jungle gym will serve as a meeting place for festival attendees.
"I want it to be a space where people are forced to move around each other," said playground designer Thea Rae, who said she was from everywhere and nowhere. "I think you can learn more about a person through play than through conversation."
Going there: The Envision festival grounds are located off the coastal highway between Dominical and Uvita. Free parking is available outside the grounds and a shuttle will transport attendees to the festival. Car camping and VIP parking are available for $70.
Ticket information: Through Feb. 12 (today) tickets can be purchased from $80 for a Sunday pass to $265 for the entire festival for international attendees. Costa Ricans and other Central Americans can purchase tickets from $60-$125. Thursday multi-day ticket prices jump from $250-$290 for international guests and $140-$150 for Central Americans. Tickets can be bought here or at the festival gates.