Watch Joel Campbell and Álvaro Saborío score in Costa Rica's 2-1 victory over Paraguay
Joel Campbell did it again. The 21-year-old attacker scored another awesome golazo. His goal in the 43rd minute gave Costa Rica its first score in four games. "La Sele," as Costa Rica's men's national team is known, then hung on to beat Paraguay, 2-1, at the National Stadium on Wednesday night. The match was Costa Rica's last home game before the World Cup. The stadium appeared only half-full (12,500 tickets were sold) for the national team's "despedida" or "going-away match."
Those watching got another glimpse of Campbell's abundant talent. He could be the star of the team for years to come. A week ago, the entire soccer world took notice of Campbell after his wonder goal against Manchester United, while playing for the Greek club Olympiacos.
On Wednesday night, he blew by a couple defenders and lifted another beautiful shot right over the outstretched arm of Paraguay's keeper. The way Campbell moved to get open and take the shot actually looked similar to what he did against Manchester United, except his goal versus Paraguay came from a slightly shorter distance.
Álvaro Saborío also saw his impressive recent play carry over to the Paraguay match. The Real Salt Lake goalscorer — and Major League Soccer's Latino of the Year in 2013 — put the game away in the 72nd minute. He then celebrated by…sucking on his thumb?
Campbell and Saborío (who we thought might end Costa Rica's scoring drought) bolstered the home team to a 2-0 lead, and La Sele did just enough to hold on without ever looking dominant.
For long stretches throughout the match, Paraguay, the weakest team in South America, managed to control the pace of the game. The visitors finally broke through when Gustavo Raúl Gómez headed in a corner kick at the 85th minute. In the 92nd minute, Paraguay barely missed on a chance to tie up the game.
Keylor Navas, Costa Rica's emerging star, received a warm ovation from Tico fans. The best goalie in Spain's professional league warded off a few solid attempts by the Paraguayan team. How Navas handles pressure will be key for Costa Rica at the World Cup, where the country faces Uruguay, Italy and England.
Head coach Jorge Luis Pinto believes the Paraguay match will better prepare the team for Uruguay, with whom Costa Rica opens in Brazil on June 14. This was Costa Rica's first victory since qualifying for the World Cup last October. The team had been scoreless in three previous international friendlies, but Costa Rica fought those games without having its best players together on the pitch.
The star power helped make the difference in toppling a mediocre and inexperienced — but not incapable — Paraguayan team. Costa Rica will try to carry some newfound momentum into its final international friendlies, which will take place in the United States against Ghana and Japan two months from now. Less than two weeks after those warm-ups, the team takes off for Brazil.
In other regional action Wednesday, the United States got shutdown by Ukraine, 2-0; Honduras defeated Venezuela, 2-1; and Mexico and Nigeria played to a scoreless tie.
All four Concacaf rivals took on opponents who did not qualify for the World Cup. Costa Rica and Honduras both were victorious at home, while the U.S. and Mexico faced their opponents at neutral sites and didn't fare as well.
You may be interested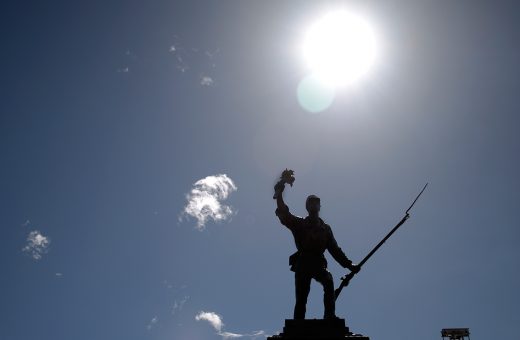 Juan Santamaría Day
5033 views