Costa Rica confirmed 21 new cases of the coronavirus over the past day, totaling 1,105 cumulative known cases, the Health Ministry announced Tuesday afternoon.
Six more people have recovered from COVID-19, leaving Costa Rica with 682 total recoveries and 413 known active cases.
Ten people have died after contracting the coronavirus. Nineteen people are hospitalized with COVID-19; five people are in intensive care.
Costa Rica has processed a total of 27,318 diagnostic tests for SARS-CoV-2 (344 more than Monday), which corresponds to 5,345 tests per 1 million people. The country has averaged 363 daily tests over the last five days.
Regional driving restrictions announced
Starting Wednesday, Costa Rica will enforce regional nighttime driving restrictions near the country's northern border with Nicaragua.
The measures are meant to help authorities prevent irregular immigration.
In the following cantons and districts, driving will not allowed from 5 p.m. to 5 a.m. beginning Wednesday and until further notice:
La Cruz: Restrictions apply to the entire canton.
Guatuso: Restrictions apply to the entire canton.
Upala: Restrictions apply to the entire canton.
Los Chiles: Restrictions apply to the entire canton.
Río Cuarto: Restrictions apply to the entire canton.
San Carlos: Restrictions apply to districts of Aguas Zarcas, Cutris, Pital and Pocosol only.
Guácimo: Restrictions apply to district of Duacarí only.
Pococí: Restrictions apply to districts of Colorado and La Colonia only.
Sarapiquí: Restrictions apply to districts of Llanuras del Gaspar and Curuña only.
Siquirres: Restrictions apply to districts of Pacuarito and Reventazón only.
Outside of the aforementioned cantons and districts, nationwide driving restrictions apply as detailed here.
In addition to the driving restrictions, the Public Security Ministry is limiting non-essential navigation on the following waterways as of Wednesday:
Medio Queso River and Frío River.
The channels of Tortuguero, Colorado and Sarapiquí.
"These provisions aim to apply more rigorous measures in those areas to mitigate the progress of COVID-19 and to protect the health of the population," said Michael Soto, Minister of Public Security.
Costa Rica is enforcing border restrictions, banning foreign visitors until June 30.
Active coronavirus cases in Costa Rica
Click a blue marker for more information. This map has been updated through Monday, June 1: 

The below chart was last updated June 1: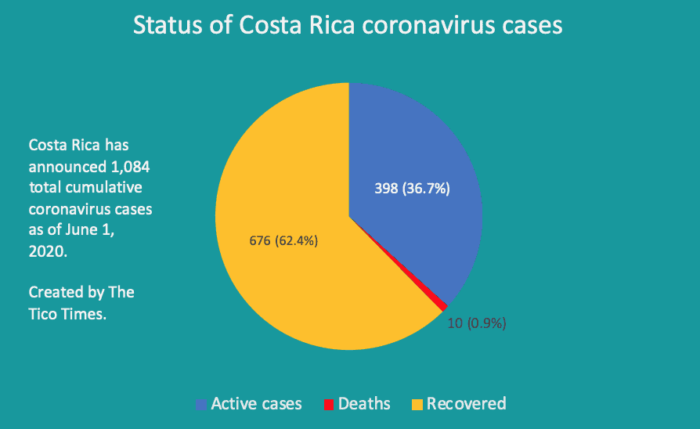 Timeline of COVID-19 in Costa Rica
Costa Rica is enforcing nationwide driving restrictions until June 20. Click here for full details.
If you believe you may have contracted the coronavirus or have questions regarding the virus, contact Costa Rican health authorities by dialing 1322.