The most recent environmental footprint assessment estimated that for humanity to meet its needs in 2018, we require 1.5 times of what Earth can currently supply. You may consider that as the cost of the "pursuit of happiness" but ironically, many recent studies indicate that happiness and life satisfaction has been declining over the past two decades.
That's partly why my wife and I moved to Costa Rica from Canada in 2016. We wanted a simpler, more sustainable life that was closer to nature. Now we live on a farm surrounded by jungle near Cahuita, Limón, and produce most of our own food, rely on local resources for water and energy, build as much as possible with local materials, and live, so to speak, "off the grid."
In less than two years, we have been able to create a living space that is comfortable and provides for all our necessities, while significantly reducing our monthly expenditures and overall footprint.
While many expats choose Costa Rica in hopes of living a simple and sustainable life, many do not know where to start. Globally, we struggle with the concept of sustainability because we do not have a reference point for it. Humanity's history is fraught with examples of unsustainable civilizations that have led to their own demise from over-extraction of their local resources.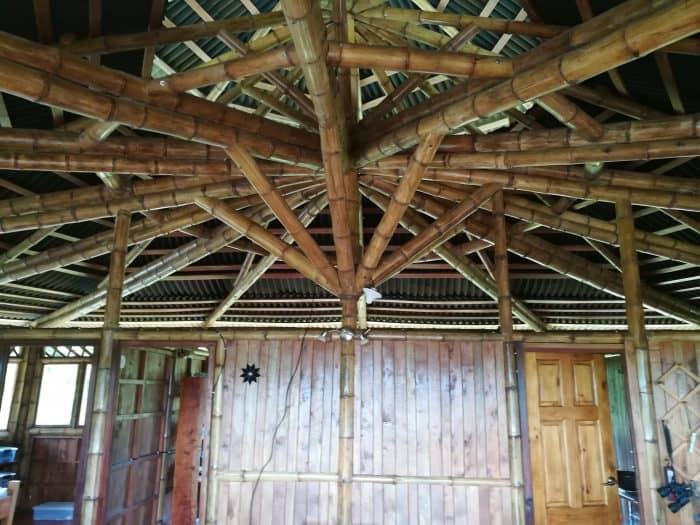 As a professor in Canada, I used to teach sustainable design among other courses. My research focused on sustainability in urban settings. When I taught design to my students, I often reminded them to ask themselves "what if?" multiple times before finishing their design. I wanted to make sure they had covered all the bases, that their design was fail-safe and that their design didn't create unsustainable demands.
Naturally, I asked myself those "what ifs" on a daily basis as I biked to the university, drove my car or decided which groceries to buy. What if the road I biked on would no longer be maintained or winter snow removal would be discontinued? What if the supply of food we relied on was interrupted? What if our city could no longer provide water, manage sewage, or collect garbage?
I also taught courses dealing with complexity and systems thinking. Both topics emphasize that our societies are complex systems of interconnected and interrelated parts. We have to keep this in mind with sustainable design.
When asking "what if," you soon realize that the systems we've built, from living spaces to transportation to water, energy and food production, and supply systems weren't designed with complexity and interconnectedness in mind. In the process, we have become dependent on products and services we can't generate locally.
After we moved to Costa Rica, we had to apply everything we knew and combine it with local knowledge. We still ask the "what if" questions regularly and identify dependencies we need to overcome to live more sustainably. What if we can no longer purchase gas cylinders for cooking or fuel to power our "chapeador" or chain saw? What if our solar batteries fail and we can't find replacements?
As peace is far more than an absence of war, sustainability is a far greater concept than solar panels, rainwater systems, and a low fossil fuel footprint. While we have been learning a lot from the "trial and error" process, we also have benefitted from following appropriate sustainable design processes, procedures and techniques to cut down on failures and unnecessary expenditures.
In contributing a series of articles on "In Search of Sustainability in Limón", I want to help you build your own sustainable framework. Sustainability is the holy grail of the 21st century; highly explored and discussed, yet little understood.
That's why my next article will try to define the concept of sustainability based on recent scientific advancements and the accumulating knowledge of humanity on the local and global scales. I hope that you can join me on this journey and enrich this process by contributing your insights. I can be reached at khosrowf@gmail.com.