It's 2010. Luis Carballo and Daniel Ortuño meet each other through mutual friends: within the span of their first conversation, they begin discussing the creation of their own musical project.
Fast-forward to 2018, and they've created their own band: Los Waldners, whose current lineup includes Carballo (vocals and guitar), Ortuño (guitar), Gustavo Quirós (bass) and Diego Zeledón (drums). The name of the band is inspired by Swedish table tennis champion Jan Ove Waldner, beginning as a joke among the members and reflective of the joking, happy personality of the band, which has performed around the country as well as in Peru, Colombia and Mexico.
In 2014 the band released its first album, Eclipse Total del Corazón (Total Eclipse of the Heart), and their second in 2016, Malas Decisiones (Bad Decisions). This month they released their new single, No Me Visto Para Vos (I Don't Dress For You). The band members say all their songs and albums reflect the values of the band.
"It's not only about going to a rehearsal and playing your part. There's a lot of interaction and commitment," Carballo told The Tico Times. "That's why I think that until today we've lasted a long time together, changing certain members, but it in general there's always been a closeness with the principles in the way of seeing the world."
On a sunny, warm morning at Franco Coffee Shop in Barrio Escalante, San José, The Tico Times sat down with Carballo and Ortuño to speak about Los Waldners' strong musical message of love and respect at a difficult moment in Costa Rican history. Excerpts follow.
How has the group evolved since its creation?
DO: There are certain influences that brought us together when we started, which is the first thing where you coincide: musical tastes. We could say that there's a very marked pop influence… based on that, we expanded it. As you begin trusting the members of the band, you start revealing more personal tastes that you reserve for yourself.
We noticed at some point that we all like pop in a very wide sense. Not only as guitar underground bands with limited editions, but also things that appear on the radio and TV or music that we listened to when we were younger. There's a lot of Latin American influence. I think that is more noticeable on the last album.
LC: The band has changed a lot. Even how we compose has changed. At the beginning you're getting to know the people, how they compose, what they do, what they can contribute and what their strengths are.
We've learned and change a lot. I feel that today we compose better. We write more structured lyrics. We get along better with each other… It's about having a healthy band that allows us to change, make decisions and respect each other's directions.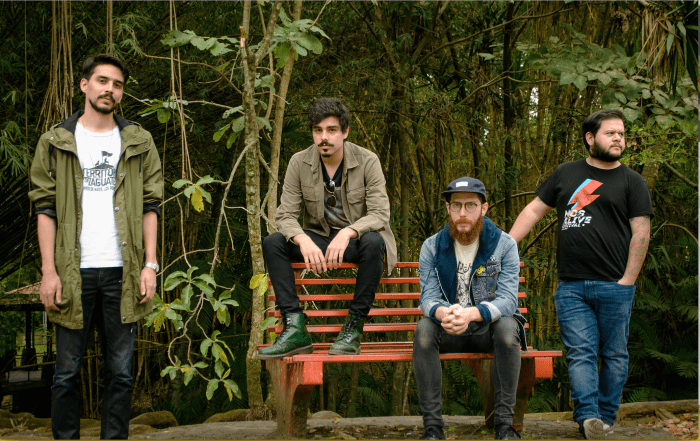 What's your process like for creating a song?
DO: We do operate within a framework. We're a rock pop guitar band, so it's not like one day someone will come with a drum machines and be like: 'Hey, check out this new song I made.'
LC: Who knows? Maybe the [drum machine] can be there.
LC: The important thing, as Dani said, is trust. If I come in with an idea, maybe I have been working on that idea for a long time and Dani is like: 'No. It doesn't work,' and maybe Tavo doesn't like it.
It's not about being arrogant and saying no to others' ideas… You work it out, and trust the other person and want him to do things better.
Listen to Los Waldners' album Eclipse Total del Corazón (Total Eclipse of the Heart):
What stories do you like to tell through music?
LC: When I speak about something I try to focus on what I feel from an experience or what someone felt in an experience, because I think that's what you identify with. It's not about going out with someone, but with what you feel when you go out with someone… Applying that to what we are currently going through [in Costa Rica], we sometimes forget that. We focus on actions and not on the importance that they have for people or their feelings.
Listen to Los Waldners' album Malas Decisiones (Bad Decisions):
Are the current political and social divisions in Costa Rica driving you to make new songs focused on the kind of empathy you're describing?
LC: We've always written about these things. What happens is that now we're driven into telling them with more strength. It makes us shout them and not say them on a low level because we think it's important for them to be listened to.
It's very easy to point and shout at someone, but it's difficult to try to identify with that person and feel what that person is feeling. It's this feeling of distance from others when you speak to someone you don't know.
When we narrate these stories of feeling, it's one way or another saying: OK, get to know me. Get to know people who feel like we do and understand that I'm like you in many things. The current moment is very strange and particular.
Watch Los Wadners' video for Periodistas (Journalists):
How is music a tool for communication and expression?
DO: We don't seek to change someone's opinion with our music. We try to make it true to what we really think.
LC: There's nothing nicer, I'd say, than when someone tells you that your music makes them feel good. That they're not alone. That it's ok to not be the strongest mae (guy) or strongest woman. You can be vulnerable.
We see ourselves as agents of change in that sense, legitimizing and giving words to sensibility, honesty, vulnerability through our songs and what we try to express.
DO: It's not about giving answers in the songs. It's better that it generate a question within you.
"Weekend Arts Spotlight" presents Sunday interviews with artists who are from, working in, or inspired by Costa Rica, ranging from writers and actors to dancers and musicians. Do you know of an artist we should consider, whether a long-time favorite or an up-and-comer? Email us at kstanley@ticotimes.net.