Using art as en excuse to travel the world has become French curator Emmanuel Javogue's way of life. On a quest to determine the uniqueness and essential humanity of each work of art he comes across, Javogue says he sees art as a universal language in every corner of the world.
Javogue's journey began when he was 14-year-old living in Paris. His father gave him a book on modern art that quickly sparked his interest, leading him then to visit art galleries and simply appreciate the works around him.
Javogue then decided to study art history at Christie's in London, England. He began traveling between New York and Paris as an art curator, and then established his art own art galleries in France and Miami. He handled works by such renowned artists as Andy Warhol, Jean-Michel Basquiat and Keith Haring, and organized exhibits around the world.

In 2005, Javogue came to Costa Rica to visit a friend in Tamarindo, Guanacaste. Costa Rica immediately captivated Javogue and he moved here with his family, choosing the Guanacaste beach town of Flamingo. As he created a new life in a new country, Javogue decided to get involved with the Costa Rican government by collaborating with Manuel Obregón, the Culture Minister at the time.
His initial talks with Obregón led Javogue to lend his art collection to various free exhibits at San José locations including the National Theater, the Casa Amarilla, and the National Gallery at the Children's Museum. He then took on a bigger task closer to home: he became a member of the Tamarindo Art Foundation, which created the Tamarindo Art Wave Festival.
On a sunny afternoon in Tamarindo, The Tico Times sat down and spoke with Javogue about his life and work. Excerpts follow.
Why did you choose to dedicate your life to art?
Wow. The irony. All of it: I don't know how to draw. I don't know how to paint. I don't know how to sculpt. I'm very, very, very bad at it, [to the point] that I'd be ashamed to show to you. But when I was 14 and my dad gave me a book on modern art in English, I connected. It was a fascination.
Maybe in a previous life I was a painter or something… I came from a family where art was important. My father had paintings on his walls and he liked it, but nobody was an artist. Nobody was an art dealer. Nobody was a curator. It was just an interest.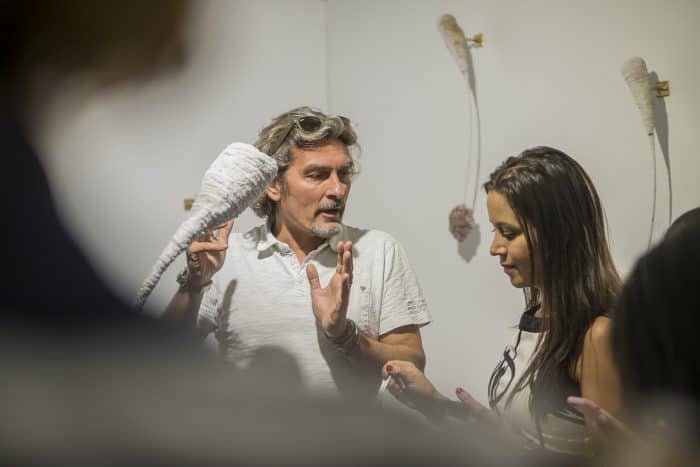 When did you start your first collection?
Collecting like I did is an addiction. Another form of drugs. I would buy things without having the money for it… I collect a lot of what they call primitive art… African mask, art from the Himalayas. I have a big collection of design from the 60s. Photographs. Collecting… is a disease because you get things you don't need in reality.
It stopped a little bit when I moved to Costa Rica for technical reasons. This isn't the right the climate to keep important works of art because of the humidity where I live.
Then I realized that the nature [around me] played the same role as the art… Art is talking about what nature has made…. Works of art are like mirrors of who you are; it's an offering of humanity. I like that about art, but now nature is doing it for me much more efficiently.
What have you learned about world cultures after such extensive travels and experiences living abroad?
On the surface, they all have a different language, but if you're able to transcend the barrier, we're exactly alike. We're all the same. Going into every country I learned the specifics of these countries, but the base, the core, the essence is all the same. It makes you very humble.
Why is it all the same?
The base of what people are sharing in art is very basic feelings. I think if you were to define them, I believe they come from love and hate. All feelings are based on these two things. We're talking about love and all its forms, and fear.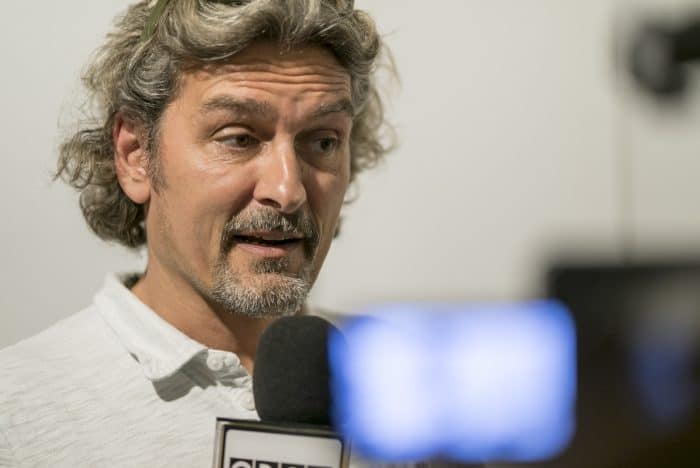 Why did you decide to come here to Costa Rica and what made you stay?
I think this is the happiest place on Earth, and I have traveled a lot. It's a magical place. I have many tico friends and they're very good at the sport of complaining about the country: Ahhh, la Caja doesn't work and I've been waiting for too long…they complain a lot. And I tell them: guys, if you were traveling more, you'd realize how much you have here. What you have, a lot of countries have lost it, so don't rush into getting everything else from outside. Keep what you have. It's a treasure.
Not only this nature, but with this connection with people. The fiestas típicas of Guanacaste. People come with their horses to the tope. Well, that is magical. There are very few places where it still exists.
This rush towards getting all the new technology, all the new fashion trends, and so on, I'm not sure they do so much good to people. I'm coming from cities that are very developed in this sense, and people are not happier. I can assure you.
So I came here to be happy and it's working.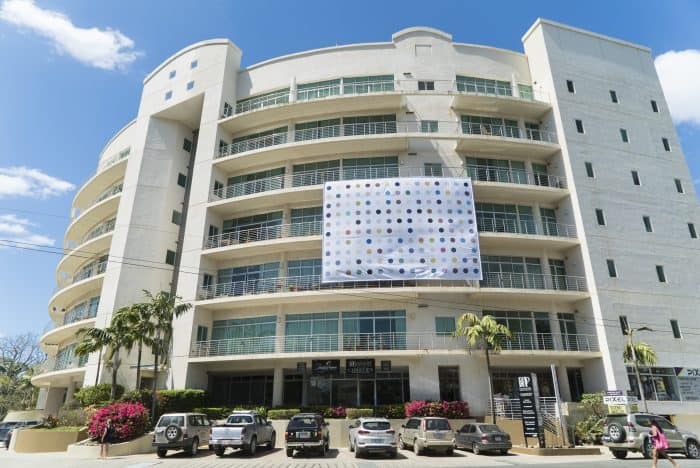 What was your first impression when you came to Costa Rica?
You have monkeys there in the trees. How many cities are going to allow you to watch Damien Hirst 50 meters that way [points to the Damien Hirst painting on Pacific Park] there and the monkey, not in a zoo, lives 50 meters to the right. I don't know many.
Another thing that I saw was the beauty. The diversity. It's unbelievable what you have, from the volcanoes, the culture of the Caribbean. We foreigners, when we come, sometimes we get to know better Costa Rica than you guys… because we came here to discover it, so we take our cars, drive around through all the places. We're very curious about the country.
It's the wealth of offerings that the nature has, and the culture. Ticos are the nicest people you can meet. They're so funny. They have a very good sense of humor. They're very open people if you respect them.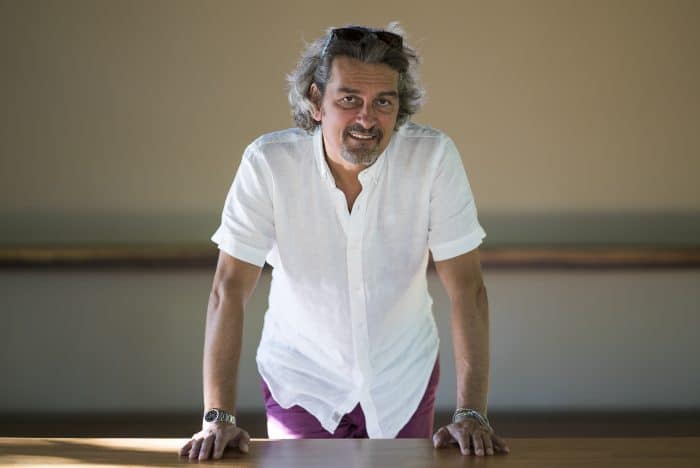 What else have you discovered about Costa Rica?
We always tend to believe that our neighbors are having a better life than ours. We believe things are so much better in other places, so we tend to want them and import them too fast without really thinking: do we really need all these things?
Costa Rica is so privileged in being in charge of one of the most beautiful gardens on Earth with 5 percent of the biodiversity that is sitting right there in this tiny country. I'd be very careful with the big developments with this absolute need of putting technology everywhere. Try to stay tico. It's a brand.
In my country, in France, two years ago [before] the COP21, Pura Vida was on the Eiffel Tower [because of the country's long stretch running purely on renewable energies]. That was the country that people respected. They shouldn't underestimate themselves. They should be very proud of what they have… This is why people come here.
Don't copy the others. Be yourself. Preserve your values. Exchange, of course, but get what's good. Be careful. Not everything's good coming from the outside.
Costa Rica honored at Paris climate talks with message on Eiffel Tower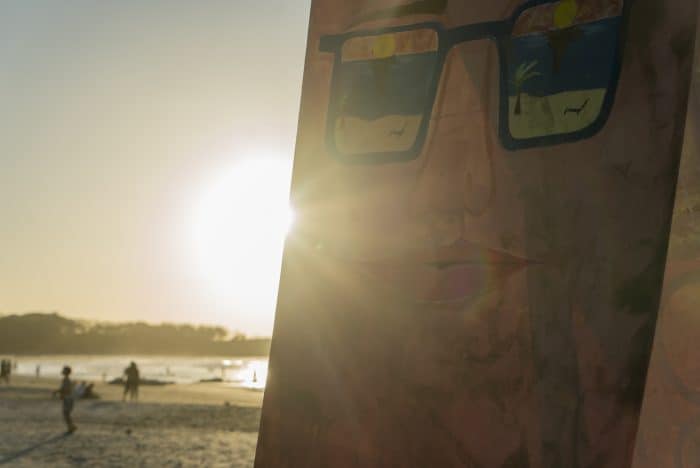 As for the Tamarindo Art Wave Festival, why did you decide to include a social component?
The events I organized before, I always wanted them to be free. I think we were privileged to receive what we have and we have to give back as much as we can. All of us.
It's the same with the people from Cala Luna, Griet and Ann: they have a big farm outside in Santa Rosa, which is part of it. They do a lot of social things, helping the school.
Everyone who is part of this foundation, we feel that we are ticos de corazón [ticos at heart]. We're not ticos de nacionalidad, we try to give back. We're lucky to live here. It's the minimum we can do and if we can give an example to other foreigners here, who could help more, then that'd be good too. It's everyone's own choice in life to behave the way they want.
Would you like to share your or your family's coming-to-Costa Rica story? Contact us at kstanley@ticotimes.net or share a post or video with the hashtag #SoyMigranteCR.
Read more World in Costa Rica stories here.