Tamarindo is preparing for another cultural immersion: the 2018 Tamarindo Art Wave is coming to town on Jan. 25-27.
This year's version of the popular festival will feature a few upgrades to enhance the participants' experience, including a huge art gallery tent, another tent for video art, and the first-ever use in Costa Rica of the Tilt Brush by Google. In total, the three-day event will display approximately 200 works by national and international artists, and present 15 shows — both art and musical performances and workshops — making these three days the largest art exhibit to take place in Guanacaste.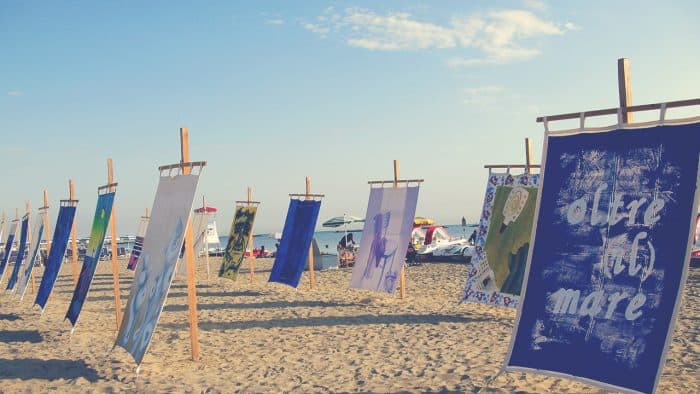 Since the close of the 2016 Tamarindo Art Wave, Emmanuel Javogue and the other co-curator Gaby Alvarez, both members of the Tamarindo Art Foundation, have worked to secure artists and activities for this year's Tamarindo-wide event. The most formidable addition to the program this year is the 400-square-meter tent in the parking lot next to the ABC Realty office. The structure and displays are based on the Art Basel style featured at the popular event by that name in Miami, Florida, and here will house the works from 30 national and international artists.
"The tent will be more professional and more museum-like," explained Javogue. "This structure will permit us to have larger paintings and sculptures."
Directly across the street, hanging from the side of the high-rise Pacific Park condominiums, will be a Damien Hirst fresco mural called Five Blacks lent to the Tamarindo Art Wave by a private collector. The 7.5-9 meter dot painting was created by the artist in 1993, and Hirst, a English artist whose work is usually worth millions, has sold the festival the rights for participants to recreate the painting with his own step-by-step instructions provided beforehand.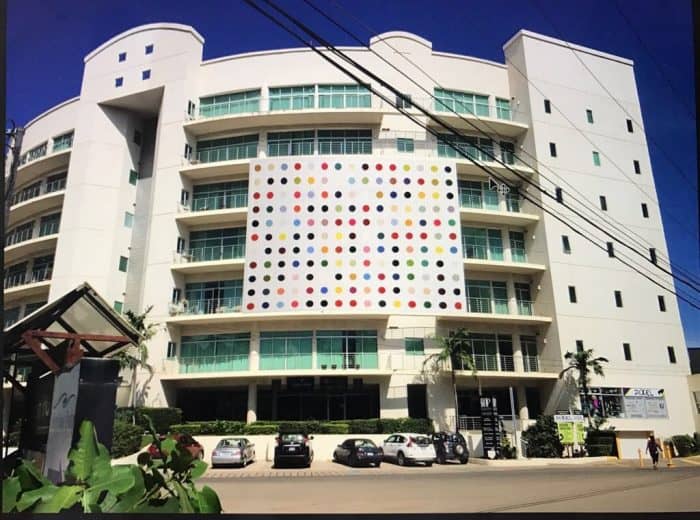 Another addition to the festivities will be the eight 36-square-meter awnings of dedicated to video art located in the soccer field across from Witch's Rock Surf Camp. These will be more experimental installations, "more theatrical than looking at a painting," Javogue said, adding that a lounge space has been created in the middle of these tents for participants in the event to rest and take in the work.
https://www.facebook.com/tamarindoartwave/videos/1537836172975751/
The curators estimate that 90 percent of the featured artists in the tents and at the businesses around Tamarindo will be present this year. However, the main goal is to allow participants at the event to interact with artists, an aspect of the 2016 edition that was very successful. As a result, the number of interactive workshops around town has been increased to 14, located, among other places, at El Coconut Restaurant, Pangas Restaurant, Best Western Tamarindo Vista Villas, La Oveja Negra and Hollie Heller house. These include:
– Percussion (drumming) with Messa Riddim
– Lettering (design around handwritten letters) with Byron Balmaceda
– Illustration with Brian Miranda
– Textile art with Buena Nena
– Illustration and serigraphy with Mauricio Tiburon Reptil
– Drawing with Felipe Jets
– Expression through body movement with Los Cabos
– Expression though fashion with Monsieur Duran
– Eco-impression with Hollie Heller
– Performances with Alexander Chaves
– Serigraph printing with Alejandra Fournier
– Technical illustration with Stephanie Chaves
– Textile stamps with Ale Rambar
– Painting with Alavaro Gomez
"This year we have different forms of art for people to try, including printing, painting, drawing and body expression," said Javogue. "That last one is with people from the circus who will be teaching other people acrobatics. There will also be a dance teacher."
The live artist congregation includes Eric Lemaire, a French sculptor who will be creating a huge piece of art during the Tamarindo Art Wave. When the 8-meter-wide piece is finished, he will donate it to the town for display in the planned park across from Cabinas Marioles. Korean video artist Lee Kyungho will make his first visit to Costa Rica in order to present a historical selection of his work.
In addition, participants to the Tamarindo Art Wave can expect to see the sculpture and paintings of Tica Aimee Joaristi; the video art of Peter Sarkisian of Santa Fe, New Mexico; glass art of Valerie Rey and paintings by Jean Marc Calvet, both of France; and the paintings of Swiss artist Victoire Cathalan. The Costa Rican project UMO will create an interactive inflatable sculpture on the beach, and Alexander Chavez will perform inside his own sculpture at another location.
On the local level, Costa Rica's well known painter/sculptor/engraver Fabio Herrera will exhibit samples of his work from the last 30 years. Emerging national artists include architect Alejandro Rambar; painters Guillermo Tovar, Felipe Keta and Alonso Rubí; erotic illustrator and sex activist Stephanie Chaves; and an exhibition by the sculptor Alexander Chaves who proposes to send his onlookers on a spiritual journey.
https://www.facebook.com/tamarindoartwave/videos/1614613278631373/
"This year, we are definitely getting some things unheard of here," said Javogue. "Tamarindo Art Wave will be a mix of traditional art and the new techniques that are now being used and will be used in the future. A 15-year-old isn't used to looking at a painting, he's used to looking at a screen. We are all witnessing a shift in the art world."
https://www.facebook.com/tamarindoartwave/videos/1613566688736032/
To that end, on the performance stage, which this year moves to the area where the weekly Feria takes place in the old Tamarindo Resort, Miami artist Alissa Christine will hold two 3-D painting sessions. She will wear virtual reality goggles, then use the magic wand apparatus, called a Tilt Brush by Google, to draw what she sees with her eyes, and since it is 3-D, she will be able to walk into it. The audience will view the artwork on a large screen on stage. Christine's performances will take place on Thursday and Sunday night.
Other activities that will take place on the stage include the return of best-selling Tica performer Debi Nova — this year with her guitarist. They will once again be accompanied by pianist Manuel Obregon. Nova is scheduled for Friday night, and the popular Costa Rica indie band Sonámbulo Psicotropical,who fuse Afro, Latin and American rhythms, play on Saturday.
The art spaces will be open at noon and the musical platforms will take place from 4:00 p.m. with children's presentations, while the adult shows will start at 6:00 pm. The Tamarindo Art Wave will have an area dedicated to activities for boys and girls in Selina Garage, starting at noon.
Children have a larger role in the 2018 Tamarindo Art Wave than in past editions. Part of the success of the last event can be attributed to the blue line of art work that led participants of the festival from one exhibit to the other. The line was comprised of blue art pieces created by children from the nearby schools. This year, Tamarindo Art Foundation member Ann Vervoort spearheaded an initiative with students from neighboring elementary and high schools to create works on 1 x 2 meter canvasses.
"This was a major event for the kids, as some of them had probably never touched a paint brush," said Vervoort. "Here we offered them all kinds of colors, brushes, sponges. They can even use their hands and feet, all to decorate a canvas that is bigger than themselves."
https://www.facebook.com/tamarindoartwave/videos/1587780051314696/
The resulting work will be displayed at the festival, surrounding the opening night Gran Cena that kicks off the festival on the each. The meal will feature dishes created by chefs Sebastien Couratier, Francesco Mascarucci, Fabien Mandrea and Hugo Gutierrez, and wine selected by expert Carmen de Aguirre. The Gran Cena the only fundraiser activity for the arts in the town, which according to Vervoort is extremely important because of the lack of art classes in area schools. The goal is to eventually raise enough money from events and sponsors to finance a year-round art teacher, who could visit the schools and offer professional art classes to interested children.
https://www.facebook.com/tamarindoartwave/videos/1616240461801988/
"The idea [for the Tamarindo Art Wave] is to diversify the cultural offerings of the area and make high-level artistic activities available to the local population," Javogue said. "That is why we also propose educational workshops for children and adults; the entire event will be free and open to the public.
"Tamarindo is a small city that has grown spontaneously with people from many places, which makes it very interesting to host this type of initiative," he added. "We want to find new ways to exploit the great potential of Guanacaste and for that reason, we decided to gather the artistic expressions of the area together with the art of other countries to put it on the world map.
"Tamarindo is not just surfing," Javogue said.
The Tamarindo Art Wave Festival will be held from Jan. 25 – 27. The entrance fee has no cost. For more information visit their webpage or Facebook page.