As Costa Rica joins many other nations in looking back upon the horrendous 2017 hurricane season, longtime Tico Times contributor John McPhaul reflects on his experience at the heart of Hurricane Maria's passage through Puerto Rico. Part II of II. Read Part I here.
The Puerto Rican municipality of Yauco, located in the southwestern part of the island, is known for its premium coffee. But Yauco won't be producing much coffee for a while after Hurricane Maria roared through on Sept. 20, nearly obliterating the coffee fields with Category 4, 155 mile-an-hour winds.
Coffee was just one of the worries of the 41,500 residents of Yauco. Maria tore the roofs off of hundreds of homes. Rains caused a landslide that destroyed around a dozen houses. And a berm levee burst, sending a creek's waters flooding to the rooftops of a neighborhood of around 125 houses.
"It was horrible. We had no electricity, no water, no food, no help – we were desperate," said Isabel Cristina, 65, a lifetime resident of Yauco center. "For the people in the countryside it was worse. So many of them have no roofs."
The Federal Emergency Management Agency (FEMA) is in the process of installing temporary blue-tarp covers over the hundreds of thousands of homes throughout the island that lost their roofs.
Lt. Gen. Jeffrey Buchanan, the head of the U.S. military response to the Maria disaster, has been inspecting the progress of the response and recovery. On a recent trip to Yauco, Mayor Angel Luis Torres gave him a tour of the food and water distribution center, where residents received two dozen bottles of water and 12 military-style meals.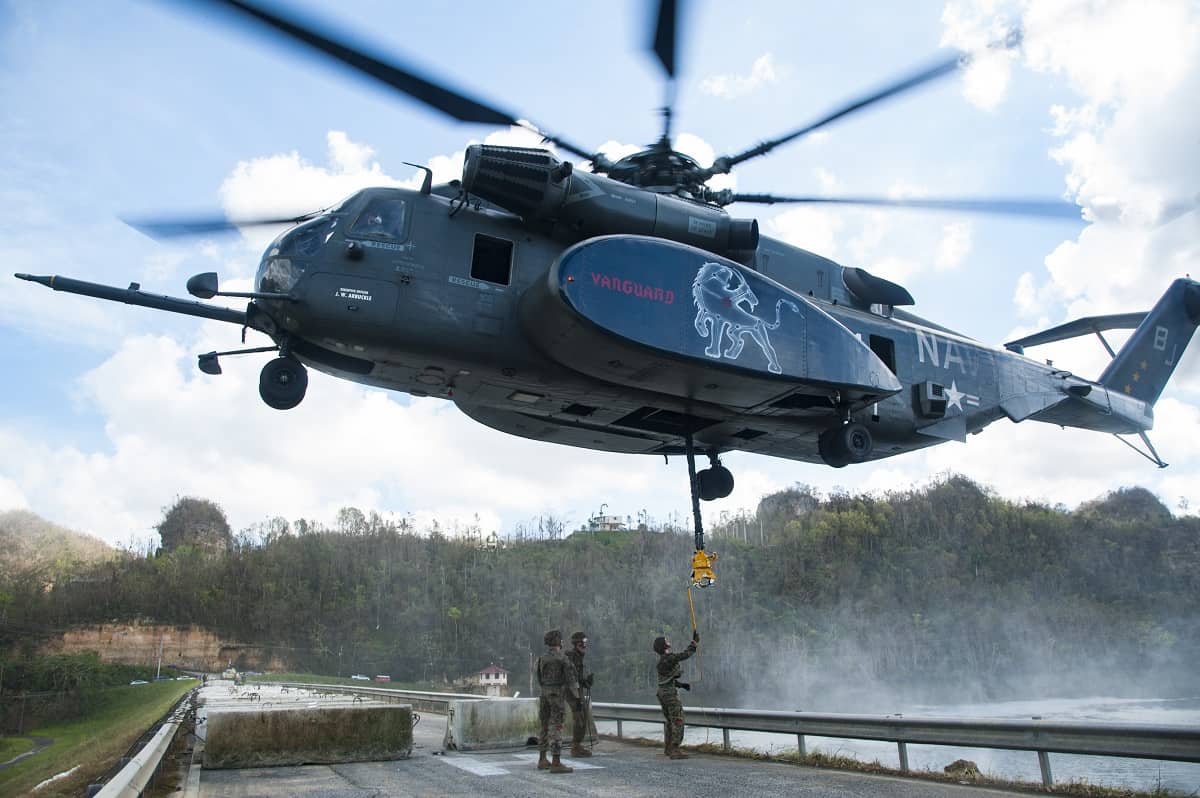 "What happened here was very difficult," Torres, a member of the pro-statehood New Progressive Party, told Buchanan. "If you couldn't come here, we would be lost."
The nerve center of the emergency response and recovery effort was the Pedro Rosselló Convention Center in western San Juan.
The center became a beehive of activity as police from Homeland Security and officials from the U.S. Forest Service, U.S. Public Health Service, U.S. National Park Service, FEMA, the Environmental Protection Agency, and state police and firefighters from New York State descended on the island.
Joining them were 13,000 men and women from the U.S military, who stood out in their olive green and camouflage blue uniforms as they went in and out of the convention center.
The soldiers were placed under the command of Buchanan, the commander of the Joint Forces Land Component Command, eight days after the hurricane struck. This delay raised questions about why the administration of President Donald Trump had not acted faster in the Maria emergency. Criticisms of the response only intensified when Trump visited San Juan and cavalierly tossed rolls of paper towels basketball-style to hurricane victims.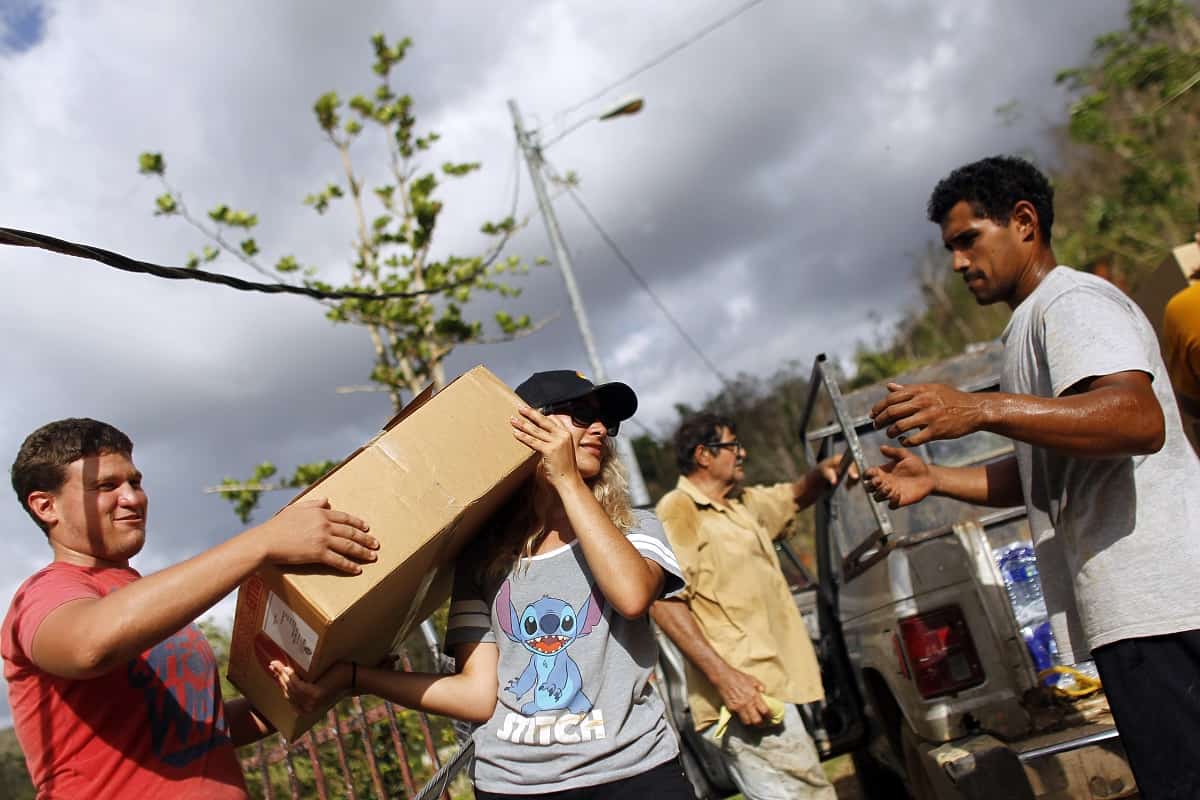 Many of the military personnel were veterans of foreign deployments in places like Iraq and Afghanistan and were accustomed to the hardship imposed by the emergency.
"What we're doing here as far as civilian assistance goes isn't much different than what we're doing in Iraq or Afghanistan, except we're not getting shot at," said an Army Lieutenant Colonel of Puerto Rican origin who asked to remain anonymous.
Gen. Buchanan has said the federal military will stay as long as needed to supply towns and municipalities from the air, while roads to the far-flung corners of the island are reestablished by Puerto Rico National Guard work crews.
"We won't be here forever, but FEMA will be here a long time," he said.
The government isn't alone in offering assistance. More than 60 non-governmental organizations have joined the relief effort.
Recently, the AFL-CIO union sent out a call for volunteers among its membership. In response, 200 union members from across the country came to Puerto Rico aboard a charter airline provided free by United Airlines – piloted by union pilots – to help in the response. San Juan Mayor Carmén Yulín Cruz welcomed the workers, who included electricians, heavy equipment operators, nurses and nurse practitioners.
Joan Davis, 55, a registered nurse from Camden, New Jersey got to work right off the United Airlines chartered flight, packing food boxes containing meals for a family of four for one week. She said she didn't mind doing work outside her specialty as long as she was helping.
Susan Gillis, 44, a nurse practitioner from Hillsboro, Oregonm also packed the food boxes, which included two milk boxes, canned food, canned meat, soup, beans, evaporated eggs, mixed canned vegetables, soup stock, canned meat, egg powder among other items.
Gillis said she hoped to get out to a rural town to help nurse hurricane victims.
"This is something I feel called to do. I have the gift of healing, so I thought I would share it," Gillis said.
John McPhaul is a dual U.S.-Costa Rican citizen, born in San José. He wrote for The Tico Times for many years and now works at the San Juan Daily Star.