Sponsored by the Costa Rica USA Foundation for Cooperation and Amigos of Costa Rica.
Former U.S. Ambassador S. Fitzgerald Haney – now known to millions of Costa Rican TV viewers as "Mr. Fitz" – has been asked many times in recent weeks why he decided, following the end of his time at the Embassy in July, to join the cast of Channel 7's "Dancing with the Stars." And he's given several answers: to have fun, to lose a little weight, to show a more personal and playful side of a diplomatic figure normally inaccessible to most Costa Ricans.
However, his most important motivation on the show stayed hidden until this week: he's using the opportunity as a way to give back by raising awareness and funds for cancer in Costa Rica.
It's a cause that is close to his family's heart. His wife, Rabbi Andrea Haney, was diagnosed with Stage 3 breast cancer in 2015, right around the time that her husband was undergoing confirmation hearings; he had been nominated for the ambassadorship in Costa Rica by then-President Barack Obama. (Andrea Haney sat down with The Tico Times to speak about her treatment in October 2015, saying: "I don't believe this happened for a reason, but I'll make a good reason for this to have happened.")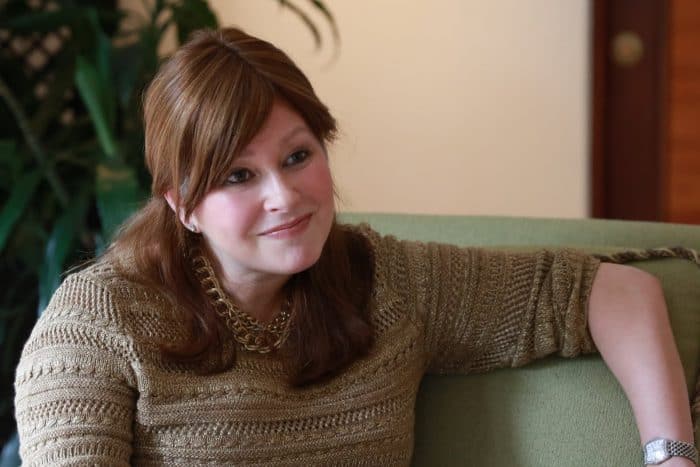 The Haneys are using the family's exposure through Dancing with the Stars to increase awareness of the impact of the disease on patients and families, and to encourage donations to the Dr. Anna Gabriela Ross Foundation, created in 2003 to support cancer treatment and patients' families. The couple has also created the Andrea and Fitz Haney Donor-Advised Fund to Support the Anna Ross Foundation; the fund, at the Costa Rica USA Foundation for Cooperation (CRUSA), is also inscribed at Amigos of Costa Rica in Washington, D.C., allowing donors to make contributions to the Haney Fund that are that are tax-deductible in the United States.
Earlier this week, "Mr. Fitz" spoke to The Tico Times by phone about his experience on the show, his family, and his eagerness to raise the profile of cancer fundraising and support in the country he's called home for the past two years. Excerpts follow.
So you've got me tuning in to DWTS for the first time ever in any country.
Yay!
What's it been like?
It's been a lot more difficult than I ever anticipated, to be honest, but also a lot of fun. We train Monday through Friday, at least three hours a day, sometimes more, with our partners. Sometimes four. I personally always have homework – for some reason, I've never had this problem in any other aspect of my life, but my retention for dance steps is close to nil.
My partner Lucía [Jiménez, a two-time World Salsa Champion] said, "How did you study when you were at university?" Well, I'm the oldest contestant on the show [at 48], so I went to college without computers around. I said, "Look, I'd take notes, and then take those home, and study and highlight them."
She said, "I'm going to write down the choreography down and you can take it home and highlight it." We did that, and it was actually hugely helpful.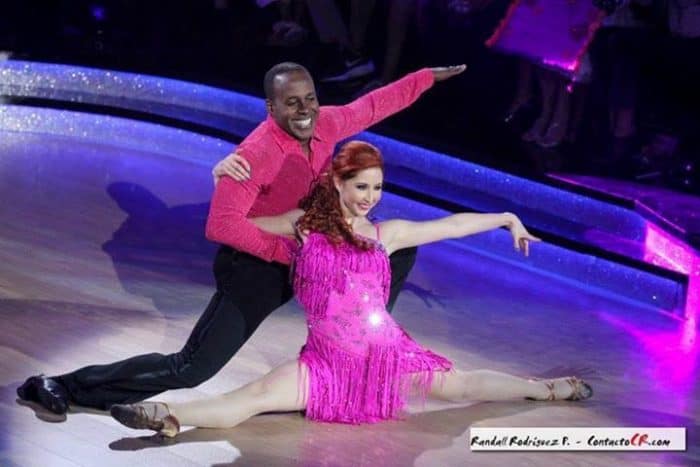 Had you ever done anything remotely like this?
Noooo. When I was in college I did crew for two years, and that was really the last concentrated physical activity I've had. I hadn't danced once since my wedding 18 years ago.
When I first thought I was leaving [Costa Rica] in January, before I got the extension, I was on Telenoticias, and they said, "What are you going to do next?" Back home, when someone has done something big and is asked what he or she will do next, you say, "I'm going to Disneyworld." So I said, "Well, maybe I'll do Dancing with the Stars." Just an off-hand comment.
Then they approached me in May or June and said, "Hey, we think you'd be a great addition." I talked to my family. My wife said, "Look, this is a once-in-a-lifetime opportunity."
What was your kids' reaction at the time? [The couple's four children are 15, 13, 9 and 5.]
Pretty much what you see on the show: "OK, Dad, if you're going to do this, please don't embarrass us." The kids… they have held. The kids have held.
At what point did you decide to couple your participation with fundraising for the Anna Ross Foundation?
When I agreed to do the show, I didn't realize that people get a weekly stipend for their time. Given the kind of residency we have, since we're on a rentista residency, I'm not allowed to work in Costa Rica anyway. I said, this is a great opportunity to raise awareness for a good cause.
I talked to the president of the foundation, Victoria [Gamboa Ross], who was Dr. Ross's niece, and I talked to Teletica. I had participated in the Anna Ross walk-run for cancer the past few years. My stipend is going directly to the foundation, which is great on Teletica's part.
If this could turn into something that really helps them financially, that would be fantastic. This cause touches a lot of people around the world. For so many people, a loved one, they themselves, or someone they know has gone through a cancer diagnosis.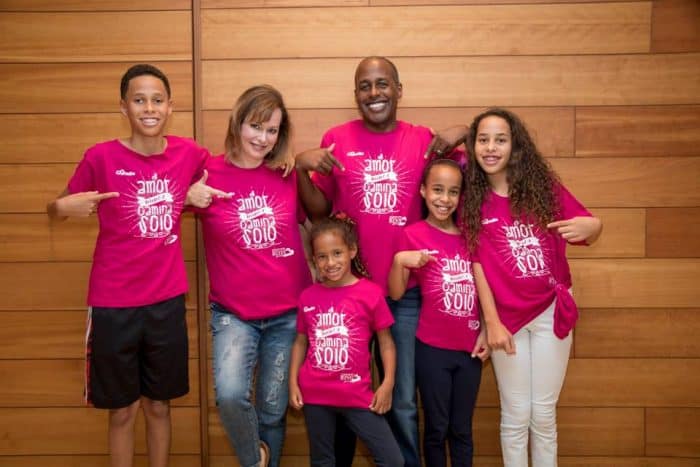 How does the awareness and fundraising around cancer issues in Costa Rica compare to, say, that context in the United States? 
There are people doing really good work here, but the entire culture around charity is different. It's set up differently, and even from a legal perspective, the tax benefits and what have you, Costa Rica is on a different part of the curve on that. It's catching up quickly.
My wife got great care here. One thing we were amazed by is, when I first got confirmed and were on our way in, my wife had to get a medical clearance. They evaluated the local health system and the availability, asking, can you get comparable care to what's in the States? And they said yes: we think you can get comparable care in Costa Rica. As we were researching, I didn't realize what a high incidence of breast cancer Costa Rica has. It was surprising to me. More awareness is important: the sooner you get it, the better it is.
Visit the Andrea and Fitz Haney Donor-Advised Fund page here.
This next Sunday [today] on DWTS, [there's a feature called] Año Memorable, Memorable Year. The year I chose was 2015, which was the year I got confirmed to be ambassador to Costa Rica, but also the year my wife got a cancer diagnosis. The ups and downs. My daughter, Nava, our eldest daughter, is going to be singing live on the show, the song we're going to dance to. It's going to be – well, it's going to be a lot.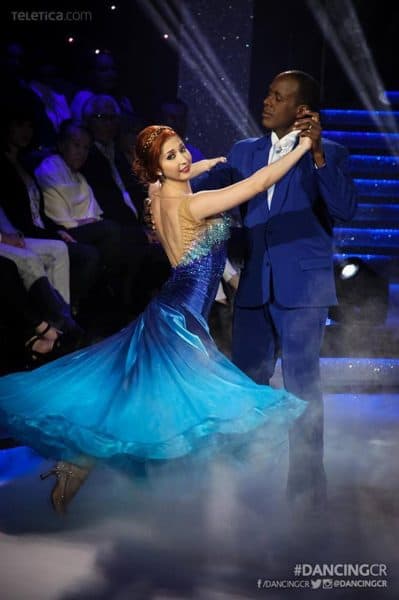 What has the transition been like, not only onto DWTS, but also just from being ambassador to being a private citizen in Costa Rica?
Well, we have four fairly young children; the kids keep you grounded no matter what. And I tried to live as normal a life as possible even as ambassador. I was taking the kids to school anyway – now I'm just doing it without a driver.
One of my friends in the States said, what happens? I said, well, on July 15 at 5:01 pm, everything disappears – no residence, no security. Well, limited security. What will that be like? But honestly, it's fine. I'd lived and worked in Latin America for 15 years before becoming ambassador, so it was a fairly easy transition. It's really the people on the street who move things forward, so I always tried to [have that connection as ambassador]. I don't think I was in as much of a gilded cage as many ambassadors typically are.
This is definitely a country that appreciates humility, humor and family. It seems like by displaying all of those on the show, it's a kind of outreach that is particularly appealing to Costa Rican sensibilities.
When the opportunity came up, we talked about it at the Embassy. The public affairs people said, this is a good opportunity to show just that. Teletica made that argument too when they were pitching it to me. They said, this is an opportunity for people to show us that there are challenges here, real life, just like anyone. The good and the bad. So we're just putting it all out there.
Vote for Fitz Haney's DWTS team here; contribute to the Andrea and Fitz Haney Fund here; and learn more about the Dr. Anna Gabriela Ross Foundation here.

Read more: On cancer, kids and gratitude in Costa Rica – a conversation with Rabbi Andrea Haney