The representation of feminism through gentle, defined brush strokes and pastel colors: that's been Costa Rican painter Mari Carmen Prada's focus for the past two years. For Prada, 22, art has always been a vital part of who she is and how she perceives the world around her.
When the artist was five years old, her mother decided to enroll Prada in painting classes. This decision would completely change her life: Prada stayed in the classes for ten years, and they would eventually determine the course of her career. After pursuing studies architecture at the University of Costa Rica (UCR) and graphic design at Veritas University, Prada made the decision to study Painting at the University of Costa Rica's (UCR) Fine Arts school.
"I told my mom I definitely had to study painting. She hugged me and told me that she was glad I had accepted it. I think it was something that was meant to happen," Prada recalls.
On rainy afternoon at Mantras Veggie Café in Barrio Escalante, The Tico Times sat down and spoke with Prada about her life and work. Excerpts follow.
What do you enjoy the most about painting?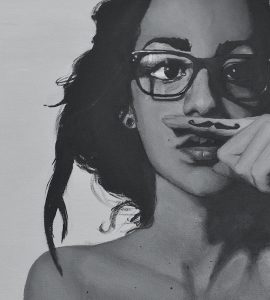 I always have a very clear image of what I'll do. When I start the process I get in a sort of trance; it's my favorite feeling in the world. No one can interrupt me. No one can speak to me. Nothing that's happening in the exterior changes what I'm doing at that moment.
Seeing the end result compared to what I was thinking is always impressive, because I'm astonished by the fact that I'm able to paint what I wanted in the first place. I enjoy the whole process and how it turns out in the end.
How do you choose your color palette?
It depends on what I do; different colors represent different things. I've been painting a lot of feminist stuff because I'm in a phase of my life in which feminism is the most important thing for me, and I believe that owning my femininity was essential for what I'm producing now.
I'm using a lot of coral and pink tones to reinforce the fact that it's fine if I like it. Society does not need to tell me anything. It's mine and I decided that it's mine. I think that's what's been resonating in me lately.
I also use a lot of pink or aquamarine because when I was a child I didn't like pink, so I got obsessed with blue due to the idea that it's pink's opposite. These two colors are a constant in my life.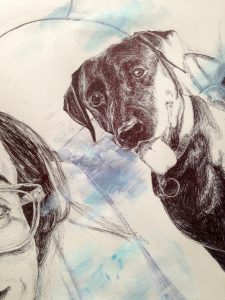 Why is feminism so important to you?
Before, feminism was a big taboo. People wouldn't call themselves feminists because it was someone super masculine, strong, who hated men. At least that was the idea I saw around the word.
I needed to… feel that what I was doing was somehow going to resonate in a person or help someone. That's what it did for me. I needed my voice or art to be that for other people. Reading a lot and seeing feminists who have done incredible things for the world was very important for me in making the decision to be a feminist.
Jane Fonda is my favorite feminist, but I also like Barbara Steinman, Ana Mendieta, and Judy Chicago… also people such as Miley Cyrus who have been transmitting the message in the best way possible. I don't know if Christiana Figueres calls herself a feminist, but for me she's one of the maximum exponents of what it's really like to be an empowered, strong woman who can hold the reins of the world.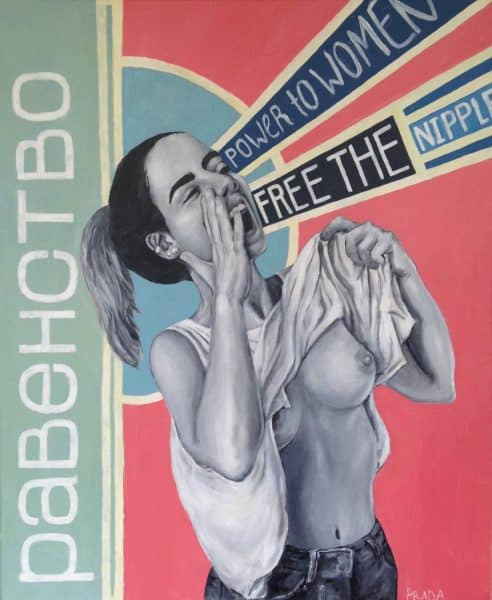 What have you discovered about women feeling empowered with regards to their bodies?
It's strange, because there are many women who still don't understand the concept that the female body is not a luxury item. I've heard women saying that other women are wearing too few clothes and that they're sluts. For me it's inconceivable… the sexualization of the feminine body is sickening, and harmful for society.
When I've seen empowered women with their bodies, generally, they're much more secure women and much calmer about everything else; with what they're doing with their lives, if they want to have children or not, or if they want to get married and never work. A woman with a body that generates her power is a woman who does everything calmly and without fear. Owning your body makes you to get out of the idea that your body belongs to someone else.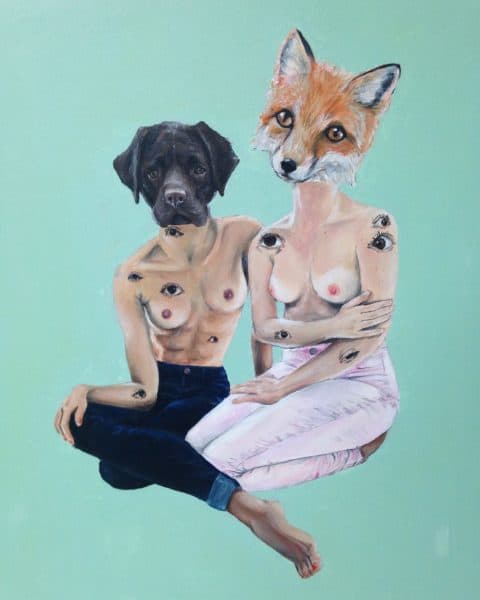 How do you think that art is reacting toward what's going on in the world?
Art, at least, from the nineteenth and twentieth century avant-garde, has been 100 percent a sociopolitical response to everything going on in the world. If you try to make art that is simply beautiful, it'll never be only beautiful. Art is always a response to something, whatever it is. It will project a message, whether the artist wants it to or not, because it's in an environment in which people want to feel something. Art is as response and direct reaction to whatever is happening.
Our "Weekend Arts Spotlight" presents Sunday interviews with artists who are from, working in, or inspired by Costa Rica, ranging from writers and actors to dancers and musicians. Do you know of an artist we should consider, whether a long-time favorite or an up-and-comer? Email us at kstanley@ticotimes.net.