A fire in the early hours of Friday consumed most of the historic Black Star Line building, considered the most representative example of Caribbean architecture in Limón province.
The Firefighters' Corps received the first alarm at 5:15 a.m. and reported that the fire was fully under control at about 6 a.m.
Firefighter operations director Luis Salas said the fire completely destroyed at least 75 percent of the building. "The remaining structure is unstable and the recommendation is to remove it," he said.
The Firefighters' Corps stated that it will conduct a comprehensive investigation to determine the causes of the fire.
President Luis Guillermo Solís vowed to rebuild the structure.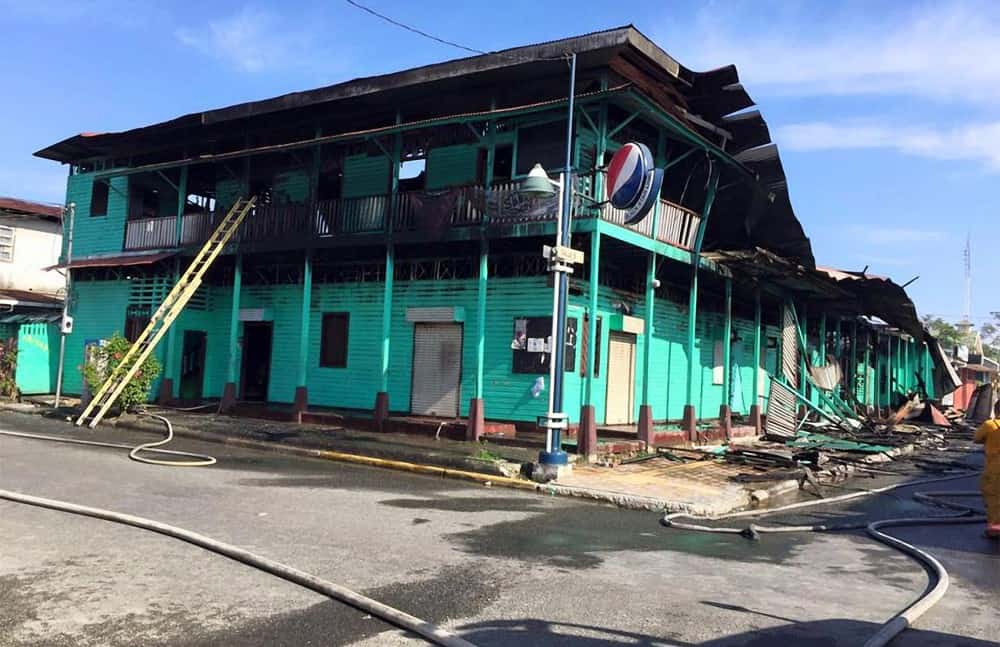 Historic building
The building, made entirely of wood and zinc, was built in 1922 as the headquarters of the Universal Negro Improvement Association in Limón.
The Culture Ministry renovated the building in 1990, and in 2000 it was declared architectural heritage. The Ministry's Heritage Conservation Center invested another ₡50 million ($92,000) in restoration in 2007.
The center's director, William Monge, told The Tico Times Friday that immediately prior to the fire, the Ministry had been in negotiations with the Costa Rica Institute of Technology, TEC, to restore the building and bring it up to code in terms of basic safety and accessibility standards.
"It lacked a fire alarm system and there was no access for people with disabilities, among other problems," Monge said.
Like most buildings listed as national heritage, the Black Star Line did not have an insurance policy. Its safety problems made it impossible for the National Insurance Institute to grant a policy, Monge said.
At the time of the fire, the Black Star Line had as tenants a Caribbean food restaurant on the first floor and an events venue known as "Liberty Hall" on the second floor, which hosted many of the city's traditional celebrations.
The building was named for Black Nationalist Marcus Garvey's steamship company, which he hoped would connect black business owners around the world with a steady flow of maritime commerce and help the African diaspora resettle the African continent.
Recommended: City by the sea