For the first time in his six-month reign as head coach of Costa Rica's national team, Óscar Ramírez will have a lineup at his disposal that is very near full-strength.
Ramírez announced his 25-man roster Thursday for a two-part World Cup qualifying leg against Jamaica.
The biggest news from an announcement void of any real surprises is the return of star goalkeeper Keylor Navas, who has not played with "La Sele" since an Oct. 5 loss to South Africa.
Navas' five-month hiatus from the national team has often been attributed to conflicts with his club, Real Madrid, which would presumably not want to risk injury to its multi-million-dollar investment.
When asked if there was any plan to rest Navas for one of the two games against Jamaica, scheduled to take place later this month, just days before Madrid's epic showdown against league-leader and rival Barcelona, Rodríguez shook his head.
"Costa Rica comes first," he said.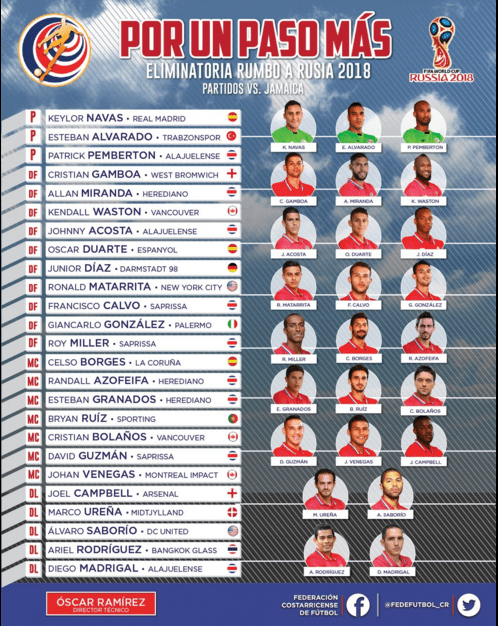 La Sele is currently holding on to a lead in Group B of regional qualifying play for the 2018 World Cup in Russia with its 2-0 mark coming from wins over Panama and Haiti last November. A pair of wins over Jamaica, on March 25 in Kingston and March 29 at home in San José, could seal Costa Rica's fate to move on to the next round and be closer to becoming one of four CONCACAF teams to qualify for football's most important tournament.
If La Sele can qualify for the next round, known as the hexagonal, before having to play Panama and Haiti again in this stage's round robin, Ramírez said it would give him the opportunity to experiment with new lineups and strategies going forward.
"The idea is to get the six points that give us the necessary amount to be in the hexagonal so that in the last games I can see new people," Ramírez said. "That would give me certain leeway for managing things in the future."
Aside from Navas, other big names in the most recent lineup include captain Bryan Ruíz, star striker Joel Campbell, and midfielder Celso Borges, who is returning from a gruesome ankle injury that he suffered in November in Costa Rica's first World Cup qualifying match against Haiti.
Some names that may be lesser-known to the common fan, like Ronald Matarrita, Randall Azofeifa, and Kendall Waston, are also returning after having played brilliantly in recent matches for La Sele, proving they have Ramírez's confidence.
The 51-year-old coach said that this specific lineup should be able to combat Jamaica's athleticism and speed.
"Their innate athleticism is difficult to manage but I want to neutralize it by playing our brand of football and spreading the field," he said. "It's also an issue of speed that is actually something I want to exploit, despite the fact that they are really strong in that area."
The major omission from the call-up is Everton defender Bryan Oviedo, who was recently hospitalized with a chest infection. Though he is expected to return to English Premier League action soon, the 25-year-old, who has been plagued with injuries throughout his career, will not travel to Costa Rica for the games against Jamaica.
Midfielder Yeltsin Tejeda, who has been a mainstay on La Sele, starting every game of the 2014 World Cup, will also be held out with an injury, Ramírez said Thursday.
Jamaica and Costa Rica will kick off their first match on Friday, March 25 at 6 p.m. Costa Rican local time from Kingston, Jamaica.