While 2015 was recently categorized as the world's hottest year on record, it was a year of rainfall extremes in Costa Rica. Guanacaste faced a historically bad drought, and heavy rainfall caused flooding in the opposite corner of the country in Limón.
The weather station at Daniel Obuder International Airport in Liberia recorded 58 percent less precipitation than normal in 2015, marking the driest year on record for the Guanacaste capital, according to a recent report from the National Meteorological Institute (IMN).
Rainfall in the northern Pacific region, which includes Guanacaste and the northern part of Puntarenas province, was 44 percent below average for the year, while in December rainfall was nearly 80 percent below normal.
El Niño played a large role in the bizarre year for rain.
"Last year's climate variation was heavily influenced by temperature patterns in the surrounding ocean waters, specifically as it relates to the intensity of El Niño and the warming and cooling of the Atlantic Ocean," the IMN wrote in its report.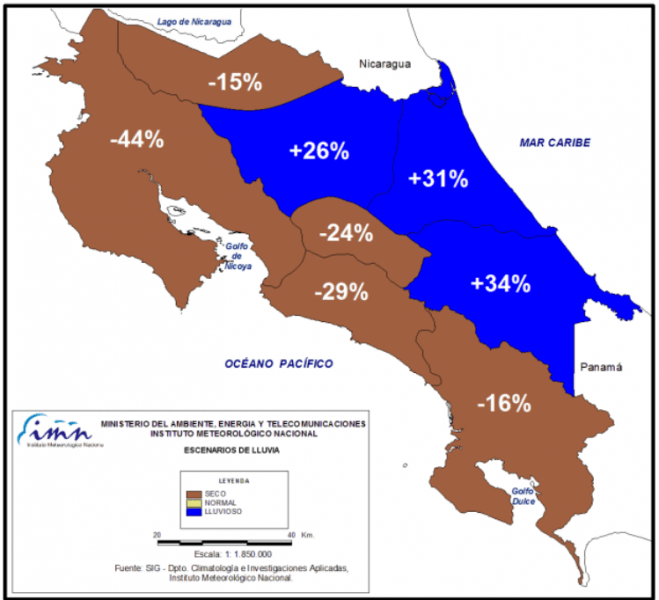 In December, most of Costa Rica experienced abnormal dryness except for the Central Valley, which actually saw an increase in the average amount of rain.
Despite the historic drought on the Pacific side of Costa Rica, the rainy season in Limón province registered the second highest amount of rainfall since data collection began in 1971. Rain levels were up 34 percent in the Southern Caribbean in 2015, which lead to flooding that destroyed homes and farms in that part of the country in June and July.
The INM report predicted that the first few months of 2016 will see more normal rainfall in the Caribbean region and in the north. However, El Niño could cause ocean temperatures to continue to rise through April, which could lead to more extreme weather patterns in the months to come.
"This particular configuration of sea temperatures in both oceans will continue to cause extreme climatic anomalies in the pattern of rain and temperature in the country," the report said.
Some households and businesses in the Greater Metropolitan Area, which includes San José and parts of Heredia, Alajuela and Cartago, could face rationing in the coming months. The Costa Rican Water and Sewer Institute (AyA) told daily La Nación earlier this month that parts of Escazú, Santa Ana, and Zapote in San José, among other areas, could be without water for stretches lasting up to 12 hours.
Still, AyA president Yamileth Astorga said the water situation in the Central Valley isn't as critical as it was at the beginning of 2015, when rationing began in early January.