UPDATE: Friday, Jan. 22, 1:45 p.m.
The U.S. Centers for Disease Control and Prevention on Friday extended the list of territories on its no-go list for pregnant women out of concern that the Zika virus present in those countries can cause birth defects. It added Barbados, Bolivia, Ecuador, Guadeloupe, Saint Martin, Guyana, Cape Verde and Samoa to a list of 14 Latin American and Caribbean countries already on the warning list.
Original story continues below:
SAO PAULO, Brazil — With the sting of a mosquito bite and a fever, many pregnant women may not know that they caught the Zika virus — until it strikes their unborn child.
Now authorities in some Latin American countries are warning women to avoid getting pregnant, after thousands of cases of birth defects linked to the disease over recent months.
Babies across the region, and at least one in the United States, have been born with abnormally smaller heads, a condition doctors call microcephaly, which can cause brain damage.
The scare has struck hardest in Brazil, which hosts the summer Olympic Games in August.
It is one of 14 Latin American and Caribbean countries that the United States has warned pregnant women not to visit because of the Zika risk. The others are Mexico, El Salvador, Honduras, Guatemala, Panama, Colombia, Venezuela, French Guiana, Paraguay, Martinique, Suriname, Haiti and the Commonwealth of Puerto Rico.
"I am very afraid," said Jacinta Silva Goes, a 39-year-old cleaning lady in São Paulo who is expecting her third child.
"For the moment I am not using mosquito repellent because the doctor has not told me to. He has not spoken to me about Zika," she told AFP.
Pregnancy postponement advised
Zika used to be thought just a poor relation of dengue, another mosquito-borne virus.
The World Health Organization (WHO) says it is transmitted by the same mosquito that spreads dengue, chikungunya and yellow fever.
But the WHO this week noted a surge in cases of microcephaly in Brazil, the country most affected by the current epidemic.
WHO spokesman Christian Lindmeier said on Friday there were 3,893 suspected microcephaly cases in Brazil, which included 49 deaths. Before last year there were about 160 cases of microcephaly in Brazil on average.
"The link between the Zika and the microcephaly … is still being investigated," Lindmeier said, but acknowledged that Zika "seems the strongest candidate."
He said there were "about 20 countries in the Americas which are reporting Zika cases, and about 10 in Africa, Asia and the Pacific," but the biggest outbreaks were in Brazil, Colombia and elsewhere in Latin America.
Scientists from Brazil's Fiocruz Institute and Paraná Catholic University published a study of a case that showed the virus had passed from an infected woman to her baby through the placenta.
Goes says she feels uninformed about how to protect herself against Zika.
"I can't decide by myself to take anything until the doctor tells me to, because it could be dangerous."
But across the vast region of Latin America, citizens and officials have taken a variety of measures in response to the scare.
The price of mosquito repellent has risen in Brazil.
In the Peruvian capital Lima, authorities disinfected a big cemetery for fear that Zika-bearing mosquitos were breeding in the flower pots.
Colombia and El Salvador have simply advised couples to avoid pregnancy for the time being. A medical school in Honduras issued the same advice.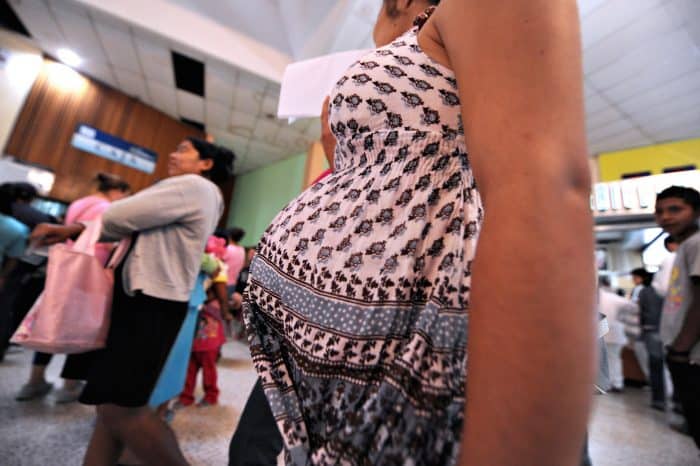 Zika

from Brazil to Hawaii

Originating in East Africa, Zika landed in Latin America last year and has spread across virtually the whole region via Aedes aegypti, a species of mosquito, says the Panamerican Health Organization.

There is no overall figure for the number of cases detected.

Zika has also been reported in the United States: three cases were detected in Florida in people who had recently traveled to Latin America.

The U.S. Centers for Disease Control and Prevention (CDC) said that a newborn in Hawaii was found to have brain damage linked to Zika. The baby was born to a woman who had been living in Brazil early in her pregnancy.

"The virus is spreading fairly rapidly through the Americas," said Lyle Petersen, director of the CDC's division of vector-borne infectious diseases.

"Pregnant women in any trimester should consider postponing travel to the areas where Zika virus transmission is ongoing," said the CDC.
Olympic disruption threat
The warning came as many people prepared to travel to and around Brazil for the February carnival — not to mention months before visitors from around the world will come for the Olympics.
The organizing committee for the Games said it hopes the slightly cooler, dryer weather in August will ease the problem by curbing the breeding of the mosquitos.
But fears over the risk threaten to compound Brazil's misery as the country is forecast to sink deeper into recession this year.
Stricken by high inflation and political instability, the country is looking to the Olympics to draw in some tourist money.
In Paris, Emilie Goldman, 33, had been planning a holiday to Bahia in northeastern Brazil, but canceled it at the last minute because she is pregnant with her first child.
"No one was talking about it in France, but I started talking to doctors to know about the possible effects," she told AFP.
"I realized that for a week of holidays, it was not worth the risk."