Last year was one most of Latin America would rather forget. The region trailed the world in economic growth, led on inflation, and posted the highest fiscal deficit after the Middle East and North Africa, according to data compiled by Bloomberg Intelligence.
So two cheers for Panama. The fastest-growing economy in the Americas expanded by almost 6 percent in 2015, compared with a nearly 1 percent drop for Latin America as a whole, and it will likely repeat that performance this year, according to the World Bank.
Cue the applause for the expanded Panama Canal, which — by the time the overhaul is finished, expected to be later this year — will double shipping capacity and allow for much larger container ships to traverse the waterway, consolidating the country's historical role as an entrepot for the global economy. The anticipated knock-on effects already have studded this slender country of 4 million people with skyscrapers and grand public-works projects.
The breakneck pace of the project, which began in 2007, has come at a price. Bribery, graft and dirty politics are all too common in Latin America, but a noxious combination of the three has dogged the Central American dynamo in what ought to be its finest hour. And unless Panama can shake the curse, its glory may prove fleeting.
The problem starts at the top. Consider former President Ricardo Martinelli, who won plaudits during his tenure for striking down trade barriers and red tape, so fueling an investment boom — roads, urban renewal, Central America's first metro and millions of jobs — that helped reduce poverty and generated double-digit growth earlier this decade. The supermarket tycoon and ex-Citigroup banker turned that windfall into enviable approval ratings for a time, but maybe a little something else on the side as well.
Martinelli, who took office in 2009, didn't invent corruption in Panama (recall Manuel Noriega, convicted of international drug trafficking), but he did "raise it to a new level," said Ramón Ricardo Arias of Transparency International.
Since leaving office in 2014, Martinelli has become the target of six criminal investigations on charges ranging from taking bribes to political espionage. On Dec. 22, Panama's Supreme Court ordered the former leader's arrest for allegedly for ordering illegal wiretaps on nearly 150 political opponents, journalists and judges.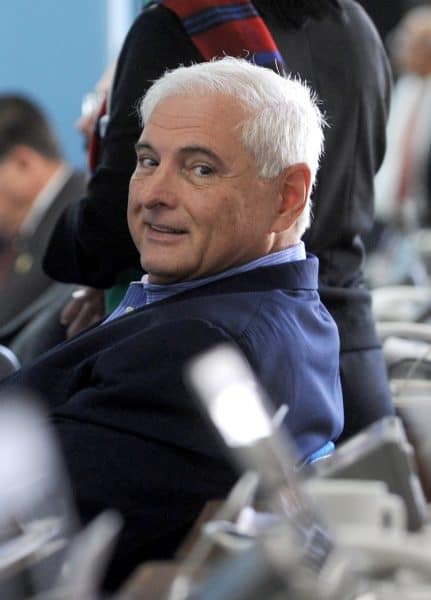 He also has won notoriety abroad. Last March, a panel of judges in Naples concluded that Martinelli helped extort money from an Italian company building a hospital in Panama. A U.S. federal judge recently named him as an alleged co-conspirator in the bribery case against a former SAP executive. And prosecutors in Brazil have asked Panamanian authorities for information on how a scandal-ridden Brazilian construction conglomerate landed more than $8.5 billion in contracts under Martinelli.
Martinelli has denied any wrongdoing and dismissed the accusations as part of a vendetta by President Juan Carlos Varela, his former vice president turned archenemy, and vowed to clear his name. It might help if he was in the country: Martinelli left Panama in his private jet last year as prosecutors were closing in on him.
To Panama's credit, the country is fighting back, thanks largely to pressure from the streets, a maverick attorney general and federal auditors. Five of Martinelli's former aides are now in jail, and a former Supreme Court appointee who later became chief justice pleaded guilty to illicit enrichment and falsifying documents.
The initial crackdown earned Martinelli's successor a brief popularity bump, but the avenger's luster faded over Varela's unfulfilled campaign promise to clean up politics by bolstering constitutional checks and balances to curb presidential fiat.
For all his talk of renewal, Varela also has balked on a pledge to tighten the laws against contractors found to have paid bribes from winning public tenders — a crucial lapse in a country where business still sees payola and cronyism as a shortcut to prosperity.
"Embracing the anti-corruption agenda has come slowly in Panama," Transparency's Arias told me. That's one public-works project that building cranes can't deliver.
Mac Margolis is a Bloomberg View contributor based in Rio de Janeiro.
© 2016, Bloomberg News