The California shooting that killed 14 people on Wednesday is being investigated as an "act of terrorism," David Bowdich, assistant FBI director in Los Angeles, said at a news conference Friday.
One of the attackers, Tashfeen Malik, swore a pledge of allegiance to the head of Islamic State before the deadly rampage via a Facebook page that she kept under an alias, according to a U.S. law enforcement official. Bowdich said "a number of pieces of evidence" have led to the FBI treating the attack as a terrorism investigation, without confirming the Facebook post.
Investigators have also found that Malik's husband, Syed Rizwan Farook, who waged the Dec. 2 attack with her, had adopted radical Islamic views and was in touch with a number of people in California who were subjects of federal terrorism probes, according to the official, who described the matter on condition of anonymity.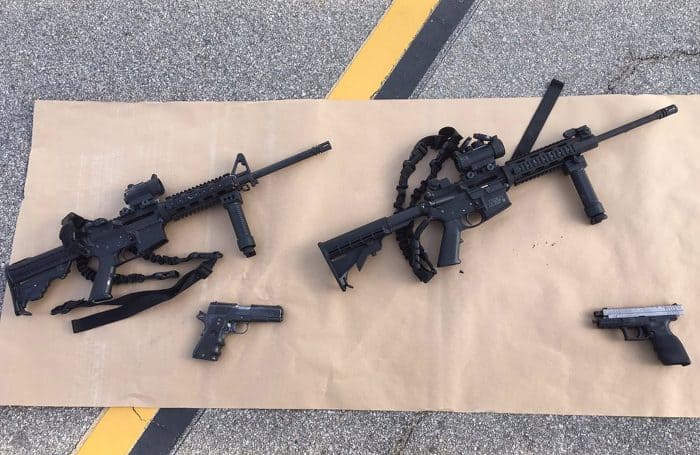 Authorities have been scouring the couple's online communications and phone records as they try to determine a motive for the attack at a social services center in the California city that killed 14 people and injured 21. Farook and Malik — who were clad in black, tactical gear — fled the scene and died in a gun battle with police in a nearby residential neighborhood.
The second mass killing in a week in the U.S. has intensified fears that terrorists are preparing to wage a Paris-style attack on U.S. soil. After the shootings, authorities found a dozen pipe bomb devices in the couple's home along with thousands of rounds of ammunition, San Bernardino police chief Jarrod Burguan said.
"The FBI is leading this investigation, as the president said yesterday, because of the possibility that this is a terrorist attack," White House spokesman Josh Earnest told reporters Friday. He declined to confirm reports of Malik's Facebook post.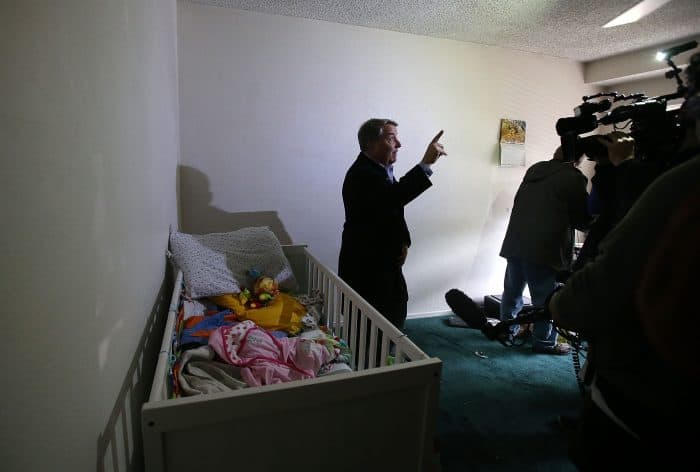 In her Facebook posting, the U.S. official said, Malik swore allegiance to the head of Islamic State, Abu Bakr al-Baghdadi, who is being pursued by the U.S.-led coalition targeting the extremist group's strongholds in Syria and Iraq. Malik also posted images of herself and the couple's six-month-old daughter, though some information was deleted in the days leading up to the shooting, the official said.
The attackers were characterized as supporters of Islamic State in a report by the Amaq news network, which has previously aired the extremist group's claims of responsibility for attacks.
Bowdich said that "extensive planning" went into the attacks. Investigators have recovered crushed cellphones and other digital media that is being examined for evidence.
The FBI is aware of a Facebook post by Malik, he said, but investigators are not yet sure about whether the attacks were inspired or directed by Islamic State.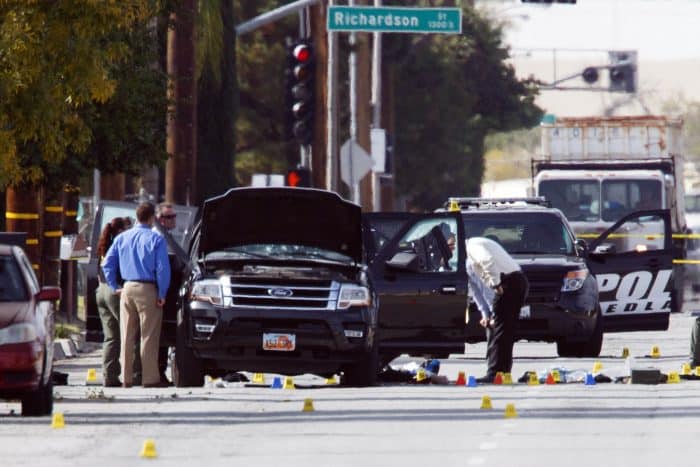 Police have recovered thumb drives, computers and mobile phones from the couple's apartment in nearby Redlands. Another U.S. official, describing the scene on condition of anonymity, said that some of the devices were damaged or destroyed in an apparent attempt by the attackers to cover their tracks.
Using phone records, investigators know that Farook was in conversation with at least several people under FBI investigation for possible ties to terrorism, according to the official. But they don't know the nature of those conversations and are chasing leads to prevent future violence and to determine whether Farook and his wife were part of a terrorist network.
Farook, a U.S. citizen, had traveled to Saudi Arabia about a month ago for unknown reasons, according to another U.S. official, who also requested anonymity. Malik, who held a Pakistani passport, came to the U.S. on a K-1, or "fiance," visa that she obtained in Pakistan, said Mark Toner, a State Department spokesman.
Bowdich told reporters in a briefing on Thursday that Malik had entered the U.S. in July 2014.
Farook had been employed by San Bernardino County for five years, most recently as an environmental specialist, and had worked with some of the victims, who were attending a holiday party at the center. He and Malik used rapid-fire, semi-automatic rifles to spray the room with as many as 75 shots, Burguan said.
"Clearly they were equipped," he said, and "could have done another attack."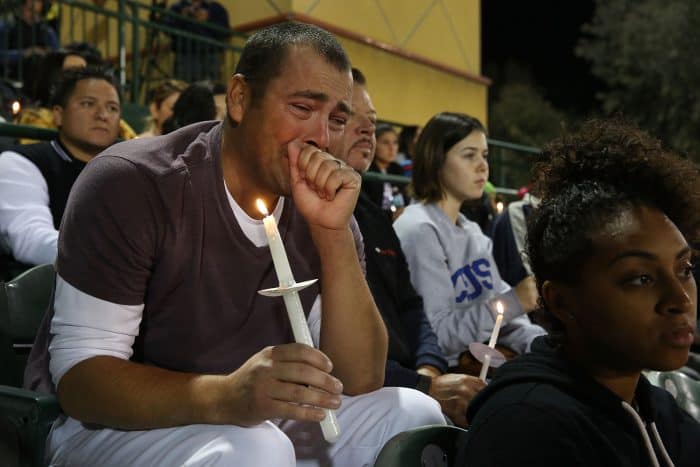 The two semi-automatic rifles and two handguns that Farook and Malik were armed with had been legally purchased, authorities said. Besides the pipe bombs, authorities also found tools for constructing explosive devices, Burguan said.
The U.S. and other nations have been on heightened alert following the Nov. 13 attacks in Paris by extremists linked to Islamic State. The shootings and bombings killed 130 people and prompted France, Germany and Britain to step up the offensive against Islamic State in Syria and Iraq. In a statement from the White House on the day before Thanksgiving, President Barack Obama said the government had seen no credible intelligence suggesting plots against the U.S.
In an Oval Office appearance on Thursday, Obama raised the possibility that the shootings were related to terrorism, though he emphasized that authorities didn't know the motive. He also said every U.S. citizen has a part to play in trying to prevent this kind of violence, including making weapons more difficult to obtain.
The president's comments were the second time he's had to address a mass shooting in the past week. During a news conference Tuesday in Paris, Obama said he hoped a Nov. 27 shooting at a Colorado Planned Parenthood clinic that left at least three dead and nine wounded would spur "conversation and action" on gun control.
It's important for "all of us, including our legislatures, to see what we can do to make sure that when individuals decide that they want to do somebody harm, we'll make it a little harder for them to do it because right now, it's just too easy," he said.
Related: Australian politician calls for US travel warning after California shooting
Bloomberg's Esmé E. Deprez, James Nash and Toluse Olorunnipa contributed.
© 2015, Bloomberg News