The sixth edition of the internationally renowned Envision Festival, which will take place in February on the majestic shores of Playa Uvita on Costa Rica's southern Pacific coast, has already announced the first phase of its music and arts lineup.
The festival, which will run from Feb. 25-28, 2016, attracts people from all over the globe who come to Costa Rica looking for a highly unique experience. Envision, set on the beach with its backdrop of rain forest-covered mountains, seeks to inspire global thinking, a sustainable permaculture movement, and an appreciation of humanity and the planet, through music, art, yoga, movement, healing arts, workshops, educational content, and shared experiences.
Headlining acts for 2016 include England's forefather of psychedelic electronica, Shpongle; California's experimental world fusion favorite, Beats Antique; Berlin's deep house M.A.N.D.Y; Colorado band Elephant Revival; and a late-night reggae set from St. Croix roots legend Midnite as a part of their current tour, Akae Beka.
Next year's Envision attendees will also enjoy the music of Grouch, Spoonbill, Dimond Saints, The Human Experience, Beat Fatigue, Bedouin, An-Ten-Nae, Andreilien, Stephan Jacobs, Dirtwire, Lee Raynolds, Tara Brooks, Atish, Hedflux, Bonnie & Bridget, Nominus, Clozee, Digital Rust, Atyya, Medium Troy, Late Night Radio, Sidecar Tommy, Lafa Taylor, Dakini, Human, Cloudchord, Templo, Cat's Pajamas, Justin Marchacos, Zach Walker, Griff, Matt Haze, Anchor Hill, Cualli, Faceblind, Dragonfly, Wu Wei, Brian Hartman, Messenger of Secrets, Yarrohs, Sam Klass, and Dr. Suits. A six-year Envision alumnus, Random Rab, will return to deliver another world-renowned sunrise set in the jungle.
Among Costa Rican locals are Santos y Zurdo, Melissa O, Ivan Céspedes, Calavera y La Canalla, and Kombo Style — and you couldn't leave out two local favorites, Patterns and Sonámbulo.
On the sustainable living and healing arts side of the festival, a top-tier yoga and movement instructors, speakers, and artists will guide participants.
Yoga instructors this year will include bestselling author, international yoga teacher, and motivational speaker Rachel Brathen, also known as Instagram's "Yoga Girl"; Sianna Sherman, founder of the Goddess Yoga Project and world-renowned instructor; internationally celebrated 5Rhythms facilitator Amber Ryan; Troy Hadeed, pioneer of the One Yoga movement in Trinidad and Tobago; Classic Hatha Yoga master Marcos Jassan from Mexico City; Ashleigh Sergeant, co-founder of the Avahana School of Yoga and Expressive Healing Arts; Esteban Salazar, founder of Krama Yoga Center; Edgar Ortiz, director of Yoga Mandir and president of the Costa Rican Association of Yoga Instructors; Juan Pablo Barahona, director and instructor of Yoga Lamat, and director of Alimentación para el Alma; Nayeli Bouvier, AcroYoga teacher, Thai Yoga Therapist, creator of Vinyasa of the Hoop & Circle Sadhana, and a pioneer in the global Hoopdance movement; Deb Rubin, an internationally acclaimed teacher and dance performer, holistic health counselor, yoga teacher, and integrative bodyworker; Elana Meta, creator/choreographer of NYC's "The nerd-E Crew"; and yoga and hoop instructor Sitara Bird.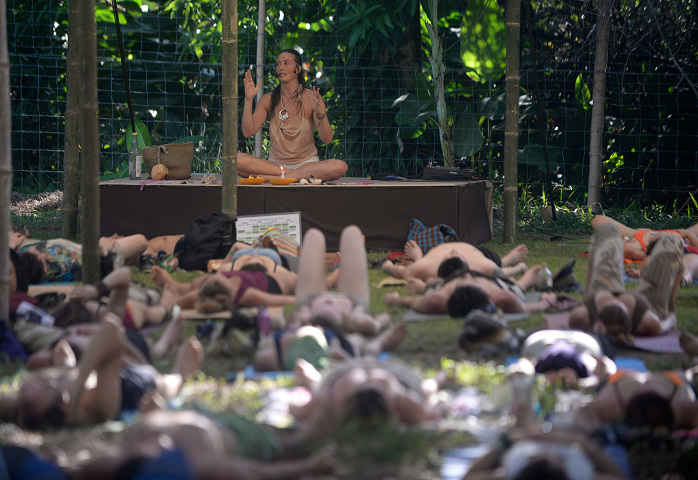 Workshop hosts include leading wellness expert David Wolfe, accomplished herbalist 7 Song, architect of the New Paradigm Astrology Cooperative Kaypacha, and Envision festival co-founder and resident permaculture expert Stephen Brooks. Additional classes will range from language classes and African dance to Tai Chi and biomechanical alignment.  Accompanying the extraordinary 360-degree views that await attendees are equally awe-inspiring works of art created by artists such as Carey Thompson, Zebbler, Tigre, and Living Space.
The next lineup announcement from Envision organizers, coming soon, will include more details on workshops and yoga teachers.
If you are looking forward to a pre-Envision experience, don't miss the Embody workshop, taking place Feb. 19-24. This preparatory experience will get you in the mood for the Festival itself through a series of practices focused on sustainable biomechanics, somatic self-care, Prana Vinyāsa Yoga, daily embodied awareness, and the power of dance: rhythmic entrainment, self-expression, hoopdance, Tribal Bellydance, Ecstatic Dance, 5Rhythms, Circular Pathways, and the Tantric path of Sahaja. (More info about Embody here.)
Even though there are three months left to go, tickets are going like hotcakes. A limited number of tier 3 tickets are still available at $277, and the price will continue to increase as tiers 1 & 2 have already sold out.
For tickets or to learn more about the event, visit the Envision Festival Website.