Dino Real – an artist whose works ranges from rituals, performance and costumes to installations, and paintings – has created his own artistic signature in Costa Rica. This peculiar artist, 25, has ventured into the discovery and exploration of his own persona through art, and aspires to beautify the city of San José through the use of bright colors.
The Tico Times sat down and spoke with Dino Real at our offices in Barrio Amón. Excerpts follow.
Why did you become an artist?
I was not going to be an engineer, doctor or biologist, so I told myself that I would allow myself to be what I really wanted to be. During high school I realized I was a person whose attention was not drawn by anything other than art. When I graduated from high school, I left Costa Rica to study Fine Arts at the Maryland Institute College of Art [in Baltimore]. During those four years of college I saw the world from another point of view. When I participated in an exchange at Emily Carr University in Vancouver, Canada, and various festivals, and that inspired me to go to Burning Man. After that,I came back to my last year of college and it was then when I understood, more or less, which path to take.
I finished college and went to New Orleans to create Mardi Gras costumes. New Orleans was the cherry on the top of everything: my formation before returning to Costa Rica. I've been back here for two years now. I love everything that has to do with freedom of expression, everything that has to do with eliminating taboos, subverting the mundane, providing people with magic who can't or won't allow themselves to access it in their lives. What Dino Real does is create beauty, celebrate everything related with creativity, community, and events in which people who come together to celebrate something out of the norm. That's my essence as an artist. I love paint, textiles, rituals, collective magic, everything that eliminates the barriers between what something is and what it's not.
What is the Krewe of Real?
The Krewe was inspired by the Mardi Gras krewes in New Orleans. These krewes go on parade during the festival; it's a party for one month! Sometimes it's too much. [Laughs.] I experienced that feeling of community and told myself that I wanted to create the first Krewe here in Costa Rica. When I was growing up here, I felt there wasn't a real community; there's the music scene, and when I was in high school I would go to concerts and activities, so I found that community outside of my high school. Then, I got to experience it in college and at festivals, and in New Orleans it was super clear. I told myself that I couldn't return to Costa Rica without it. My lifestyle did not exist here, until now! You have to create it. One must create one's own reality. That's super important.
In each event that I organize, a different group of people comes together who uphold the magic and motivation. The first Krewe of Real was the Galactic Parade, made up of 50 people; we presented at the International Arts Festival (FIA). Then there was the Psicotropical Circus Krewe of Real, and a Krewe for the Sofar event and a Daylights party. Most of the times we dress up, and when the Krewe goes as a group it's extra special. The Krewe is everyone who wants to be part of the ritual.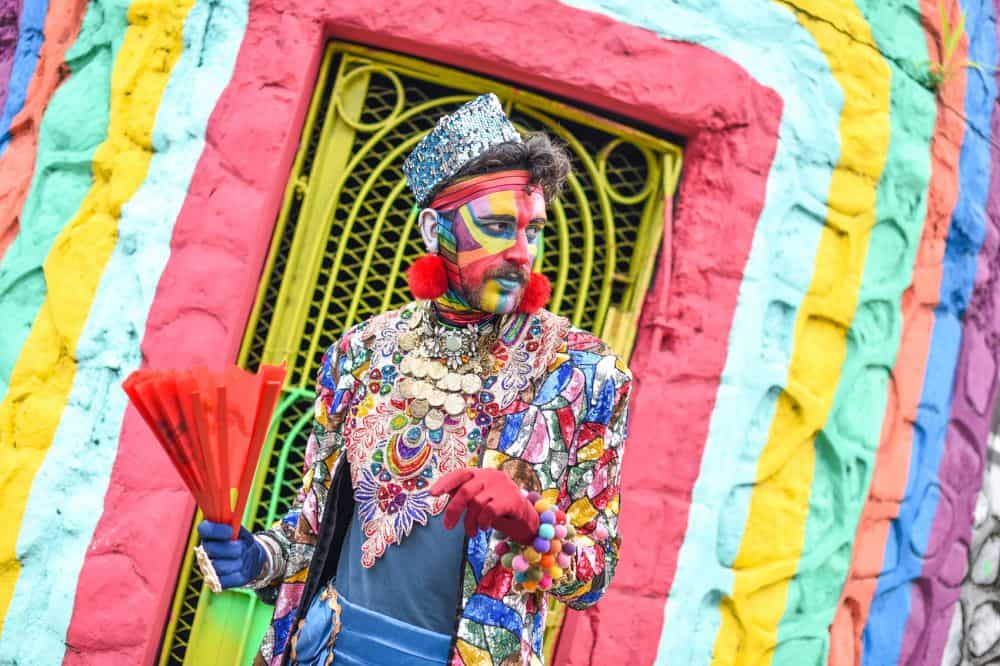 Which is the meaning behind your artwork?
The concept varies. It's always an activator. It all has to do with how people have to take ownership of public spaces. It's very important that we are happy with our city. Many of the performances that I've done involve the streets, the audience, and creating accessible art for all sorts of people. I've also done art that's not as accessible for everyone, in the sense of the formal art galleries' context. I try to get [people of all ages] to absorb art. It has to be a feeling, a vibe, something personal that speaks, that whispers to you while watching it. I believe I have the gift of communication that allows me to use art as a tool to change people's lives, either by inspiring, creating happiness, or making people question what freedom of expression is. It's very spiritual. It's very mystical, but well-grounded in how we're living in our world.
What do you want to portray with your exotic way of dressing?
My happiness. I do it because that's how I feel. I also want to inspire, impersonate a character or interact with people. My exotic way of dressing is mostly a part of my art. What's inside me is a discovery. I consider The body is art, clothing is art, food is art… everything can be art.
Why did you choose the pseudonym Dino Real and what is the meaning behind it?
Dino was born in 2006. A friend told me I was a sexy dino and there was something that echoed within me. I've loved dinosaurs since I was child, although [my current concept of] Dinosaur is someone big, mighty, and colorful with feathers: it was this monster, this horrible man, but fearfully great. Dino Real is about being real, in every sense of the word: being the maximum version of oneself, being real with yourself, loving yourself, living the authentic self that you want to be. It's also a paradox because it's a dinosaur that does not exist, but is real. It's like playing. The art, the performance… they always have that active inner child. But the name Dino Real is on my ID. [He shows me his government ID card.] It's legit, it's real. Dino Real is real.
Read other Weekend Arts Spotlight" stories here.
Our "Weekend Arts Spotlight" presents Sunday interviews with artists who are from, working in, or inspired by Costa Rica, ranging from writers and actors to dancers and musicians. Do you know of an artist we should consider, whether a long-time favorite or an up-and-comer? Email us at kstanley@ticotimes.net.