WASHINGTON, D.C. – In the end, Thelma Esperanza Aldana Hernández de López surprised everyone.
The 60-year-old magistrate, appointed in May 2014 by then-President Otto Pérez Molina as Guatemala's attorney general, was viewed at the time with deep suspicion by those upset over the ouster of her left-leaning predecessor, Claudia Paz y Paz – who had tried unsuccessfully to prosecute former dictator Efraín Ríos Montt for genocide.
"Her appointment is likely to take the judicial system in crime-ridden Guatemala in a new – and potentially backward – direction," warned The Economist in a May 22, 2014, editorial.
Analysts predicted that Aldana would "roll back recent gains against corruption and human rights violations," while InsightCrime fretted that Pérez Molina's selection of Aldana "raises fears of a return to impunity after four years of judicial reform."
In fact, exactly the opposite happened.
Thanks largely to Aldana's investigation into a massive tax and customs scandal known as La Línea, the disgraced Pérez Molina now sits in jail, facing charges – along with former Vice President Roxana Baldetti – of "being part of a criminal organization, with the purpose of defrauding the state." Prosecutors say both received 50 percent of the profits of the complex operation, in which customs officials gave importers reduced rates at ports and borders in return for bribes.
And Guatemala, Central America's largest country in population, is being held up as the region's poster child for standing up to official corruption.
"Guatemala today is viewed as a positive example not just for Latin America, but for the whole world," said Felipe Bosch Gutiérrez, president of the nonprofit, pro-business Foundation for the Development of Guatemala (FUNDESA). "This has helped us commit ourselves to the future of our country."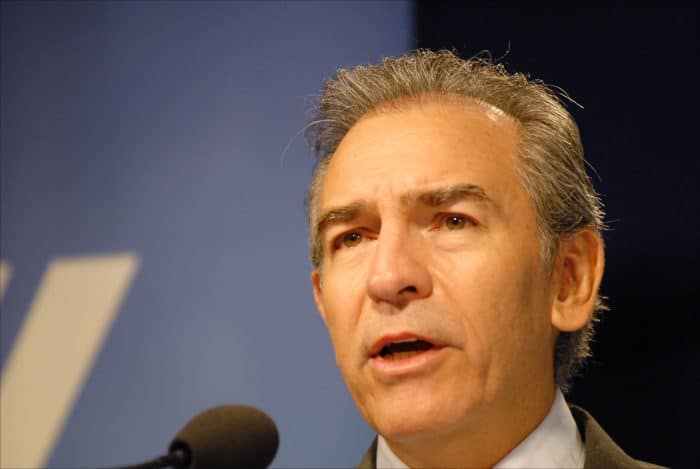 On Friday, Aldana, Bosch and U.S. State Department official Francisco Palmieri shared the podium at Washington's Woodrow Wilson Center for a conference titled "Fighting Corruption and Impunity in Guatemala" and attended by more than 150 people.
"For far too long, endemic corruption has undermined the progress Guatemalans are making towards their future. This year, we've seen a commitment to fight corruption and impunity – led not by the government but by the Guatemalan people and their dedication to the rule of law, accountability and peaceful protest," said Palmieri, U.S. deputy assistant secretary of state for Central America and the Caribbean.
Praising Aldana as a "giant, a woman of personal courage and moral clarity who is doing what must be done" to save her country, Palmieri said her dedication and hard work "shows that Guatemala can begin a new tradition of integrity and public service, but she does this work at great personal risk" – as do many other officials, "unnamed and unknown, who are championing the fight against corruption and impunity."
A backlog of 1.4 million cases
Aldana said that when she took over as attorney general nearly a year and a half ago, she found a backlog of 1.4 million cases and not enough money to resolve even a tiny fraction of them. She also said the support of the United Nations International Commission Against Impunity (known by its Spanish acronym CICIG) – an entity Pérez Molina had tried to get rid of – was absolutely critical in bringing the president down.
"Detractors said CICIG was meddling in Guatemala's internal affairs," Aldana argued, "but that cannot be, because it was the government itself that asked the U.N. in 2006 to install this commission – which was designed by Guatemalans following guidelines bases on an assessment of Guatemala's needs."
Aldana, who was named a Supreme Court magistrate in 2009, complained that since 2012, the annual budget of the Prosecutor's Office has been kept steady at $115 million – even though yearly requests for allocations to the office have climbed from $171 million to $211 million in the past four years.
"Now we're practically at year's end, and millions of quetzals are owed to the Prosecutor's Office," Aldana said. "Instead, we should be strengthening institutions in the judicial sector. There's deficient access to public information that citizens have a right to know. Hiding this information favors corruption."
According to the Guatemala-based Instituto Centroamericano de Estudios Fiscales (ICEFI), corruption cost the country more than $530 million in 2015 – equivalent to the budget of the attorney general's office for the last four years.
"We have one million primary school students without notebooks, 500,000 pregnant women not getting pre-natal care, 300,000 mothers not getting child care and 5,000 high-school scholarships that haven't been distributed," Aldana said. "So in that context, anyone would understand and justify the need for the government in 2006 to request the presence of an international commission against impunity in Guatemala."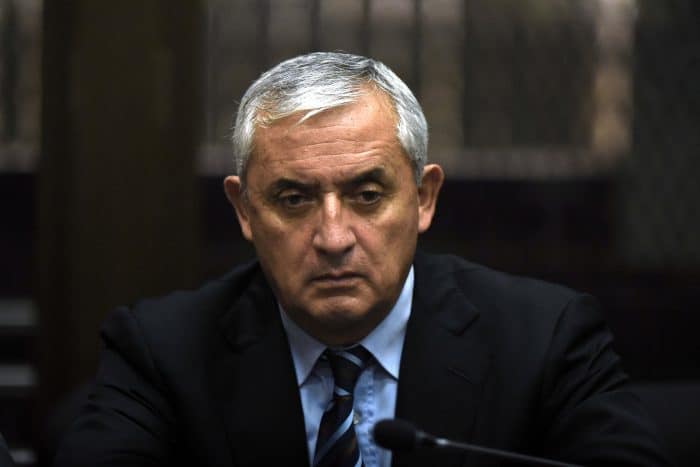 In the end, CICIG's help proved invaluable when it came to wiretaps and protection of witnesses.
Aldana said that so far this year, her office – along with CICIG – has carried out more than 720 searches in order to seize material, as well as 93 "high-level" arrests.
"The transfer of capabilities from CICIG to prosecutors in the attorney general's office is happening in an orderly fashion," she said. "In April, I inaugurated the Office of the Special Prosecutor Against Corruption. We've received great support from USAID [U.S. Agency for International Development] and have worked on joint training processes so that prosecutors can have better techniques to investigate drug trafficking and organized crime."
Aldana's La Línea investigation alone involved 88,920 wiretaps, 5,900 intercepted emails and 175,000 documents – many of which are still being analyzed.
"These wiretaps revealed a network of corruption, a powerful criminal organization made up of high-level, mid-level and low-level officials, both within the tax administration and an outside structure as well," she said. "We saw how, over the course of 20 weeks, Guatemalans took to the main plazas to demonstrate, and one way or another to show support for the joint work being done by the attorney general's office and the international community."
On May 8, as protests grew louder and louder, Baldetti resigned as vice president. On Sept. 2, Pérez Molina stepped down, was arraigned in court and then taken immediately to a military prison, where he awaits justice.
"For the first time in Guatemala's history, the president had his immunity stripped," Aldana said. "The press played a crucial role in this, clearly naming those who had engaged in acts of corruption. There was general amazement that the person who had been elected by the people to run the country was precisely the leader of a criminal organization to defraud the state."
Aldana, who's racked up more than 70 awards and honors for her judicial work over the years, called the dramatic events of 2015 a "new democratic spring for Guatemala" and expressed the hope that the judges involved in the ex-president's upcoming trial "will show independence and act with transparency."
"If the next administration really wants to strengthen the public ministries and judicial institutions, then we are very close," she said. "But if there's no political will, then it'll be difficult for institutions to be able to operate adequately."
During the Q&A that followed Aldana's talk, someone asked whether President-elect Jimmy Morales – who declared his support for CICIG during the election campaign – is likely to keep his hands clean after taking office on Jan. 14, 2016.
"We have to see the team that will accompany Jimmy Morales when he takes office, and the Cabinet he's going to appoint," Aldana responded. "We hope all those he designates are honest people and not corrupt. This would be the first sign that the president-elect is committed to the anti-corruption campaign. Guatemalans will be looking closely to see that he's not corrupt, or a thief."
Asked by someone else if she had any advice for other Central American countries beset with corruption, Aldana said it wasn't her place to comment on Guatemala's neighbors.
But FUNDESA's Bosch, noting that he's not a public official, was happy to comment.
"What other countries should do is say 'enough is enough' and begin to have public demonstrations and expressions of popular will," the businessman advised. "In addition to bad politicians, there are many good ones as well – and they need to be motivated to join such efforts."