GUATEMALA CITY – A list of finalists for Guatemala's next attorney general contains six men and women. But one of the best candidates, acting Attorney General Claudia Paz y Paz, who leaves office this month, is not one of them.
"It surprises us that Paz y Paz is not in the list of six attorneys, despite the excellent performance during her term, in addition to her score in the [review] process," Diego Álvarez, a spokesman for the U.N.'s International Commission Against Impunity in Guatemala (CICIG), said at a Thursday press conference, EFE reported.
A nominating committee, made up of prominent members of the legal community in Guatemala, spent weeks winnowing down a group of 26 applicants. Yet while the process is meant to shield the Attorney General's Office from political pressure, recent events appear to reveal meddling by the administration of President Otto Pérez Molina.
Each candidate was assigned a numerical score representing suitability for the job as the country's top prosecutor. Paz y Paz obtained the second-highest score of the group. Yet the nominating committee short-listed six candidates, without including her. That list then was forwarded to President Pérez Molina, who will make the final selection.
Former President Álvaro Colom reacted strongly to the announcement, telling the daily El Periódico last Wednesday:
I consider this evidence that there was manipulation [of the selection process]. I believe that if they didn't choose her for the final nomination of candidates it was because of cowardice. There are definitely groups of powerful interests who don't want the attorney general to be re-elected, and they are the same ones who do not want justice in Guatemala.
The breakneck selection process began after a March 7 ruling by the nation's highest court ordering Paz y Paz to leave office on May 19, six months ahead of the expected end of her term. Civil society groups claim the ruling was the result of pressure from right-wing sectors aligned with military and business interests in Guatemala. However, the court's ruling did leave the option of re-election on the table for Paz y Paz.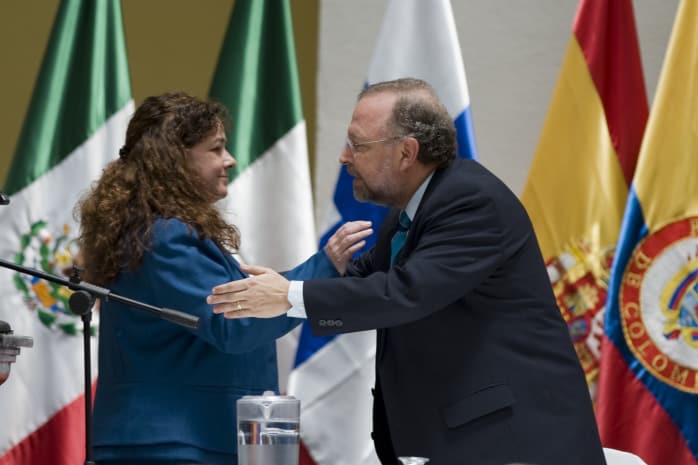 During her current term, Paz y Paz has built a broad portfolio of successful prosecutions in a country hampered by overwhelming impunity. She won a 6,060-year prison sentence for defendants in the infamous Dos Erres massacre trial, a case in which government commandos killed more than 200 villagers in 1982. And she successfully prosecuted former Guatemalan dictator José Efraín Ríos Montt on charges of genocide. That landmark verdict was later overturned by Guatemala's highest court in a highly controversial ruling.
With those victories, and the tenacity she has demonstrated in the office, observers say Paz y Paz deserves at least a spot on the shortlist. Many are advocating she be installed for another term. Yet, when the committee selected the finalists, Paz y Paz received only four votes of a maximum of 13, compared to most of the six finalists, who received up to 13 votes each.
Paz y Paz, like her supporters, said she was surprised by the decision.
"I believe there are some sectors, such as those who filed various lawsuits against me, that without a doubt prefer impunity survives in Guatemala," she told El Periódico.
Two radically right-wing groups in particular, the League for the Nation and the Foundation Against Terrorism, have become notorious for campaigning in favor of Paz y Paz's removal. Like much of the rhetoric seen during the bloody 36-year civil war, which lasted from 1960-1996, the groups believe Paz y Paz's human rights prosecutions are an attempt to "promote communism" and attack business and military interests.
Yet human rights groups, international agencies, and the U.S. Embassy in Guatemala all support Paz y Paz's recent efforts as prosecutor. The impunity rate for homicides in Guatemala City fell from 95 percent before she took office in 2009 to 72 percent in 2012, according to the U.S. State Department.
According to the daily Prensa Libre, the selection process may have been compromised from the start by interference from the executive branch. On April 24, the newspaper published an audio recording allegedly of a conversation between Luis Reyes García, president of the Attorneys and Notaries Association and a member of the nominating committee, a second member of the nominating committee, and two senior officials from the president's office. The group discussed the nominating committee's work, and Reyes García is heard referring to "an orchestrated plan" for the selection process.
Pérez Molina must name the next attorney general by May 19. The six finalists are: Thelma Aldana, Edgar Lemus, Eunice Mendizabal, María Porras, Ronny López and Julio Claveria.
Benjamin Reeves is a freelance journalist based in Antigua, Guatemala. Follow him on Twitter and at his blog.