UPDATE: Tues., Oct. 27, 8:45 a.m.
The government and union leaders reached an agreement in the early hours of Tuesday morning, ending the strike. Among the agreements, the Solís administration will introduce a living wage bill in December's extraordinary legislative session, and will prepare to introduce to the legislature Convention 184 of the International Labour Organization on adequate conditions for agricultural workers. The sides also agreed to establish a working group to discuss the present and future finances of the public pension system. The union umbrella group, Patria Justa, agreed to urge its members not to initiate another strike while negotiations are ongoing.
Original story continues here:
While the call for a nationwide strike by public service unions on Monday had only moderate support, it did cause the cancellation of at least 86 surgeries at three hospitals, according to a report from the Social Security System, or Caja.
According to the Caja, 40 surgeries were rescheduled at San Juan de Dios Hospital in downtown San José; 28 at San Vicente de Paul Hospital in Heredia; and 18 at the National Children's Hospital.
Caja officials reported that 745 employees – just 1 percent of total staff – joined the strike. There was no need to reschedule appointments at public clinics.
Workers from other public agencies demonstrated in several provinces, but the largest group marched along the capital's Second Avenue.
Other groups of demonstrators staged blockades on roads in San José, Alajuela, Cartago and Heredia in the early hours of Monday, but National Police officers quickly removed them.
Public Security Minister Gustavo Mata said officials launched an operation to block disruption of public services at midnight on Sunday. Those efforts focused mostly on preventing demonstrators from blocking roads and access to public offices.
Mata reported that a total of 400 police officers prevented blockades at several locations, mainly in Limón and San José.
The minister said officers were sent to Caribbean docks and to several fuel distribution plants run by the National Oil Refinery, including those at Juan Santamaría and Daniel Oduber international airports.
Gas station owners on Monday evening reported that they likely would run out of fuel on Tuesday, mostly because many motorists bought large quantities of fuel throughout the day.
The Costa Rican Electricity Institute reported that 1,053 of its 15,041 employees – less than 7 percent – joined the strike. The protest affected customer service departments at only a few branches, ICE said.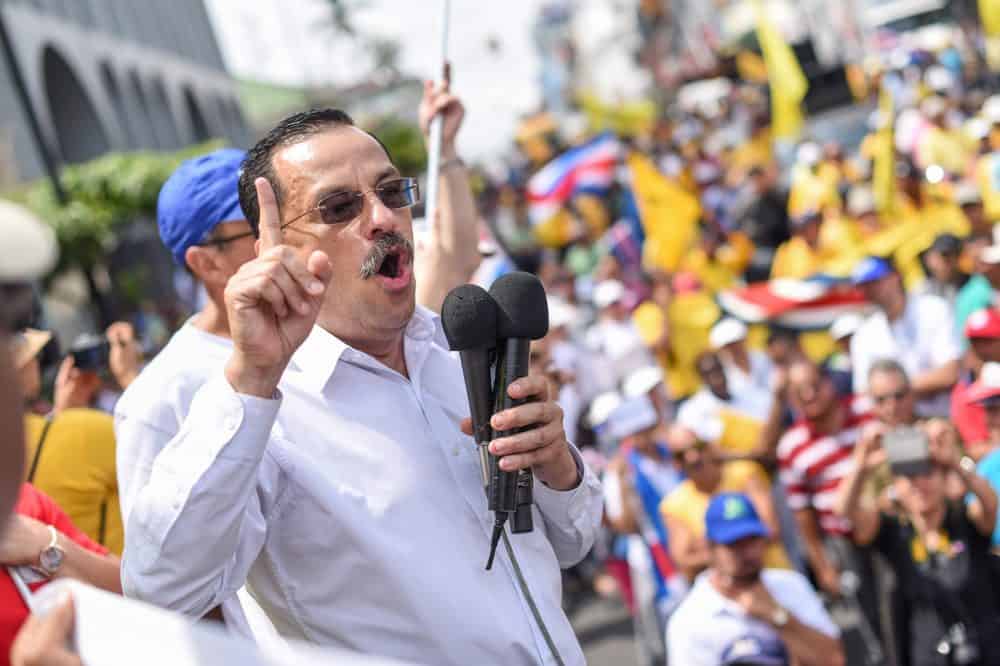 Costa Rica strike demands
Demonstrators in the capital gathered mainly outside the Finance Ministry in downtown San José, demanding the government withdraw a series of proposals currently under discussion that unions believe would affect their salaries.
At about 3 p.m. on Monday, union leaders met with Presidency Ministry officials at Casa Presidencial to negotiate an end to the strike. At about 8 p.m. the meeting was still at a stalemate.
Public workers urged the government to remove proposals aimed at eliminating a number of extra wage benefits granted during collective agreements decades ago.
Unions also want the Legislative Assembly to withdraw a bill that would set salaries for all public employees using the same parameters, therefore eliminating special perks exclusive to some agencies.
They also are asking the Public Services Regulatory Authority to overturn a recent change in formulas used for setting utility rates and fuel prices that eliminated costs for extra wage benefits.
President Luis Guillermo Solís in a message on national television Sunday said that he would take all necessary steps to prevent the disruption of public services.
"The majority of citizens have the right to access public services. The people of this country deserve to live and work in peace," he said.