PUERTO VALLARTA, Mexico – Hurricane Patricia, a storm of record-setting ferocity, proved no match for the Sierra Madre Occidental.
Confronted by the mountain range's high peaks, Patricia crumpled, rapidly shrinking from a Category 5 beast to a tropical depression as it limped eastward across Mexico, leaving behind a perfect beach day and a touch of swagger among those who chose not to evacuate.
"The mountains protect us," declared Patricia Puerner, 47, a U.S. expatriate who lives in Puerto Vallarta and spent the day after the storm sunbathing at the beach.
Patricia smashed ashore Friday night at almost the perfect location, meteorologists and Mexican officials said Saturday, making landfall with 160-mph winds on a sparsely populated stretch of Pacific coastline and then colliding with a tall, rugged mountain range that disrupted its swirling momentum and sapped its strength. The storm uprooted trees and tore the roofs off some houses in the coastal states of Jalisco and Colima, but it was not even close to the catastrophe that had been feared.
Mexican officials stayed cautious throughout the day, refusing to "declare victory."
There were no reports of deaths or injuries, Roberto López Lara, interior secretary for the state of Jalisco, told the Associated Press. Later, President Enrique Peña Nieto reported that between 3,000 and 3,500 homes had been damaged and the storm also affected about 8,650 acres of farmland. He said 235,000 people had lost electricity when the storm hit, and about half had power restored by Saturday.
So far, there are no reports of major damage from #Patricia. Our gratitude to all for your thoughts, prayers and actions #PrayForMexico.

— Enrique Peña Nieto (@EPN) October 24, 2015
Gerardo Ruiz Esparza, Mexico's communications and transportation secretary, said that "there was, let's say, good fortune."
The notion that luck can mean everything on Mexico's vulnerable Pacific Coast was not lost on Nacho Ruíz, the owner of small resort in Sayulita, a tiny beach town north of Puerto Vallarta. A massive storm, Hurricane Kenna, damaged Ruíz's house in 2002, flooded his property and almost killed him. This time, he took refuge in his brother's hillside hotel with family members, including a 5-month-old granddaughter, and the storm missed them.
"I'm relieved, sure, but also a little quiet today," Ruíz said Saturday. "I'm not celebrating. I've lived all my life here, next to the ocean, and I have respect for nature. We were just fortunate this time."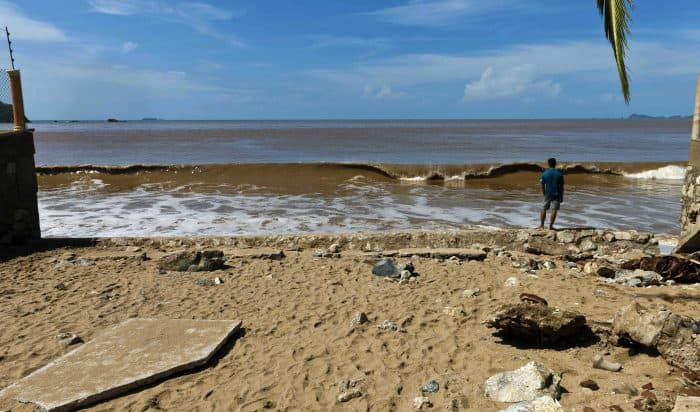 Hurricane Patricia: An unusual storm
From the beginning, Patricia was an unusual storm. It grew astonishingly quickly at sea, at one point registering 200-mph winds — making it the strongest hurricane recorded in the Western Hemisphere. But, in some respects, it was puny.
When Patricia arrived in Mexico, its winds extended only 35 miles from its center, and its eye was only five miles across, limiting the area it impacted, said Dennis Feltgen, a spokesman for the National Weather Service in the United States, which closely tracked the storm.
The storm also slipped neatly between two population centers, missing both — the resort town of Puerto Vallarta to the north, and the port town of Manzanillo to the south.
"Had something like that hit a populated area like Puerto Vallarta, you would be looking at catastrophic destruction and probably fatalities," Feltgen said in an interview. "We were very fortunate. It could have been much worse."
Mexican officials praised the public for heeding warnings about taking precautions. On Saturday, some rivers and creeks swelled and a few crested their banks, causing scattered minor flooding and some property damage in the highlands of Jalisco, east of Puerto Vallarta. A creek called the Arroyo de Pochote flooded and swept away piles of bricks drying along the bank. "We lost 20,000 bricks," said Oscar Noe Sotor, a 19-year-old laborer.
Yet, for the most part, the region looked more as if it had been refreshed after a healthy rain than crushed by a massive storm.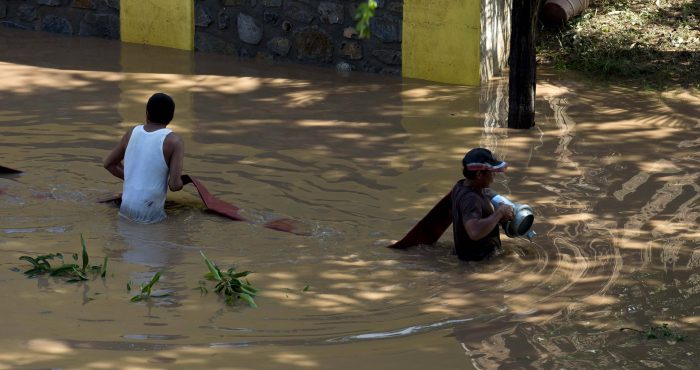 Patricia bounded into Mexico's coast at 6:10 p.m. Friday, according to the National Weather Service. By 4 a.m. Saturday, it was a Category 1 hurricane, and as the day progressed, it withered to a tropical storm and then a tropical depression, and it was expected to dissipate late Saturday.
It hit near the resort area of Cuixmala, 110 miles south of Puerto Vallarta, one of Mexico's most popular vacation destinations, and 580 miles west of Mexico City. The region is known as the Costa Alegre, which translates to the Joyful Coast, but it's also often referred to as the Virgin Coast.
By early Saturday, 15 inches of rain had been recorded in the small town of Nevado de Colima in Jalisco, according to the Mexican national meteorological service. In the neighboring state of Colima, Patricia dumped 11½ inches on the town of Sierra Manantlán.
Less than 24 hours after the storm made landfall, the skies were blue and Leonard Geringer, a tourist from Wyoming, was leaning back in a floppy lounge chair on the beach in Sayulita.
"We survived a Cat 5!" he said, hoisting a bottle of beer and laughing about the decision to ignore evacuation warnings.
Geringer's wife is named Gale — as in "a mighty wind," she said. "We felt perfectly safe." The gales of Patricia seemed destined to be more of a footnote in Mexico's hurricane history than an exclamation point. Its legacy might best be summed up by a photograph that an Associated Press reporter snapped on the beach in Puerto Vallarta. It was a sand sculpture of the Virgin Mary, and it was completely intact.
Roig-Franzia reported from Mexico City.
© 2015, The Washington Post