PUERTO VALLARTA, Mexico – Record-breaking Hurricane Patricia weakened to a tropical depression over north-central Mexico on Saturday, dumping heavy rain that triggered flooding and landslides but so far causing less damage than feared.
Streets were flooded in some parts of the country and hundreds of trees were uprooted after Hurricane Patricia came ashore in the Pacific coast state of Jalisco late Friday as a massive Category Five.
No casualties were reported so far.
Hurricane Patricia gradually lost steam as it moved further inland overnight, but a "heavy rain threat continues," the U.S. National Hurricane Center said.
The hurricane was downgraded to a tropical storm and then a depression as it moved northeast in Zacatecas in the morning, with maximum sustained winds of 55 kilometers (35 miles) per hour, according to the U.S. center.
The river in the Jalisco town of Atenguillo overflowed, damaging 20 homes in the community of 4,000 people, civil protection officials said.
Trees and streets signs were torn down in the major port of Manzanillo, Colima state, located some 95 kilometers (60 miles) east of where Patricia made landfall.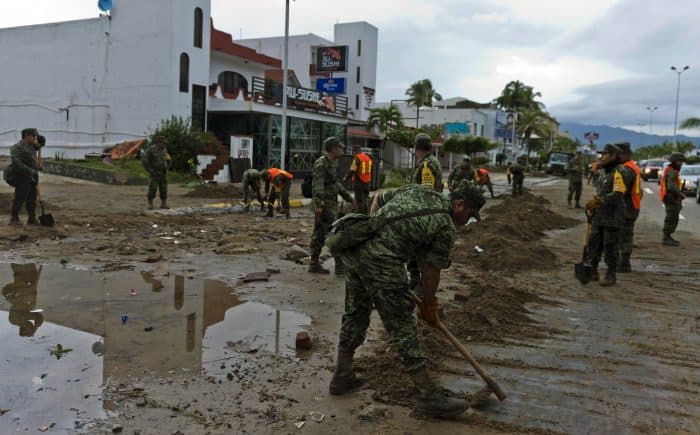 Soldiers shoveled sand off the city's main boulevard while residents surveyed the damage, some riding around in bicycles.
"For being the most powerful hurricane in the world, I think we came out okay," said Cristian Arias, the 30-year-old owner of seafood restaurant El Bigotes, whose balcony was broken and garage damaged by Patricia.
"It was a wave that broke everything and dumped sand on the boulevard behind the restaurant," he said.
Further up the coast, residents of the popular beach resort of Puerto Vallarta breathed a sigh of relief as the town, where thousands of tourists had been staying, avoided a catastrophe.
"We were really anxious yesterday, but the worst has passed," said Francisco Javier Quintero, a 60-year-old shopkeeper who returned to his morning ritual of chatting with friends on a seafront bench.
Quintero took his family to his sister's house on higher ground as a precaution while he stayed in their home for fear of burglaries.
"Maybe [the warnings] were exaggerated, but it's better to be warned," said Quintero's friend Rubén Fregoso, a restaurant owner who reopened his business after the storm.
Seafront hotels were cleared of their guests while thousands of tourists were evacuated by bus or plane, many taken to shelters.
"I had the bad luck of being at the wrong place in the wrong time," said Gian Paolo Azzena, a 26-year-old Italian medical school graduate at a Red Cross facility housing 109 people, including U.S. and Canadian visitors.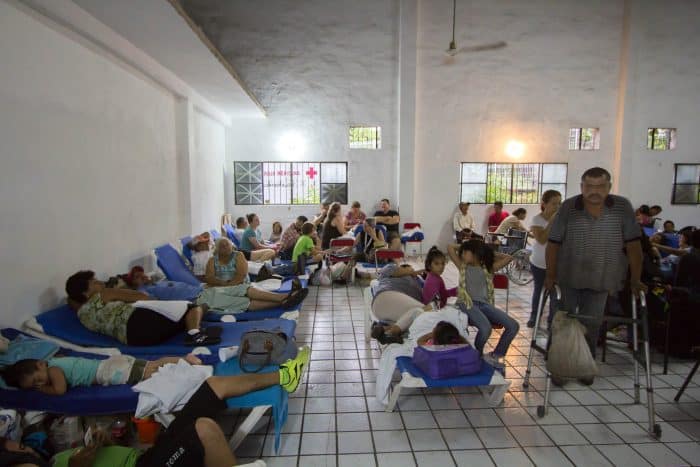 'Can't let our guard down'
Ex-Hurricane Patricia was expected to produce up to 51 centimeters (20 inches) of rain over the states of Nayarit, Jalisco, Colima, Michoacán, and Guerrero, which officials said were likely to produce flash floods and mudslides.
The storm had grown into the strongest hurricane ever recorded hours before reaching the coast, raising fears that it would bring death and destruction across the country.
But President Enrique Peña Nieto said late Friday that early reports "confirm that the damage has been smaller than that corresponding to a hurricane of this magnitude."
"We can't let our guard down yet," he cautioned, noting that more rain was coming.
Before Patricia slammed the coast, authorities relocated coastal residents, evacuated tourists from beach hotels and closed sea ports, airports and schools in several states.
Forecasters had warned of a "potential catastrophe" after Patricia's winds peaked at 325 kilometers per hour (202 miles per hour) on Friday — more powerful than the 315 kph winds of Super Typhoon Haiyan, which left more than 7,350 dead or missing when it struck the Philippines in November 2013.
But officials in the Pacific coast states of Jalisco, Colima and Nayarit have only reported material damage so far.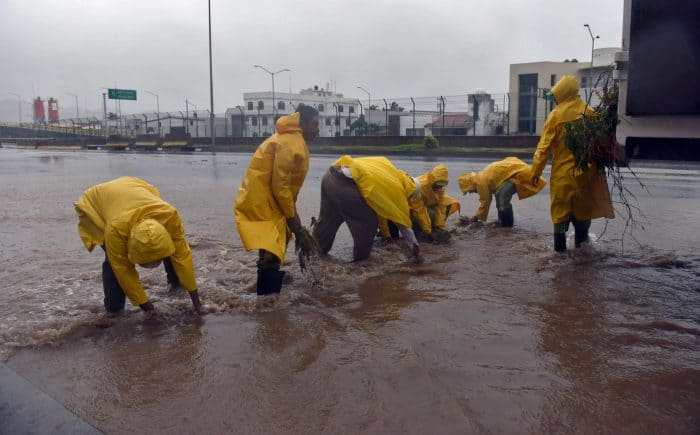 Texas rain
U.S. President Barack Obama said U.S. disaster aid experts were on the ground and primed to help.
The National Water Commission said Patricia was "so big and intense" that it could cross the entire country, enter the Gulf of Mexico, and reach the United States.
Moisture from the storm is expected to contribute to heavy rains already under way in Texas, where significant flood threats are developing, according to weather.com. It could also cause flooding in other south-central states.