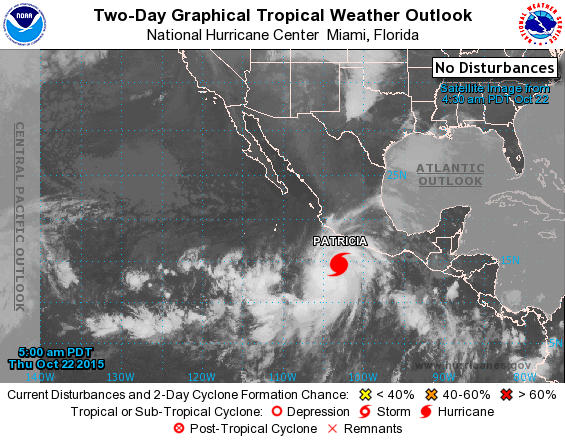 MEXICO CITY – Hurricane Patricia spiraled toward Mexico's Pacific coast on Thursday, threatening to mushroom into an "extremely dangerous" major storm before making landfall, forecasters said.
Patricia grew from a tropical storm to a hurricane before dawn and was packing maximum sustained winds of 155 kilometers (100 miles) per hour, according to the U.S. National Hurricane Center.
The Miami-based forecasters warned in their latest bulletin that the Category 2 storm in the five level Saffir-Simpson scale was expected to reach the coast on Friday "as an extremely dangerous major hurricane."
Hurricane Patricia was located 460 kilometers (285 miles) south of Manzanillo, in Colima state, and 385 kilometers from another major port further south, Lazaro Cárdenas, Michoacán state.
Mexican authorities have urged people to take precautions and stay informed about the storm's progress.
Patricia is expected to produce 6 to 12 inches (15 to 30 centimeters) of rainfall accumulations, with isolated amounts of 20 inches (50 centimeters) over the states of Jalisco, Colima, Michoacán and Guerrero, which could produce flash floods and mudslides, the U.S. center said.