The eruption last Friday of Costa Rica's Turrialba Volcano spewed large amounts of ash that ended up along the volcano's outskirts due to heavy showers and mild winds that day, experts from the University of Costa Rica's National Seismological Network (RSN) reported Tuesday.
In an inspection of the volcano, located 50 kilometers east of San José, RSN scientists discovered large amounts of material that had been expelled during the explosion, including several large rocks up to 1 meter in diameter.
Weather over the weekend prevented most of the volcanic ash from reaching other locations in the Central Valley, although RSN received reports and photographic evidence of ash northeast of San José in Sabanilla, as well Concepción de Tres Ríos and Tierra Blanca in Cartago.
A group of fumaroles are currently visible inside the crater at temperatures of up to 80 degrees Celsius (176 F). That is a significant drop from the 400 C (752 F) registered on Thursday by RSN monitoring equipment.
Inspections on Monday and Tuesday found ash accumulation of up to 80 centimeters (31.5 inches) inside the crater and up to 4 cm (1.5 inches) in several areas around the volcano.
Following Friday's eruption the volcano "maintains visible gas and vapor as well as constant seismic activity," the report adds.
On Tuesday night and early Wednesday morning, the Volcanological and Seismological Observatory of Costa Rica (OVSICORI) reported a 7.5-hour volcanic temblor that led to them to warn another eruption could be imminent. However, only gas and vapor were emitted, and at 2:30 a.m., the activity seems to have subsided to "moderate levels."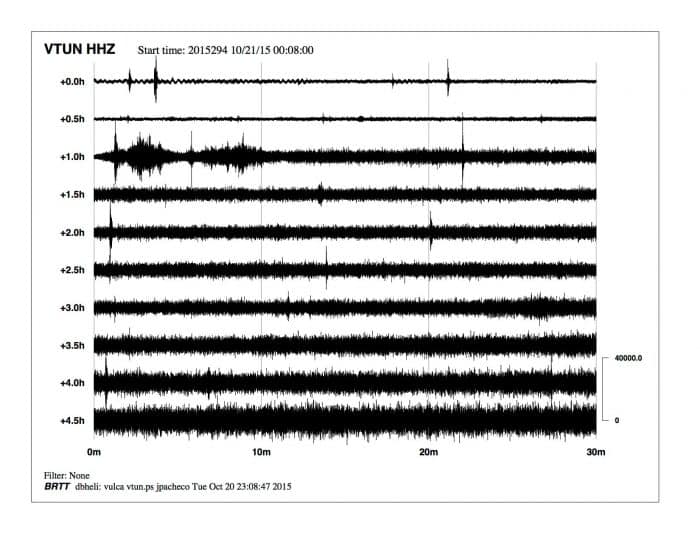 An additional finding by the RSN team indicates that the separation between the crater's two openings is decreasing, leading experts to believe they might merge in the future.
Persistent showers over the weekend washed part of the material away, but the accumulation of ash in creeks located along Turrialba's outskirts could pose some risk. Experts are keeping a close watch.
"Materials deposited in the riverbed formed a waterproof layer that could favor the formation of landslides" the report warns.