UPDATE, Tuesday, Sept. 1, 7:30 p.m.:
A Guatemalan judge Tuesday barred President Otto Pérez Molina from leaving the country, hours after he was stripped of his immunity due to his alleged role in a customs fraud, the prosecutor's office said.
"The prosecutors' office sought a ban on leaving the country for President Otto Pérez, and Judge Miguel Ángel Gálvez ordered it," prosecutors said on Twitter.
Under Guatemalan law, he will be automatically removed from office if remanded in custody by a judge.
Original post continues here: 
GUATEMALA CITY – Guatemala's Congress voted Tuesday to strip embattled President Otto Pérez Molina's immunity, clearing the way for him to be prosecuted over allegations he masterminded a multi-million-dollar corruption scheme.
The resolution was passed unanimously by the 132 lawmakers present, making the conservative leader the first president to have his immunity revoked in the Central American country's history.
https://twitter.com/Publinews_GT/status/638842256657551360
After months of unprecedented protests that have swept Guatemala, hundreds of demonstrators outside Congress erupted into jubilant cheers at the news, as passing drivers honked their horns in celebration.
The vote clears the way for prosecutors to charge Pérez Molina, a 64-year-old retired general, with running a scheme that allowed businesses to reduce their customs duty by paying bribes to corrupt officials.
Under Guatemalan law, he will be automatically removed from office if remanded in custody by a judge.
Pérez Molina's lawyers filed a motion Monday challenging the immunity vote before the Constitutional Court, which is expected to rule by Thursday.
Outside the #Guatemala congress protesters chant "The people are present; we no longer have a president". https://t.co/Tf7pgqE1Wr

— Dr. Jo-Marie Burt (@jomaburt) September 1, 2015
Read: Why Guatemala's Pérez Molina turns a deaf ear to widespread calls for his resignation
The 132 votes in favor were well clear of the two-thirds majority needed for the motion to pass in the 158-member legislature.
A congressional investigative committee had recommended three days ago that lawmakers revoke Pérez Molina's immunity.
He had survived a similar vote last month — but that was before prosecutors and investigators from a special U.N. anti-graft commission had accused him of personally pulling the strings of the bribery ring.
Pérez Molina has repeatedly denied the allegations and rejected calls from the increasingly virulent protest movement for his resignation.
"I have not received a cent from this fraudulent system," he said Monday.
"I reiterate yet again my position on the allegations made by the prosecution, and it is that I am completely calm," he told a news conference.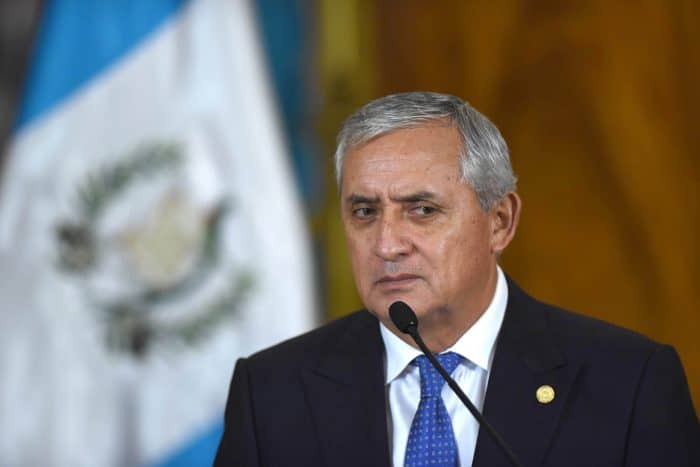 The scandal, which has already felled his former vice president and a string of top officials, comes as Guatemala prepares for elections Sunday to choose Pérez Molina's successor.
The president, who has been in power since 2012, is constitutionally barred from running for re-election. His term ends on Jan. 14. The leading candidate to replace him, Manuel Baldizón, had called for Congress to strip his immunity.
Baldizón leads right-wing party Renewed Democratic Liberty, the largest in Congress.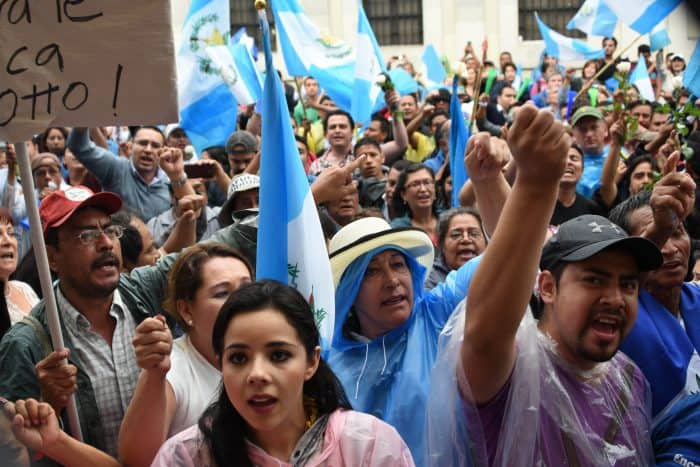 'Pressure cooker that exploded'
Guatemalans have taken to the streets in protest every week since April, when investigators first accused a top aide to then-vice president Roxana Baldetti of involvement in the corruption.
Baldetti, who resigned as vice president in May, was arrested on Aug. 21 and is in jail awaiting trial over her alleged role in the scheme.
The probe also has nabbed the head of Guatemala's tax administration, his predecessor and several dozen other agency officials.
Some protesters are calling for Sunday's elections to be postponed until sweeping political reforms can be implemented in Guatemala, a country of 15.8 million people that is troubled by poverty, drug trafficking and violent crime.
The protests, on a scale never before seen in Guatemala, are "historic," said Manfredo Marroquín, the director of the local branch of anti-corruption watchdog Transparency International. "It's like a pressure cooker that exploded."
President Otto Pérez Molina, as he has long deserved, is going to prison. Unanimous vote, even his own party voted against him!

— Francisco Goldman (@PacoGoldman) September 1, 2015
Nobel Peace Prize winner Rigoberta Menchú, a Guatemalan indigenous activist, called on protesters to refrain from violence, accusing Pérez Molina of waging a campaign to provoke them.
"I call on Guatemalan society not to fall into the trap of provocation, to reject violence, racial hatred and class warfare being stirred up by hidden powers and people linked to the criminal networks of corruption," she said in a statement.
Investigators say their accusations are based on some 89,000 wire-tapped phone calls that uncovered a scheme called "La Línea" ('The Line"), named for a hotline businesses would call to access corrupt officials and get illegal discounts on their customs duties.
Pérez Molina has been left increasingly isolated by the scandal.
The attorney general's office, the comptroller's office and prominent voices in the business community have all joined the calls for him to go.
Six of his 14 ministers have resigned in recent days, along with several other top officials.
#OPMSinInmunidad: así votaron las bancadas para retirar inmunidad a Pérez Molina http://t.co/C8v0mfwn5u Vía @alexr_pl pic.twitter.com/aob86miaz9

— Prensa Libre (@prensa_libre) September 1, 2015