GUATEMALA CITY – Guatemalan President Otto Pérez Molina said Monday he is calm and confident he has done nothing wrong, as lawmakers debated stripping his immunity and forcing him to face prosecution on corruption charges.
"I reiterate yet again my position on the allegations made by the prosecution, and it is that I am completely calm," he said at a news conference.
The conservative president has faced mounting calls for his resignation since U.N. investigators accused him of running a massive fraud scheme at the national customs service, a scandal that has already felled his former vice president and caused nearly half his Cabinet to resign.
Read: Why Guatemala's Pérez Molina turns a deaf ear to widespread calls for his resignation
His latest denial came after a congressional investigative committee recommended Saturday that he be stripped of his presidential immunity and prosecuted.
The decision now moves to the full legislature, where 105 lawmakers out of 158 would have to vote in favor of such a resolution.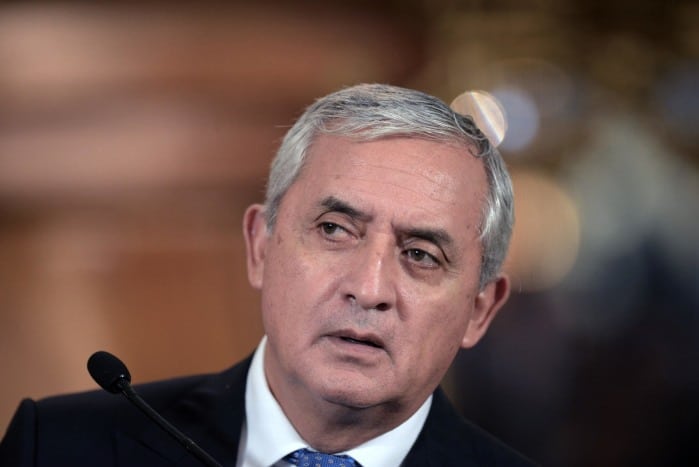 Just before Pérez Molina's news conference, his lawyer filed a motion with the Constitutional Court to block the vote, which is expected in the coming days.
Investigators say the president, arrested ex-vice president Roxana Baldetti, and a raft of other top officials operated a scheme in which businesses paid bribes to clear their imports through customs at a fraction of the actual tax rate.
Pérez Molina, a 64-year-old retired general and the founder of the Patriot Party, has apologized for the fact the graft happened on his watch, but denies involvement. He has repeatedly rejected calls to resign before his term ends in January — a stance he reiterated Monday.
"I have not received a cent from this fraudulent system, which was practically robbing the people," he said. "There's something important here, and that is the presumption of innocence until proven guilty."
Watch the news conference in Spanish here:
The turmoil comes as Guatemala prepares for elections on Sunday that will decide Pérez Molina's successor. The president, who has been in office since 2012, is constitutionally barred from running for re-election. The scandal has triggered weeks of mass protests.
The president said he understands the protesters' outrage, but urged "each individual to reflect … on whether [the accusations] are true or not."