President Luis Guillermo Solís issued an emergency red alert – the highest of the country's three alert levels – Saturday across the Caribbean province of Limón and in the cantons of Sarapiquí, in Heredia, and Turrialba, in the eastern province of Cartago, in response to heavy rains and flooding that have led to widespread structural damage and evacuations.
In a press conference Saturday at noon, Solís said all emergency agencies activated their response protocols to address situations caused by downpours persisting since Friday evening.
National Emergency Commission (CNE) officials met with the President on Saturday morning to evaluate the damage in the three provinces.
Following the meeting, CNE reported that the most affected cantons are Sarapiquí, Turrialba, Siquirres, Matina, Central Limón, Talamanca and Valle de la Estrella.
The Costa Rican Red Cross issued a statement Saturday afternoon saying that there have been no reported deaths or injuries in the affected areas, but that the rain's intensity could remain the same until at least Monday afternoon.
Water rushing out of the Reventazón dam in #CostaRica after intense rains trigger red alert. @theticotimes https://t.co/LJMk5nImzG

— Zach Dyer (@zkdyer) June 27, 2015
Flooding of the Reventazón and Pacuare rivers completely blocked passage to the community of Imperio in the canton of Siquirres, in the Caribbean lowlands.
A Costa Rican Electricity Institute (ICE) hydroelectric plant on the Reventazón River reportedly evacuated all of its employees early Saturday morning.
Barra de Parismina River overflowed and flooded the community of La Pajarera in El Carmen, in Limón province.
Emergency staff in Turrialba have evacuated people from various communities and opened a shelter at a local community hall.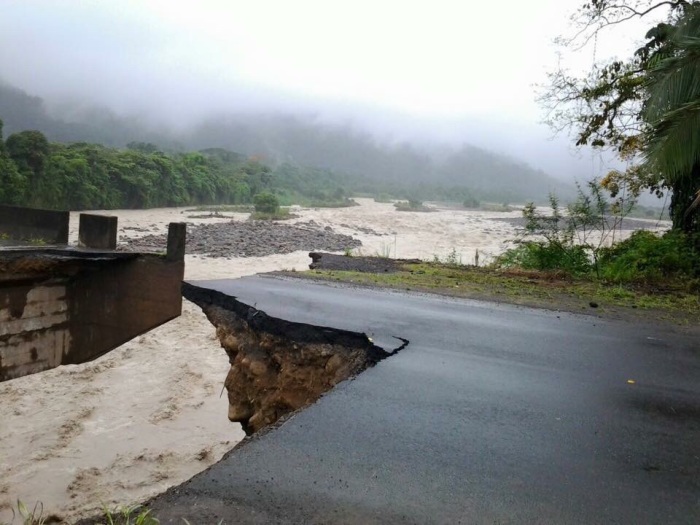 Several homes and properties are reportedly affected by flooding in the Sarapiquí communities of Caño San José, Nogales and Colono. CNE opened two shelters and according to a report at 2 p.m., 144 people had been evacuated. CNE operations director Walter Fonseca said they are currently working on sending supplies to all shelters and emergency committees have started delivering food.
Passage of vehicles on Route 32 to Limón remains closed due to approximately 4,000 cubic meters of debris that fell off the mountains. Currently, the only access to the Caribbean from the Central Valley is through Route 10 (Paraíso-Turrialba-Siquirres), although it is being regulated by Traffic Police.
The National Meteorological Institute (IMN) at 2 p.m. reported rainfall accumulations of up to 185 mm (7 inches) in the last 30 hours in Sarapiquí, 229 mm (9 in) in Turrialba and between 10-55 mm (0.4 – 2 in) at communities in the Metropolitan Area.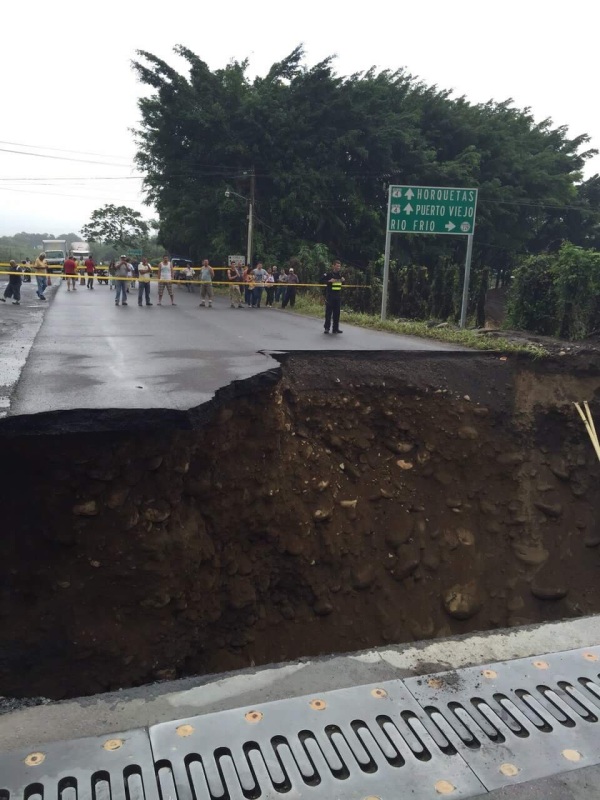 Recommended: Costa Rican exporters report Route 32 closure cost them an extra $800,000