Recommended: In Guatemala, anti-establishment presidential candidate benefits from corruption scandals
President Otto Pérez Molina's future is in the hands of five congressmen after the Supreme Court gave the legislature the green light to decide whether he should be stripped of his prosecutorial immunity so that he can be tried for corruption charges.
The court's verdict was announced Thursday after Congressman Amílcar Pop Ac, of the indigenous Winaq party, filed a complaint arguing that there are sufficient grounds to prosecute Pérez Molina for corruption charges. Since doing so, Congressman Pop claims he has been subjected to death threats.
Pérez Molina is accused of involvement in two major corruption scandals: a massive customs fraud network known as "La Línea" that involved a number of top government officials, and corruption charges involving a $14.5 million dialysis contract granted by the Guatemalan Social Security Institute (IGSS).
One of the most potentially incriminating pieces of evidence are telephone conversations recorded by the International Commission Against Impunity (CICIG) as part of the investigation into the La Línea case that contain references to "the president."
More damaging evidence could emerge as Francisco Javier Ortiz Arriaga, known as "Teniente Jerez," one of the ringleaders of La Línea, is seeking to be included in a witness protection program in exchange for providing detailed information of how the customs fraud structure operated and exactly who was involved.
Vice President Roxana Baldetti, who was forced to resign on May 8, has been banned from leaving the country. Her U.S. visa has been revoked, her bank accounts and those of her husband have been frozen and her properties have been searched by police as part of the ongoing investigation. A number of telephone recordings contain references to "La Dos" ("No. 2"), "La R," and "La Señora."
Despite the fact that he faces intense pressure from civil society to step down, Pérez Molina is adamant that he will not resign. "I will remain in my position; I was constitutionally appointed and I will face this [CICIG's investigation into the case]," he said Thursday in a press conference.
In Congress' hands
An extraordinary congressional hearing was held Friday in order to elect a five-member commission to analyze Congressman Pop's arguments. Following the procedure established under Guatemalan law, each member of the house was assigned a number, and two members of Congress were asked to draw five random numbers from a raffle.
The five selected members are: Baudilio Hichos López, Hugo Fernando García Gudiel and Juan Armando Chuy Chanchavac from the LIDER party, independent Congressman Mario Santiago Linares, and Hugo Morán Tobar, from the CREO party.
Several of these congressmen have a tainted track record, which could hinder the credibility of the commission.
Throughout his two decades in Congress, Hichos López, who presides the newly appointed commission, has switched from the Nationalist Change Union (UCN) party, to the Guatemalan Republican Front (FRG) and then to LIDER, a practice known as transfuguismo in Spanish. During his brief period as vice minister of agriculture under the administration of Alfonso Portillo (2000-2004), he was accused of trafficking protected plant species, and more recently, he was accused of nepotism and profitting from state contracts in the eastern department of Chiquimula.
García Gudiel recently defected from the Patriot Party (PP), and according to investigations published by El Periódico newspaper, owns at least three mansions in Guatemala City, a Monterrico beach resort and Atitlán. One of these properties has been valued in $2.5 million, a sum that far exceeds his income as a member of Congress.
Linares also abandoned the PP in late 2014. Morán Tobar, 30, who switched from the PAN party to CREO is part of a cohort of young members of Congress known as dipukids. They were voted into office in 2011, but hopes that their arrival would bring a breath of fresh air into a legislature dominated by a culture of graft soon floundered as they failed to bring about any significant change.
Once the commission has reached a verdict, Congress will vote on whether or not to accept its recommendation. If Congress decides to strip Pérez Molina of his immunity he could face a process similar to impeachment. His party, the PP, currently holds 35 of the 158 seats in the legislature.
See also: Resignation rumors of Guatemala's Pérez Molina grow after fourth week of protests 
Jumping ship
In the wake of the recent corruption scandals, many PP congressmen switched their party allegiance to Lider, which now has 62 of the 158 seats in Congress and is leading the polls.
The legislature faces intense pressure from voters to allow Pérez Molina to be tried for corruption – demonstrators gathered outside Congress on Friday and thousands of protesters held another peaceful march on Saturday calling for Pérez Molina's ouster. Nevertheless, the PP is expected to seek an agreement with Lider to secure a favorable outcome for the president.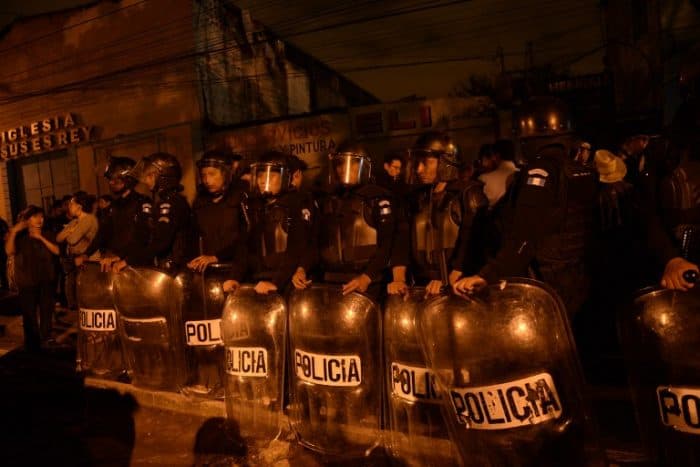 It is also unclear whether pressures from the U.S. Embassy could influence the commission's decision. Although pressure from the U.S. Embassy was unofficially mentioned as one of the key reasons that forced former Vice President Roxana Baldetti to step down on May 8, the Obama administration in the U.S. is perceived as being supportive of allowing Pérez Molina to finish his term in office, as not doing so could jeopardize governance and stability.
On June 1, U.S. Ambassador to Guatemala Todd Robinson announced that his government would support Guatemala's fight against corruption by subjecting officials from the internal revenue service to polygraph tests. The photographs of Robinson speaking from Pérez Molina's lectern while the president stood beside him with his head bowed, drew widespread criticism and accusations of U.S. interference in domestic affairs.
However, on Friday, Robinson denied the claims and said the Obama administration "would be willing to work with whoever is in charge."
"The commission will face pressure from different quarters, including civil society and Uncle Sam. It won't be surprising if the PP and LIDER try to bribe the members of the commission in order to influence their final verdict," constitutional lawyer Gabriel Orellana told The Tico Times.
Adding a dramatic touch to the course of events, Hichos López and other members of the newly appointed commission claim anonymous sources have threatened to kill them and their family members if they don't recommend stripping Pérez Molina of his immunity.
Should Congress ultimately decide there are sufficient reasons to allow Pérez Molina to be impeached, a criminal court must then decide whether or not he is unfit for office and should face trial. If that were to happen, newly appointed Vice President Alejandro Maldonado Aguirre would automatically become president until the elections are held on Sept. 8 and a new president takes office in January 2016.
"If Congress decides to create a mantle of impunity to protect the president, that will deal a serious blow to the fight against corruption and will allow the structures of impunity that exist in our country to flourish", Congressman Pop told The Tico Times.