GUATEMALA CITY, Guatemala – A persistent drizzle turned into a downpour by the end of the afternoon, but that didn't dampen the spirits of the thousands of Guatemalans who took to the streets on Saturday to demand the resignation of President Otto Pérez Molina.
Prensa Libre newspaper estimates that 60,000 Guatemalans took part in a peaceful march named #RenunciaYaFase 2 (Resign Now, Phase 2). This is the fourth nationwide protest to be held since the U.N.-supported International Commission Against Impunity in Guatemala (CICIG) uncovered a massive tax fraud network known as "La Línea" that was allegedly led by former Vice President Roxana Baldetti's private secretary, Juan Carlos Monzón, on April 16.
The scandal has led Guatemalans to express their frustration and discontent with the current administration and what they regard as a lack of options for change in the forthcoming presidential elections in September.
In a country deeply divided by class and race, upper- and middle-class students from the country's top three private universities joined students from the state-funded University of San Carlos, religious groups, gay rights organizations and ordinary citizens, in a peaceful demonstration against government corruption.
As dark clouds presaged rain, street peddlers wove in and out of the crowd selling umbrellas and plastic rain ponchos. For many, who attended the march with their young children, the protest became a family event.
Local pop groups such as Bohemia Suburbana gave impromptu performances in Guatemala City's central square and added a festive atmosphere to the march.
Similar protests were held in Antigua, Quetzaltenango, Jalapa and other provincial cities. Guatemalans living in Panama, Mexico, Spain, and the United States also gathered outside the Guatemalan Embassy in their respective countries, in a show of support for the growing #RenunciaYa movement.
Related: As Guatemala's political crisis deepens, citizens reawaken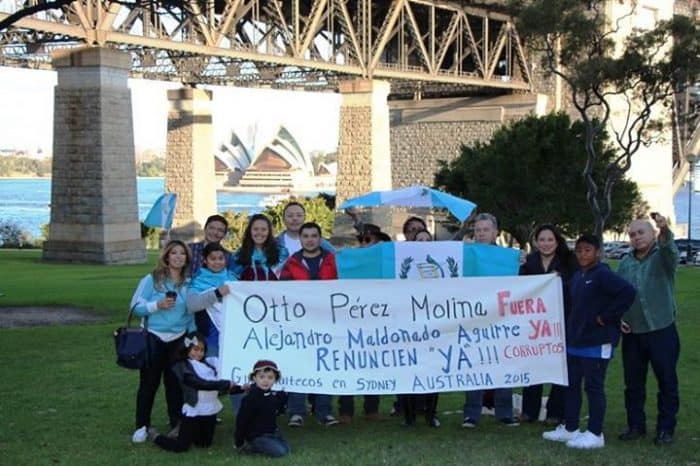 New vice president does not enjoy popular support
On Friday, Judge Alejandro Maldonado Aguirre was sworn in as Guatemala's new vice president after Baldetti was forced to step down on May 8 in the wake of the scandal.
Maldonado Aguirre, 79, is a right-wing lawyer and politician. During the 1970s, he was a member of the now extinct, far right Movimiento de Liberación Nacional (MLN). He later served as Minister of Education under the de facto rule of General Carlos Manuel Arana Osorio and as Guatemala's ambassador to the U.N. In 1982 he ran for president as the candidate for the alliance between the Partido Nacional Renovador (PNR) and the Christian Democrat party, both of which are now extinct.
Maldonado Aguirre has served as Constitutional Court (CC) magistrate on three separate occasions, under the administrations of Vinicio Cerezo, Álvaro Arzú and Otto Pérez Molina.
Under the Arzú administration, he was accused of using his position to delay a legal resolution that would have allowed an investigation into the murder of Bishop Juan Gerardi to move forward.
More recently, in 2013, he was one of the CC magistrates who controversially voted in favor of annulling former dictator Efraín Rios Montt's genocide conviction.
Guatemala's influential private sector lobby, the Comité Coordinador de Asociaciones Agrícolas, Comerciales, Industriales y Financieras (CACIF), has welcomed Maldonado Aguirre's appointment.
U.S. Ambassador to Guatemala Todd Robinson and the U.K.'s minister for Latin America, Hugo Swire, have also expressed their approval of the final choice made by the Guatemalan Congress.
However, none of the candidates on the shortlist Pérez Molina submitted to Congress, including Maldonado Aguirre, enjoyed the support of the #RenunciaYa citizen movement.
On Friday, while the votes were counted in Congress, protesters gathered outside with placards that read: "We reject the candidates proposed. No more corruption!"
Protesters argue that anyone willing to be part of an administration tarnished by an endless string of corruption scandals is inevitably tainted by association. Human rights and pro-justice groups also are strongly suspicious of Maldonado Aguirre's right-wing credentials and of the fact that he voted in favor of annulling Ríos Montt's genocide conviction.
"The headline should read: the return of the white van. Maldonado Aguirre is the greatest dinosaur of all," tweeted indigenous leader Andrea Ixchiú after Guatemala's new vice president was sworn in. The vehicle used by military dictators to kidnap and disappear political opponents at the height of the civil war was known as la panel blanca (the white van), and the remark refers to Maldonado Aguirre's ties to the infamous MLN party, which has been linked to death squads and was described by historian Luis Solano as "the party of organized violence."
Observers fear coup attempt
In recent days, the unprecedented crisis faced by the current administration has fueled speculation that Pérez Molina will ultimately be forced to resign, which would mean that Maldonado Aguirre would be sworn in as president until the elections are held and the country's new president comes to power in January 2016.
The scandal has led to a broad call for government reform. On Friday, the Human Rights Ombudsman's Office, the University of San Carlos, the Catholic Church and the Alliance of Evangelical Churches called for the creation of a "citizens' coalition" to "find a solution to the state's legitimacy crisis."
A possible outcome of the crisis could be that Guatemala could call for a "National Constituent Assembly," a group of members of Congress that would initiate the process of drafting a new Constitution. Many groups – both progressive and conservative – support this type of change in order to address loopholes in the current Constitution and draft a new Magna Carta that reflects popular demands.
For more than five years, a variety of political parties have called for a constitutional reform but the difficulty of reconciling the diverging interests of peasant organizations that are fighting for an agrarian reform and a conservative business elite fearful of social change, among other groups, would make this a complex and potentially volatile scenario.
Due to the country's recent history of civilian strife and authoritarian rule, observers fear that the instability generated by the political system's legitimacy crisis could be seized upon by military and political actors to stage a coup attempt.
"If popular demands are not heeded, given past experience, we run the risk that those demands will turn into anger, which could be used by certain politicians to provoke a situation of violence," said sociologist Luis Mack.
See also: Guatemalans demand president, vice president resign over corruption scandal
https://storify.com/jillrep/anti-corruption-protests-in-guatemala-and-abroad-m