TUMBISCATIO, Mexico – He traveled by four-wheeler and on horseback. He lived in caves and on secluded mountain ranches, surrounded by his bodyguards and logistics men who kept his meth-dealing cartel dominant for years in the western state of Michoacán.
When authorities finally caught up last week with Servando Gómez Martínez, a.k.a. "La Tuta," the top surviving leader of the Knights Templar cartel and the country's most-wanted fugitive, they got him with chocolate cake.
That was the dessert that his girlfriend, María Antonieta Luna Ávalos, delivered to his hideout in the colonial town of Morelia on Feb. 6, which happened to be his 49th birthday. When authorities observed that errand, coupled with some shoddy spycraft by his handpicked messenger, a federal police team was able to capture him in the pre-dawn hours of Friday without a shot fired.
"Michoacán now is in a better position," Federal Police Commissioner Enrique Galindo Ceballos said. "The important parts of the [cartel] structure are neutralized."
For more than a year, the Mexican government has fought the cartel while also struggling to keep in check the citizens' militia that rose against the Knights Templar. More than 1,500 people have been arrested, authorities said, and nearly all the top leaders have now been killed or captured. On Monday, Galindo led reporters on a tour of Gómez's rural hideouts and described how his cartel operated and the ways he evaded capture for so long.
"He felt comfortable here, he felt safe," Galindo said at Gómez's farm, set amid forested hills about 25 miles outside Apatzingán. "Practically all this territory he dominated with his men."
His men controlled about 50 methamphetamine labs and also made millions from illegal mining, extortion and kidnapping. Some of this they redistributed to the locals, a move that helped protect them. "A year ago this was practically inaccessible," Galindo said.
Another hideout was an underground cavern near his home town of Arteaga. The entrance was a small hole next to a riverbed at the base of a cliff face. Inside, amid stalactites and bat guano, authorities discovered wine, 18-year-old whiskey, food and clothes. Authorities said Gómez also used the cavern as a secret prison to hold his enemies, including people who failed to comply with his cartel's extortion demands.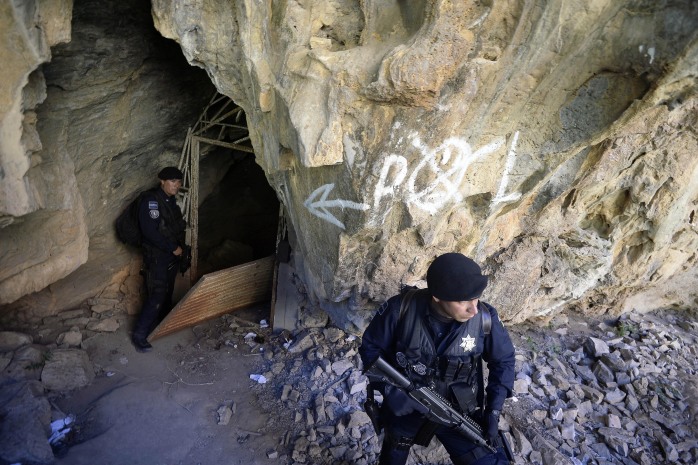 Gómez is an unusual drug lord. Born in the farmlands of Michoacán, he taught elementary school and worked at a teachers college before committing himself to organized crime. He started with the La Familia cartel and rose when his group split off to form the Knights Templar, a cultish gang that erected shrines and printed its own code of conduct. Unlike the slain Nazario Moreno, its mystical and secretive supreme leader, Gómez loved fame and attention, granting interviews to the news media even as he was the target of an intense manhunt. He saw himself as a Robin Hood figure who defended the rural campesinos against a corrupt government.
But over the past few years, as the cartel grew more vicious in its extortion, kidnappings and killings, locals formed a militia to fight it. That movement helped authorities find many of the leaders through local connections and intelligence, including Gómez.
To find Gómez, authorities discovered the farm outside Apatzingán last year and then learned of a messenger who passed notes between him and his men. Gómez didn't use a cellphone, but the messenger was more careless, and his phone calls were tracked, Galindo said.
"The messenger didn't have much experience," he said. Using the phone was the "most serious error he committed."
Last month, after the birthday cake delivery, authorities suspected that Gómez was hiding in Morelia, the state capital, but it took a few weeks to confirm his presence at the house and plan the takedown. He was arrested while leaving the house about 3:30 a.m. Friday.
With that arrest, Mexican authorities described the Knights Templar as largely dismantled, but others predict violence will continue in Michoacán. The drug trade marches on, and the militia has split into rival warring factions, with most of the founding leaders now in prison.
© 2015, The Washington Post