TEPALCATEPEC, Mexico – For a man who faked his own death by posing with red paint running down his neck and who has recorded a video tell-all to be sent to the Drug Enforcement Administration in the event he is murdered, José Santiago Valencia Sandoval seems to lead a remarkably stress-free life.
A jolly, beer-swilling bear of a man, he spends his time teaching his Aztec horse to prance, mounting deer heads on his living room wall and driving around in an armored Suburban pockmarked with bullet holes.
A former tough for the Knights Templar cartel, Valencia, 42, is a member of one of the self-defense militias that have seized control in much of the state of Michoacán – a ragtag collection of gunmen the Mexican government is struggling to control.
Valencia might seem at ease because his bizarre story is almost run-of-the mill here: Switching sides to survive in this conflict is as normal as swapping players on a soccer team. For the government, which is trying to establish its authority, that fluidity risks entrusting security to some of those they've been fighting for years.
"There are so many of them," Valencia said. "They were Knights before, and now they are self-defense militiamen. They felt they had lost, so they switched sides. They put on a white shirt, and just like that — 'Long live the militia!' "
From afar, the events in Michoacán sometimes seem like a made-for-TV tale, an uplifting story of the downtrodden lime and avocado farmers who banded together to throw off the yoke of the murderous drug cartel. Up close, the reality is less inspiring. Many of the gun-toting young men manning roadside checkpoints once served as spotters or assassins for the very cartels now considered their enemies.
Most of the former gangsters who have switched sides are simply fair-weather gunmen, "ready to fall behind whomever seems most powerful," said the Rev. Javier Cortes, a priest in the local diocese in Apatzingán, the city at the center of the militia war. "These young men are simply going along with whoever is willing to pay them."
At the movement's higher levels, personal rivalries and power-grabs have become so intense that they could provoke a new round of violence.
Leaders who stand shoulder-to-shoulder at news conferences one day accuse each other of being criminals the next. José Manuel Mireles, the mustachioed surgeon who was once the militia movement's most respected figure, has been disowned by several of his former comrades, who claim he is sick in the head and stealing money. Mireles in turn accuses them of being paid off by a rival out-of-state cartel, the New Generation, and of using the cover of the government-approved neighborhood watch to get a foothold in Michoacán.
Mexican authorities have arrested one prominent militia leader, Hipolito Mora, on charges of participating in the murder of two rival vigilantes. And they are investigating Mireles on suspicion of being linked to five deaths.
One group of vigilantes, who call themselves "H3," has been accused of operating as a mini-cartel. Government officials are investigating their leaders, men called "the Viagra Brothers," but are not describing them as a new drug-running group.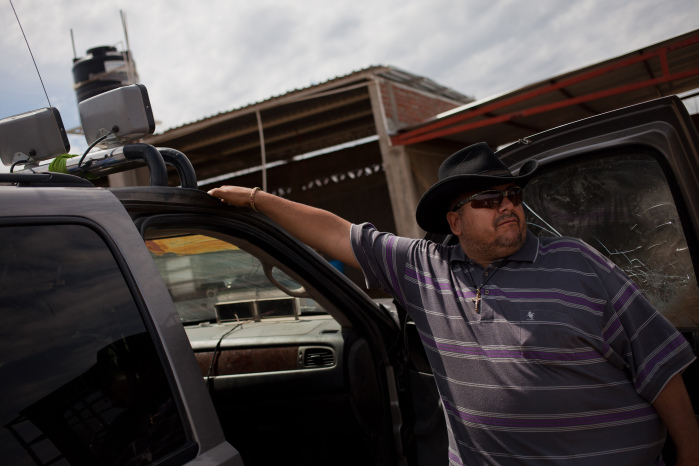 Sorting the noble from the criminal has become almost impossible. The men who have taken the law into their own hands carry military-grade weapons but don't wear uniforms. Some identify themselves with yellow ribbons on gun barrels, homemade militia T-shirts or decals on their trucks. The vigilantes from Tancitaro use an avocado logo; an Apatzingán group goes with cattle and limes. At a cattle corral last week, Mireles used a marker to sign new militia T-shirts to certify that they were legit. Since no one had given him the job as militia leader, he said, "can anyone take it away?"
Whatever the costume, the backgrounds and allegiances of these disparate armed factions remain, in most cases, a mystery. The Mexican government's plan, to convert the vigilantes into a rural police force with uniforms and registered weapons, is in part an attempt to understand who they are. The government's point man on Michoacán, Alfredo Castillo, said this past week that authorities had captured 155 cartel members posing as militiamen.
"It's a terrible confusion to live under," said Cortes, the priest.
In 2001, Valencia returned to Tepalcatepec after five years of applying drywall and painting houses outside Yakima, Washington. As he worked at fattening cattle and buying and selling land, he witnessed the encroaching drug war.
Valencia was vague about his own beginnings in cartel life, although one defining event, he said, took place Oct. 15, 2010, when two teenagers he held dear were shot by a drug trafficker from Jalisco.
"Their parents had fed me, they gave me work. I was raised among them. They used to call me uncle," he said. "So when they were killed, like all the cabrones who have courage in their veins, I went to fight against this injustice."
He allied himself with the La Familia cartel, itself originally a group of vigilantes intent on restoring order, and received its protection as he pursued his revenge. When the cartel split and some of its leaders formed the Knights Templar, Valencia said he got conscripted by force into the new gang. On the sidewalk outside a school, he recalled, a guy put a gun to his head and told him, "You're screwed."
Valencia's job, he said, was to patrol the border of Knights Templar territory and that of the Jalisco cartel, making sure nobody crossed. He was not allowed to leave the state or buy a plane ticket without the permission of his cartel boss.
He got to know some of Mexico's most-wanted men. He chatted with Servando "La Tuta" Gómez, currently the subject of a manhunt in the caves of western Michoacán, while at a cockfight. He claimed that Nazario Moreno, the Templars' cultish figurehead who was killed by Mexican marines this year, bragged to him about murdering 3,000 men. He learned about their unbelievable revenue, from stealing fuel and re-selling it by force to gas stations to taxing shipments of iron ore to China.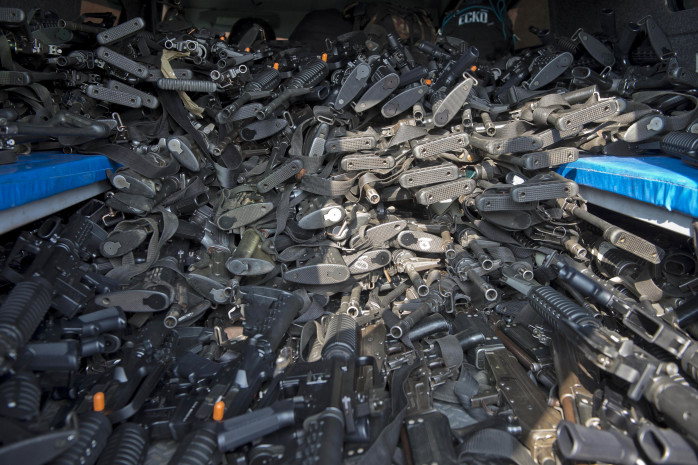 Valencia admitted to killing men but said it was in combat, not assassination-style. At one point, being tipped off that a hit man had been dispatched for him, he staged his own death. In the photo he had sent to his enemy, he sits in a plastic chair, his head slumped back with red paint all over his neck. He recorded a video of himself on his living room couch naming his various associates with drug and mafia connections and sent it to his relatives living in the United States so they can get it to authorities if he is killed.
Never enamored with Knights Templar life, Valencia switched quickly to the militia when it first formed in his town.
"At first, I didn't want him here with us," Mireles said of Valencia. "But he saved my life the first time we got in a gunfight. Do you think I'm going to wish something bad for him? Never."
Valencia was pleased with the movement for a while and with its early success driving back his former cartel. But now he believes it has been corrupted by another drug group and those obsessed with power.
"The movement is not yet totally rotten," he said. "But if we don't do something, it's going to rot."
Washington Post correspondents Dominic Bracco and Gabriela Martinez contributed to this report.
© 2014, The Washington Post