CARACAS, Venezuela – Even as frustrated opposition leaders iced their talks with President Nicolás Maduro in the past week, they expressed little support for possible U.S. sanctions against top Venezuelan officials and business associates of his government.
With Maduro's escalating crackdown on anti-government protesters bringing new allegations of abuse, several U.S. lawmakers have proposed targeted sanctions to freeze the assets of high-level Venezuelan security officials and other key figures in the Maduro government while also barring them from receiving U.S. visas.
"We are going to sanction and punish and name and shame individuals responsible for human rights violations," said Sen. Marco Rubio, R-Fla., co-sponsor of a Senate bill to bring sanctions.
The top State Department official for the hemisphere, Roberta Jacobsen, testified in a Senate hearing this month that Venezuelan opposition leaders were advising against sanctions. But when those leaders denied making any such request, she retracted her statements, saying she was confused during the hearing.
But analysts say there are several reasons that calls for sanctions in Washington appear to be drawing a tepid response in Caracas from opponents of the Maduro government.
With Venezuela's economic crisis deepening and polls showing support for Maduro dropping to its lowest level yet, the threat of U.S. sanctions could provide an opportunity for the president to "change the subject," said Rafael Romero, a political scientist at the Central University of Venezuela.
"Right now, everyone is talking about crime, food shortages, the students and their protests," he said, but U.S. sanctions would give Maduro a chance to rally his base by "blaming outside interference and foreign meddling."
Maduro blasted the threat of U.S. sanctions as "stupid," and a spokesman for his United Socialist Party, Jorge Rodríguez, went further, saying "it would be an honor" to be "considered an enemy of the United States."
Maduro has long insisted that shortages of milk, paper, medicines and other basics are the result of a U.S.-directed "economic war" against his government. But those arguments appear to be losing currency among poor and working-class Venezuelans who have been Maduro's support base and who fervently backed Hugo Chávez before his death last year after 14 years in power.
"I think Maduro is still strong, but he's sitting on a time bomb, and so far he hasn't shown any ability to disarm it," said political analyst Carlos Romero, referring to growing woes such as power blackouts, water rationing and unchecked inflation.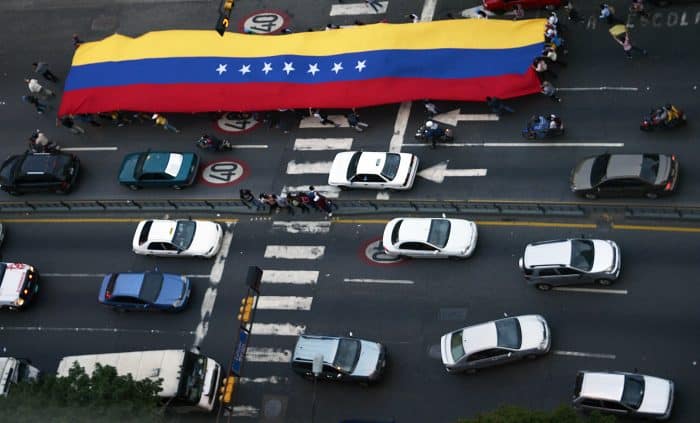 More than 59 percent of Venezuelans gave Maduro negative ratings in a recent survey by the respected Caracas polling firm Datanalisis.
But the slump in Maduro's popularity has not set the government on a path toward greater moderation.
Last week, Maduro sent national guardsmen to rough up several protest camps and arrest hundreds of demonstrators, and on Thursday, Venezuela's top prosecutor vowed to adopt tougher measures against protest leaders.
A report released this month by Human Rights Watch detailed several dozen alleged cases of abuse, even torture, committed by Venezuelan security forces against students and other protesters.
The most prominent leader of the anti-Maduro hard-liners, Leopoldo López, has been jailed for nearly three months and has yet to face trial.
And while the more moderate wing of the opposition, led by former presidential candidate Henrique Capriles, has engaged in "peace talks" with Maduro, it froze the conversations in the past week, saying the government has been negotiating in bad faith.
A case in point: The two sides are supposed to set up a "truth commission" to investigate crimes committed during the past three months of unrest, but the government wants the panel to be led by National Assembly President Diosdado Cabello, a tough-talking Chávez protégé who is perhaps even more widely despised by government opponents than the president himself.
Opposition leaders have appealed to a delegation of mediators from several South American nations and the Vatican, and the group said it would travel to Caracas on Sunday to meet with them.
In the meantime, the opposition does not want the threat of U.S. sanctions to give Maduro fresh oxygen and a new rallying cry, said David Smilde, a Venezuela expert at the Washington Office on Latin America, a nongovernmental organization that promotes human rights and democracy.
"The Maduro government, like the Cuban government, is based on a Marxist, anti-imperialist ideology which says the United States wants to obtain Venezuela's oil and will do what it takes to undermine its revolutionary government," Smilde said.
"As long as the Maduro government can get people to believe this, it does not pay a political cost for its own failures," he said.
© 2014, The Washington Post