WASHINGTON, D.C. – The proposed transoceanic canal being hyped by Nicaraguan President Daniel Ortega could benefit Costa Rica, but Manuel González, Costa Rica's foreign minister, warned it could also wreak unintended environmental damage on both countries.
In an interview with The Tico Times last Friday in Washington, D.C., González said the Ortega government's insistence on building the 278-kilometer waterway with Chinese funds is a $50 billion gamble shrouded in secrecy.
"I'm skeptical about the project. I have my doubts about how real and how serious it is," he said. "But I have nothing against the project itself as long as Nicaragua respects the rule of law."
González, speaking to us at the Costa Rican Embassy immediately following his first official meeting with U.S. Secretary of State John Kerry, explained why Costa Rica's relationship with Nicaragua is "tense" – even without the proposed canal.
For one thing, about 10 percent of Costa Rica's 4.9 million inhabitants are immigrants from Nicaragua. "A lot of them have been in Costa Rica illegally for many years. That has put a lot of pressure on our economy," he said.
Added to that economic strain is what González says is a growing military threat from Costa Rica's neighbor to the north, aided by the Kremlin.
"This is serious. If it were just a discussion about borders, it would be different," he said. "Nicaragua has been buying heavy military equipment from Russia. They just publicized the purchase of MiG-29s, supposedly to fight drug trafficking. Well, we've been very effective in fighting drug trafficking, and we don't need MiGs to do that."
At the moment, Costa Rica and Nicaragua are arguing three legal disputes at the International Court of Justice at The Hague. One involves the invasion by the Nicaraguan military of Isla Calero, a small, protected wetland that both countries claim as their own.
Nicaragua then filed a counterclaim against Costa Rica for the construction of a 160-kilometer border road that runs parallel to the Río San Juan, which separates the two countries. Costa Rica then filed another claim over maritime limits. That case was prompted by Nicaragua's efforts to grant oil-drilling concessions in a disputed area.
Pointing to a map of Costa Rica's border with its northern neighbor, González offered an analogy of sorts: "Some people talk about sitting down and having a dialogue and lots of nice things, but one has to recognize the origin of the current conflict," he said. "This was an invasion by one country, Nicaragua, of another, Costa Rica. It's like if your neighbor enters your house and robs you. Are you then going to invite him over for drinks?"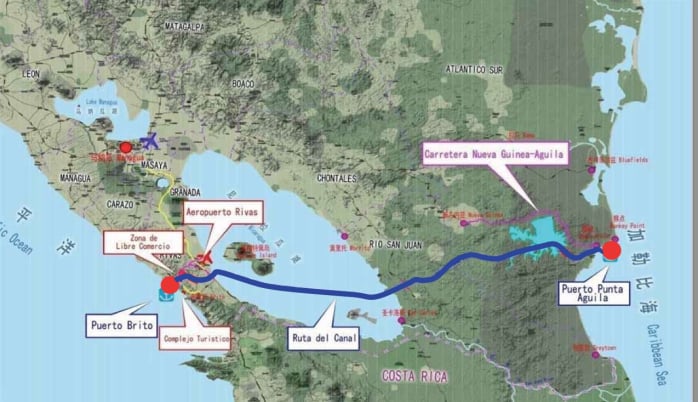 Who is HKND?
The little-known consortium behind the canal project, Hong Kong Nicaragua Canal Development Group (HKND), says its waterway will be able to accommodate ships of up to 23,000 Twenty-Foot-Equivalent Units, or TEUs, once it's finished in 2019 (if it's finished). That compares with the 13,000 TEUs that the Panama Canal will be able to handle after its $5.2 billion expansion is completed in 2016.
But shipping experts question whether the Nicaraguan waterway is economically viable, and others wonder who's behind HKND, which generally avoids the media.
Last month, a Nicaraguan delegation representing nearly 40 civil-society groups and political parties traveled to San José, Costa Rica, during the annual meeting of the Community of Latin American and Caribbean States. Their mission: to galvanize opposition to the proposed canal's construction. The group criticized the project's lack of transparency and the threats it may pose to indigenous land rights as well as Lake Nicaragua, also known as Lake Cocibolca.
Like the protesters, González worries that Costa Ricans will also be affected by the environmental consequences of the project on the two countries' shared watershed.
"Whatever happens in the lake may affect the Río San Juan, which will eventually affect the Río Colorado," he said. "It's a cascade effect and that's our main concern. We do have a base for environmental concerns."
He added: "We have a right to request environmental studies, which we have done twice already last year, but no response. So I understand the justification of the Nicaraguan people to be concerned – not just for Costa Rica, but the whole area."
On the other hand, Costa Rica could benefit from the canal "if the conditions are there," said González, leaving the phrase open to interpretation.
"Nicaragua uses our port on the Atlantic to export 80 percent of their goods," he told The Tico Times. "We have nothing against prosperity for Nicaragua if it helps Costa Rica. We want the Nicaraguan people to be in a better position so they could buy more goods. We'd have less immigration, and we could sell more products there."