WASHINGTON, D.C. – Paving the way for a possible visit by U.S. President Barack Obama to Costa Rica later this year, Costa Rican Foreign Minister Manuel González met last Friday with his U.S. counterpart, Secretary of State John Kerry, for the first time since the May 2014 inauguration of President Luis Guillermo Solís.
"Costa Rica has been doing a great deal on counterterrorism; great deal particularly on climate change, where they have always been a leader," Kerry said.
"I can remember personally visiting Costa Rica in the earliest days when I was in the United States Senate – one of the first places I went. And then they were working hard to help lead the region out of the difficulties of war, and now they're working hard on a continued basis to lift the region up economically, to try to help us deal with climate change, and they've become good partners in our agriculture initiative with respect to climate."
The 45-minute meeting focused on improving bilateral relations in the absence of a U.S. ambassador in San José. It was followed by a courtesy call at the White House with Ricardo Zúñiga, Obama's National Security Council adviser on Latin America, and finally a wide-ranging interview with The Tico Times at the Costa Rican Embassy.
"One of the purposes of my visit was precisely to look for ways to have a more permanent and fluent political dialogue between the two governments, and to encourage high-level visits and senators to come and visit Costa Rica," González told The Tico Times in the presence of Costa Rica's envoy to the U.S., Román Macaya, and the embassy's deputy chief of mission, Alejandra Solano.
"We need to have these kinds of meetings on a more regular basis at the highest possible level. We also discussed the possibility of President Solís visiting Washington sometime in the near future," he said.
Where's our ambassador?
González, noting that it's been more than a year and a half since the departure of the last U.S. ambassador to Costa Rica, Anne S. Andrew, said his government is waiting patiently for the arrival of Andrew's likely replacement, political appointee Stafford Fitzgerald Haney. A New Jersey businessman who donated money to Obama's re-election campaign, Haney is one of several dozen nominees facing confirmation by the slow-moving Senate Foreign Relations Committee.
"We understand that there are internal processes which have to be conducted, but it doesn't prevent us from moving ahead with our agenda," González said. "Now with the new Congress, hopefully things will move faster than has been the case until now."
During the interview, González laid out his key priorities as foreign minister. He said Costa Rica needs to take a hard look at its 62 diplomatic missions around the world.
"I want our embassies and consulates to promote the country and generate business and investment for Costa Rica. This is something they have not done until now," he said. "I would like to see a foreign policy that goes beyond the traditional values of political stability, human rights, democracy and freedom of expression, which don't change from one administration to another."
To that end, González said his ministry is conducting a study to decide which embassies to close for budgetary reasons, and where Costa Rica needs new ones.
"In an ideal world, I would like to open an embassy somewhere in Africa," he said. The two alternatives under consideration are Ethiopia, whose capital, Addis Ababa, is home to the 53-member African Union, and South Africa, a member of the five-nation BRICS grouping that also includes Brazil, Russia, India and China. González said he's leaning toward South Africa for business reasons.
Another priority is reviving the frequently criticized Organization of American States, whose secretary-general, José Miguel Insulza, of Chile, is stepping down in June after 10 years at its helm.
One of the two men campaigning to replace Insulza, Guatemala's former Vice President Eduardo Stein, recently withdrew from the race. That leaves Uruguayan Foreign Minister Luis Almagro as the only other serious contender, though as González said, "a lot can happen between now and March 18," when OAS member states will choose their next leader.
In recent years, he said, the organization's relevance has been undermined.
"If we don't have an excellent – not just a good, but an excellent – secretary-general, it'll only get worse. Its influence will be greatly diminished, and that's a luxury we cannot afford," González said. "From our perspective, one of the organization's most important aspects is the inter-American human rights system. I don't see any other organization or mechanism taking its place."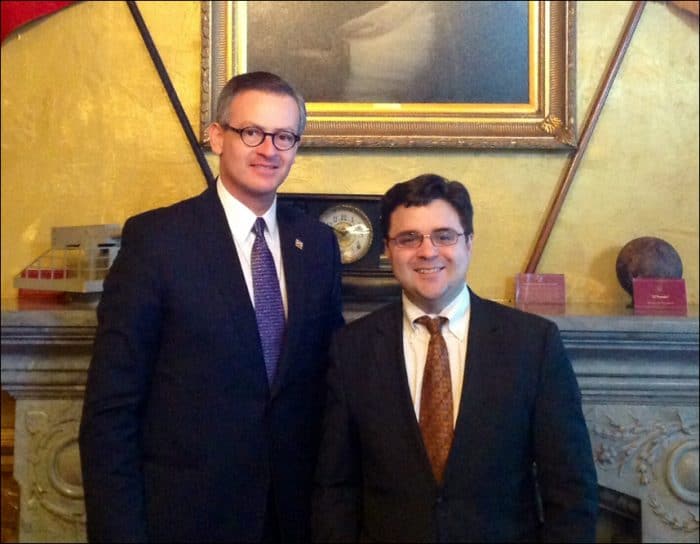 The problem with SICA
Another body in need of reform, he said, is the Central American Integration System (SICA, in Spanish). Based in San Salvador, its members are Belize, Costa Rica, El Salvador, Guatemala, Honduras, Nicaragua, Panama and the Dominican Republic.
"SICA has many institutions, but with very ineffective results. We need very clear leadership and very clear reform in terms of transparency and accountability, and we have proposed the complete review of the Tegucigalpa Protocols that serve as the legal basis for SICA," González said, adding that in its 24-year history SICA has never had a secretary-general from Costa Rica, and that perhaps it's time for a Tico to lead the bloc.
Yet another regional bloc that interests Costa Rica is the Caribbean Community (Caricom), with which Costa Rica signed a free-trade agreement back in 2004. He said Caricom's 15 members – along with the rest of Central America – are natural customers for Costa Rican products, particularly for small- and medium-sized companies.
"We've talked a lot in the past about free-trade agreements, as if a small company in Costa Rica taking its first steps in the export business will enter the U.S. or European markets. It doesn't happen that way. First, they have to focus on the Central American and Caribbean markets," he said.
Meanwhile, said González, "we want to have a closer relationship with Brazil. We want to learn from Brazil's experiences in fighting poverty during the last three administrations. Brazil is a regional power, and there is a lot to be learned."
González, 46, studied at Columbia University on a Fulbright scholarship, and was a lawyer for 25 years. He entered the public sector in 1992, when he served as adviser to the vice president of Costa Rica on relations with international financial institutions.
From 2002 to 2006, he was Costa Rica's ambassador in Geneva to specialized U.N. agencies. He was then minister of foreign trade and president of Procomer, a government investment promotion agency, before going back to law for eight years. Since assuming his new post as foreign minister last May, he's traveled to 15 countries.
"I think my background in both the public and private sectors helps me to have a different approach," González said. "I am not a member of the president's party, or any party actually. I did not participate in anybody's campaign, so I was amazed, to say the least, that he called on me."
China
One of Costa Rica's biggest foreign policy issues is its growing cooperation with China – a friendship that began in 2007 when then-President Óscar Arias Sánchez broke diplomatic relations with Taiwan after 63 years in order to establish ties with Beijing.
As then-foreign trade minister, González strongly supported that decision despite accusations that Arias had betrayed the Taiwanese.
"I had to deal with Taiwan, and it was not a very positive reaction, and we did have some political pressure," he recalled. "Taiwan was, at the time, the main investor in China and still is. Secondly, a small country like Costa Rica cannot skip any potential market just because of the political situation. Everybody does business with China."
On Monday, Costa Rican lawmakers voted 45-6 to borrow $395 million from the Chinese government to finance the expansion of Route 32, the main highway from San José to the Caribbean province of Limón. The loan covers 85 percent of the $465 million cost of expanding the 107-kilometer highway from two to four lanes; the Costa Rican government will fund the remaining $70 million.
But China offered the loan on the condition that the project is developed entirely by China Harbour Engineering Company using only Chinese workers.
"When you have a loan, they want you to use as many Chinese companies as possible," he said, adding he hopes construction will start before the end of this year.
In neighboring Nicaragua, a secretive Chinese company, Hong Kong Nicaragua Canal Development Group, is planning a $50 billion interoceanic canal that will extend 259 kilometers from the Pacific coast through Lake Nicaragua to the Atlantic coast. Yet González said he's skeptical about the enormous project.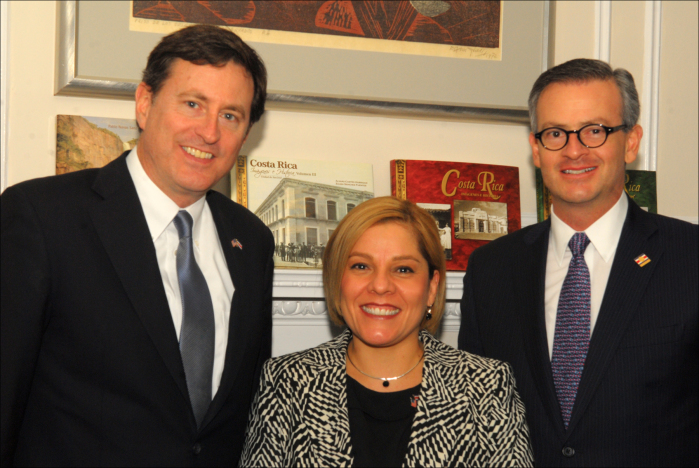 The Middle East
Costa Rica's foreign policy interests also extend to the Middle East, particularly Israel, which is home to about 300 former Ticos.
In December, González announced that Rodrigo X. Carreras, the country's longtime envoy to the Jewish state, would take over as Costa Rica's ambassador in Cuba. Asked whether the Foreign Ministry would change its relatively pro-Israel policy once a new envoy arrives in Tel Aviv, González responded "yes and no."
"We've always been very supportive of Israel in all forums, but in last year's war in Gaza, we were very critical of both sides," he said. "We always condemn any form of violence, but self-defense has its limits. They [the Israelis] think that if you're not 100 percent in favor of Israel, you must favor Hamas. That's a logic I don't understand."
The foreign minister said a replacement for Carreras has already been chosen, but he declined to identify him until it's officially announced.
"Some people think that being friends means you have to follow Israel all the way," he said, assuring that Costa Rica's warm ties with the Israelis would continue. "From our perspective, being friends also means agreeing to disagree."